Wednesday, November 16, 2011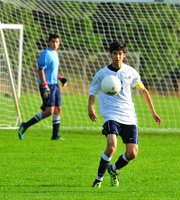 It was quite a haul of hardware Hood River Valley teams took home from the Columbia River Conference season.
Leading the way was a two-sport player who got his kicks in over the course of the year.
Erik Gutierrez was named co-player of the year for Columbia River Conference boys soccer with Hermiston's Oscar Contreras.
In addition to his player of the year honors in soccer, the senior was also named second team kicker for CRC football.
Gutierrez was one of five HRV boys named first team all-conference for soccer, while HRV coach Jaime Rivera was named co-coach of the year with Rich Harshberger of Hermiston.
While scoring three goals and assisting on four others from his center back position, Gutierrez helped lead the HRV defense and the team through some difficult moments this season.
"Our seniors including Erik, Sal Sosa, Jose Ortiz and Josue Barrera did an outstanding job rallying together through a very chalanging and emotional season," Rivera said. "Through all of our trials and tribulations Erik was our rock, he lead by example, was the most consistent player on the field and a class act in school and our community."
The HRV girls soccer team had four players named first team all-league and also had a coach of the year, with Kevin Haspela winning solo honors.
Both HRV teams made the state playoffs, and both won conference championships, with the HRV boys sharing the title with Hermiston.
In addition to Gutierrez being named co-player of the year, the Eagles also had Sean Lund receive first place forward honors, Jose Carlo Ortiz and Sal Sosa first team midfield and Alfonso Mendiola as goalkeeper of the year.
Mendiola allowed only two goals in six league games this season.
The Eagles also showed they aren't going to drop off much next season. In addition to juniors Mendiola and Lund, the Eagles had two sophomores and a junior named to second team. Chris Cardena and Jose Muro were tabbed as midfielders and Fabian Nunoz was named as a defender.
The Eagle girls had four players named to the first team all-league and another four named to the second team.
Leading goal scorer Roxana Gomez led the honorees as a first team forward, while fellow seniors Emily Thompson and Sarah Clark were named first team midfielder and first team defender, respectively.
Sophomore Miga McCurdy, who recorded a hat trick against The Dalles in league play, was named first team defender.
Making the second team were juniors Kristin Lago and Cristina Silva and seniors Meredith Virk and Skye Windsor.
The HRV volleyball team was also well represented in the all-league list.
Kailie Duffy was named first team hitter, following a season in which she put up 284 kills, leading the Eagles by nearly 100 in the category.
Tracy Mok, who set up most of the HRV attacks as a setter, was named first team setter after recording 647 assists to just 28 errors.
She also led the Eagles in service aces with 43.
In addition, Mok was named American Volleyball Coaches Association player of the week in Oregon by Maxpreps.com for the week of Oct. 17.
Making second team all-league were Meighan Frazier as a hitter and Shelby Carter as a defensive specialist/libero.
Logan Bailey and Katie Smith received honorable mentions as hitters.
The Hood River Valley football team struggled to a 3-7 record, but their high-powered offense garnered several first team honors.
Center/linebacker Luke Ihle picked up first team mentions on both sides of the ball for helping to protect HRV quarterback Cody Walker and also finished as the team's second leading tackler with 19.
Walker himself earned first team honors as quarterback after throwing for 2,665 yards and 24 touchdowns.
His favorite target, Cole Hunter, made first team wide receiver after finishing with nearly three times as many receiving yards as any other HRV player and also caught 13 touchdowns.
Also named first team for HRV was Eli Fults as a utility player, and Kyle Beam as a defensive back.
Beam led the Eagles with 24 tackles.
Making second team were running back Gabi Nuno, offensive lineman Ramon Ramirez, linebacker Andrew Thompson, defensive lineman Jonathan Goatcher and Gutierrez. Nick Morgan was named honorable mention offensive line.