Monday, November 21, 2011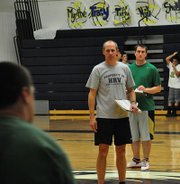 There will be some new faces courtside, poolside and slopeside for Hood River Valley sports teams this winter.
The school has new varsity coaches in swimming, skiing and basketball.
The swimming and skiing positions both opened up shortly before the winter season after ski coach Peter Nance and swim coach Shea MacNab both found new jobs that did not leave them with enough time to continue coaching.
So when the winter sports season kicked off Monday, Keith Ebbert was running the HRV swim practice, having been on the job just a few weeks.
Meanwhile, Scott Keillor takes over the HRV ski program after having helped out as a volunteer the past few years.
For the HRV boys basketball team, new coach Steve Noteboom, who was hired shortly before the end of the last school year, ran his first official practice Monday.
Ebbert has worked with the Hood River Master's swim team for the past year and a half after moving back to the area to take a job at Insitu and is looking to continue to take the program on the upward swing it has been experiencing over the past few seasons.
The Eagle girls team just missed a top-10 finish at state last year, and the team has become increasingly populated with swimmers who made their way up through the ranks from the Hood River Valley youth swim club team. That is a pipeline that Ebbert wants to continue to develop.
"I want to continue that as much as possible," he said.
Ebbert grew up in White Salmon and became a swimmer in the Gorge.
"My parents were desperate to get me out of the house and to find a way for me to burn off some energy," he said.
He continued his career in high school at Columbia River in Vancouver and in Springfield, Ore., before moving on to swim at the college ranks for Nebraska.
Much like his predecessor at the position, Ebbert is familiar with many of the high school swimmers through the club team, and is excited to get to know even more swimmers.
"There is a handful of kids I'm familiar with," he said. "But I'm looking forward to seeing some first-time competitive swimmers out there."
The HRV ski team will be going through a similar transition this winter with a coach who is already familiar with the program.
Keillor has worked with skiers for years on Mount Hood, most recently serving as a coach with the Cooper Spur Race Team.
"I've been teaching and coaching locally for over 20 years," he said. "And I thought it would be a great opportunity and a challenge with the high school team."
The Eagles have a legacy of success on the slopes, a record that has stretched to include dominance in freestyle disciplines as well in recent years.
"I want to continue the growth of both the freestyle and racing disciplines," he said.
Keillor does not expect things to change much in terms of approach, as the approach that has served the team well for years does not appear to be broken.
"I want to applaud the job this group has done," Keillor said of the skiers, parents and coaches who have made the team a success. "We're going to have a lot of returning coaches, as well."
Keillor said he is looking forward to getting up on the mountain with the team, but first he will be focusing on dry-land training over the next several weeks at the high school.
But no ski team likes being stuck in the gym for long.
"We're hoping for some snow so we can get an early start on the mountain," he said.
One team that doesn't mind being stuck in the gym is the Hood River Valley boys basketball team, where Noteboom ran his first official practice Monday.
Noteboom and his staff spent the afternoon evaluating players during a tryout, which was set to continue into Tuesday before the team had its first practice as a team this morning.
"It's exciting," he said. "We're going to have a strong core group."
Joining Noteboom on the floor were new JV coach Jeremy Belcher, freshman coach Jon Hiatt and varsity assistant Don Schmidt.
Noteboom said he intends to emphasize solid man-to-man defense, rebounding and efficient passing in his first season with a team coming off a two-win campaign.
"If they do what I tell them we should be pretty competitive," he said.
That's the hope of every new head coach.