Tuesday, October 11, 2011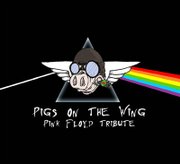 Jim Drake's Entertainment Blog
Expect pigs to fly Oct. 15?
The only downside to receiving lengthy answers for these band questions is that I hardly have room to write anything myself.
But in this case, when you're in a Pink Floyd tribute band, there's obviously going to be a lot to talk about. To me, Portland's Pigs on the Wing are a bunch of young guys. Guitarist Jason Baker mentioned that he was 15 when he remembers the last time Pink Floyd toured (1994). But what I find amazing is that Jason was around 9 when I saw Floyd at Veterans Stadium in Philadelphia (1988), and now, Jason is probably playing these classic tunes better than I ever could (2011).
I'm glad these classic rock bands can still exert influence today. And Saturday's show at Waucoma Club, with or without the iconic flying pig balloon, will probably make me want to go home and catch up to these guys by practicing my guitar leads to "Comfortably Numb."
1. Let's start off with this one - You guys must be loyal Pink Floyd (PF) fans to be touring around doing this. Have you guys been to any actual PF shows and/or Gilmour-Rogers shows? Have you ever met anyone from the original band?
I like this question and wish I could answer yes, but neither I nor any of the band ( as far as I know) has ever had any personal contact with the members of Floyd. As far as seeing Floyd, the last big Floyd tour, for The Division Bell, happened at a time when I was, umm, maybe 15 years old ... so our keyboard player was 13 and our drummer was maybe 8 ... too young to drive ourselves to the gig in any case, though I do remember the tour coming through. So as far as I know, none of us have ever seen Floyd or Waters live either. I know we would like to.
2. From your press releases you seem to be concentrating on the 70s phase of the band. Why this period instead of the early psychedelic or stuff from The Wall or later?
We aren't necessarily set on any one period of Floyd's music in the sense that anything is off the table, but we started this whole project with live performances of Dark Side of the Moon, which was and is I think still one of my favorite albums by any band. We do some material from pre-Dark Side and definitely get into the Wall (cusp of the 80s I guess) and I suppose anything could happen. Basically we play the music we love and the epicenter of that is right around 1973-1977.
3. Tell us who is in your band and what PF band member they're representing.
Well, we don't approach this project in the sense that someone plays the role of any member of Floyd per se, and certainly don't go for the look alike thing, nothing against that, so we are only a real tribute band in the sense that we try to capture the essence and rock energy of Pink Floyd in their prime and stay true to the music while not being afraid to improvise — at least that's the goal. We try to keep that spontaneous, slightly dangerous aspect of live music and rock music especially that I think is so important and so often missing in modern music. We definitely let our own musical styles enter the equation, and we usually like the result.
That said, I tend to do the David Gilmour vocal parts, while our other guitarist does the Roger Waters vocals, and our keyboardist does the Rick Wright parts. The core band members are: Jason Baker (guitar/vocals); David Lindenbaum (guitar /vocals); Matt Jones (keys /samples/vocals); Eric Welder (bass/vocals), Alex Feletar (drums). Auxillary members include female vocalists Erin Flood (who will be performing in Hood River) and Courtney Sproule and sax player Marc Hutchison.
4. As you probably know, the entire PF catalog is currently being re-packaged and re-released. I think Dark Side has something like 5 extra CDs. Many people would argue that the original album is a milestone of rock music. Should any music really be added to it? Should it be tampered with?
Dark Side of the Moon as a recorded album is as perfect a piece of rock music as will probably ever be created, so no, I think it should be left alone. Its cliched, but I even like the non remastered versions more. "Wish You Were Here" sounds amazing on vinyl.
5. I read a David Gilmour interview once and he surprisingly said that one of his early music heros was folk singer Pete Seeger. Besides PF, where do you guys get your music influences from?
Besides Floyd, we all have a pretty wide range of influences, some shared and some not. I think we all more or less share the classic rock influences like Zeppelin, Hendrix, The Who and ZZ Top. Our drummer was really influenced by Chad Smith of the Red Hot Chili Peppers and is also pretty into electronica and reggae. We all like Radiohead and Queens of the Stone Age; some of us like Steely Dan way too much.
I learned to play guitar on Nirvana's "Nevermind" so the 90s Seattle scene was influential. It's interesting having a tribute band interpret the music of Floyd through the lens of a younger generation of rock music. I tend to think it breathes some life into music that, as great as it is, can sound a little stale when you have heard "Money" 10 zillion times on classic rock radio. And don't get me wrong, I still love to hear Floyd on the radio, most people agree, though we have had our detractors, and that's fair enough.
6. Just curious here, but back east (New York/New Jersey) I recall a PF tribute band called The Machine. You guys ever run into them?
No, never have. Certainly know of them and they are doing a great job with the material by all accounts.
7. I read a funny Pink Floyd album review once. It said "You can't listen to a light show." Is your band equipped with all the lasers/projectors/flying pig balloon/cash registers?
Hmm, that's a funny review because I think their music and albums speak for themselves in terms of listenability. The production was always a pretty big piece of the Floyd experience, and as such we do have a scaled down light show, which changes depending on the venue. For smaller club gigs it is fairly atmospheric and not a focal point per se, though we have experimented with much bigger productions and had a lot of fun with it. We don't have a flying pig balloon -anyone know where we could get one ?
8. What would you like to tell the folks of Hood River to get them to come out to your show?
We'll see you on the dark side of the moon, or Oct. 15 at the Waucoma Club as it were! Thanks for the support and helping us spread the word to the Floyd fans out in Hood River!