Tuesday, October 11, 2011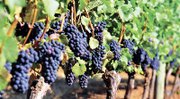 Last Tuesday looked, felt and sounded like a typical September morning at Phelps Creek Vineyard.
Neat rows of grapes sloped off in every direction across the steep hillside on Bob Morus's Westside vineyard. The contours of the Hood River Valley undulated below, with snow-capped Mount Hood soaring into a cloudless sky beyond.
At 9 a.m., the sun was already heating the 30 acres of grapes, with not a breath of wind and the promise of several days of the same ahead.
The morning quiet was pierced every few seconds by the sound of shrill bird calls emitting from the electronic bird repellers set among the rows of vines.
But Morus - along with every grape grower in the Gorge - knew it wasn't typical in every way. The grapes are at least two weeks behind schedule this year, thanks to the cool, wet spring and early summer.
"We're just finishing a stage called 'veraison,'" said Morus, stopping to examine a grape cluster as he walked between rows of pinot noir grapes. Veraison is when the grapes turn from green to purple, and it typically happens closer to the beginning of September.
But then, the last couple of years have had many winegrowers wondering what exactly is typical anymore.
"In 2010, we had the coolest vintage on record," Morus said. "Until this year. We've broken that record." Prior to that, 2009 was one of the warmest years.
With the grapes ripening behind schedule, growers worry about the inevitable rains that typically start in October. If the grapes have to endure much rain before they're ready to be harvested, they can suffer from botrytis, or rot.
"We tend to go into harvest not too worried about botrytis," Morus said. "But when the season is late, we start pushing up against the October rains."
Morus has been growing grapes long enough - nearly 20 years - to have seen many different seasonal challenges and to have tricks up his sleeve to help meet them. He "drops" more than half of the grapes his vines are capable of growing, so that the plants can put their energy into the remaining fruit. That means less wine in the end, but higher-quality wine.
"We also do a lot of canopy management," Morus said. Vine leaves are removed on the "morning" side of the grapes so the fruit can heat more quickly with the sun. He and his employees also do intensive row-to-row hand labor as the season progresses.
"Every cluster is touched at least 12 times during the season," Morus said, adding that in a challenging year, those labor-intensive steps become even more important.
"We just keep on doing what we do best, which is, don't skip any steps," he said. "You can't pull back from that."
Morus has a mental catalog of the last few years: 2006 was a good year; 2007 was a cool and wet year, producing a vintage that some critics dismissed; 2008 was one of the best years for Oregon wines as a whole; 2009 was a warm year, producing "big" wines that were crowd-pleasers; 2010 was the coolest vintage until this year.
While some winegrowers may worry about the wide seasonal fluctuations, Morus is philosophical about it.
"When you're making nice wine, vintage variations are good," he said. In 2007, when it got cool and wet well before harvest and many vintners struggled with their wines, Phelps Creek had a "breakout year," according to Morus. Phelps Creek produces primarily pinot noir, which Morus describes as being "about elegance, finesse and complexity."
"A cooler vintage tends to bring that out," he said.
In Burgundy, France, the "mother" of pinot noir regions, grapes are generally picked at a less-ripe stage, according to Morus - partly because of the potential for rain, hail and frost around harvest time.
"They still make a very flavorful wine, but there will be more aggressiveness in the winemaking" process, he said. Also, Burgundy wines tend to be aged much longer in the bottle than Northwest wines.
So, some warm fall days in the weeks ahead would be welcome to bring the grapes to the finish line in good form at Phelps Creek - and Gorge-wide.
"To grow optimally, you want it to take the whole season," Morus said. In the Gorge, with its potential for unpredictable weather conditions, winegrowers have to be prepared for anything.
"We're living on the edge," Morus said. "But really great wine is made by living on the edge."