Tuesday, October 11, 2011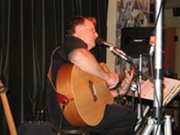 Gonzalo Bergara plays Oct. 22
Skamania Performing Arts presents Gonzalo Bergara on Saturday, Oct. 22, at 8 p.m. at the pavilion at Marine Park in Cascade Locks. Tickets are at www.skamaniaarts.org. After having toured the world extensively next to the John Jorgenson Quintet, native argentinian Gonzalo Bergara is presenting his new CD "Porteña Soledad" with glowing reviews all over the world. Gonzalo began playing professionally at age 16 in Buenos Aires. By 17 he was already fronting his own blues trio on national television. He arrived in America in the year 2000 and since then he has performed and recorded with hundreds of artists inlcuding Tim Hausser from Manhattan Transfer, Sylvie Vartan, Dan Hicks and the Hot Licks, John Jorgenson, Howard Alden and more. His new CD "Porteña Soledad" was editor's Pick on Guitar Player Magazine, and Vintage Guitar Magazine called it a "masterpiece." The Gonzalo Bergara Quartet is formed by Gonzalo Bergara on lead acoustic guitar, Jeffrey Radaich on rhythm guitar, Rob Hardt on clarinet and tenor saxophone, and David Tranchina on upright bass. The music is heavily influenced by Django Reinhardt and the Hot Club of France, all the traditional jazz and hint of his native land Buenos Aires. "Gonzalo Bergara's music exists in a way that very little music does. He has lavished such care on every phrase, built each arrangement with such lapidary precision and pared away anything extraneous, the music becomes sculpture. It has weight, density, gravity. This is serious. And deeply moving." Gonzalo has performed all over the world inlcuding Croatia, Canada, Italy, France, Germany, Hungary, Argentina, Brazil, England, Scotland and all of the US. Festivals such as The Montreal Jazz Fest, Playboy Jazz Fest, Sweet and hot Jazz fest, Django Reinhardt Fest in Germany, Suev guitar fest in Italy, Merle Fest, Strawberry Fest and all of the Django Fests in the U.S.
Pink Floyd tribute Oct. 15
Portland based rock band Pigs on the Wing is a Pink Floyd tribute band — they will be playing in Hood River on Saturday, Oct. 15, at the Waucoma Club. Pigs on the Wing is a unique Pink Floyd tribute bringing the experience and energy of veteran members of the Northwest's underground original rock scene together in a refreshing, beautifully psychedelic take on the music of Pink Floyd. Far from an attempt at Floyd-impersonation, POTW specializes in 70's era Floyd but is unapologetic in the interpretation and improvisation of the music in ways that the band believes any Pink Floyd fan will appreciate.
'We Think' film series Oct. 20
The "We Think" film series brought to you by the Skylight Theater and Andrew's Pizza will kick off the fall season with a film that has a real impact on our local fruit economy. The feature length film "Vanishing of the Bees" will be shown on Thursday, Oct. 20, at 6 p.m. in the Skylight Theater. The will be a question and answer period after the film with Melissa Elliott from Melissa Bees. Tickets are available the day of show. Honeybees have been mysteriously disappearing across the planet, literally vanishing from their hives. Known as Colony Collapse Disorder, this phenomenon has brought beekeepers to crisis in an industry responsible for producing apples, broccoli, watermelon, onions, cherries and a hundred other fruits and vegetables. Commercial honeybee operations pollinate crops that make up one out of every three bites of food on our tables. Vanishing of the Bees follows commercial beekeepers David Hackenberg and Dave Mendes as they strive to keep their bees healthy and fulfill pollination contracts across the U.S. The film explores the struggles they face as the two friends plead their case on Capital Hill and travel across the Pacific Ocean in the quest to protect their honeybees. Filming across the US, in Europe, Australia and Asia, this documentary examines the alarming disappearance of honeybees and the greater meaning it holds about the relationship between mankind and mother earth. As scientists puzzle over the cause, organic beekeepers indicate alternative reasons for this tragic loss. Conflicting options abound and after years of research, a definitive answer has not been found to this harrowing mystery.
'Breaking Trail' screens Oct. 12
Breaking Trail, the latest backcountry ski movie from Powderwhore Productions is coming to Dog River Coffee on Wednesday, Oct. 12, at 7 p.m. Last season's record breaking snowfalls around the west provided the film crew with an amazing canvas from which to create their latest human powered ski film, "Breaking Trail." In their never-ending mission to flatten flakes in the Wasatch and beyond, the team delivers mind-blowing backcountry ski action with a healthy does of ski culture and humor. Join your fellow backcountry riders for a great evening of powder thrills, spills and raffle fun down at Dog River Coffee.
Ron Hughes at The Pines
Quench your thirst and musical cravings Thursday night at The Pines in Hood River with Kerry Williams and his musical compadres as they rock The Pines with their impromptu solos and smooth vocals. 6:30-9:30 p.m. On Friday, Oct. 14, it's guitarist Ron Hughes. Known for his unique original interpretations, eclectic taste, and love of improvisation; Ron Hughes is a musical gem. His skill at playing the acoustic finger-style baritone guitar combined with his rich baritone voice an extensive and incredibly varied repertoire are a truly matchless combination
Wasteland Kings play Oct. 14
CEBU Lounge in Hood River presents music this week starting Thursday, Oct. 13: Cameron Feguson, 8 p.m.– Solo Acoustic Covers Local singer and guitarist Cameron Ferguson entertains and delights audiences with his takes on popular tunes from the 60's through today. He covers everything from The Beatles to Pearl Jam and Jack Johnson to Bob Dylan. Come see why he is a Cebu staff favorite! Cameron is known to take requests if you ask nicely. Friday, Oct. 14: Wasteland Kings feat. Jeff Minnick, 9:30 p.m. Blues-Roots Swamp Rock From Motown to Nashville, Austin to SoCal, you will hear it all with The Wasteland Kings. Bob Dylan, Steve Earle, Tom Petty, and Hank Williams can all be heard when you listen between the lines. But what you will never hear is this band trying to sound like anyone else. Their straightforward, no gimmicks, rock-solid approach is showcased with the kind of strong lyrics, hard-sell vocals, and deft guitar work that not only makes you listen, it makes you believe. Wasteland Kings are Hood River native Luke McKern (guitars), Roger Barnes (bass), and Kris Mallory (vocals.) Filling in on drums will be Gorge drumming legend, Jeff Minnick. Jeff has played drums with Junior Brown, Pinetop Perkins, the Paul Delay Band, Rod Price (Foghat), Curtis Salgado and many, many others. He has been on Austin City Limits (with Junior Brown) and performed at the Waterfront Blues Festival amongst many other national and international performances. Saturday, Oct. 15: The Shed Shakers, 9:30 p.m. – Eclectic range of Acoustic Newgrass, Bluegrass and Rock & Roll The Shed Shakers have been playing the Columbia River Gorge since early 2010, bringing their high energy, fast pickin' progressive bluegrass-rock style to dance floors from Stevenson to The Dalles. Sharing vocals and a love for traditional bluegrass, they bring an eclectic mix of classic favorites and original flavor to the stage.