Wednesday, October 19, 2011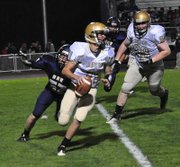 The fat lady refused to sing when the Hood River Valley football team most needed her Friday night.
Ten yards and a first down away from wrapping up a much needed victory in their Columbia River Conference league opener against Pendleton, the Eagles (0-1, 1-5) instead gave the ball back to the Buckaroos (1-0, 4-2), and watched as they exploded for 15 points in a minute and 16 seconds to steal a 31-24 win at Henderson Stadium.
"We had the game," said HRV coach Caleb Sperry.
The Eagles had dominated the game for the second and third quarters, and after a huge catch by Andrew Thompson gave them a first down at the Pendleton 32-yard line with an eight point lead and three minutes to play, it appeared only formalities stood in the way of an HRV victory.
Over the next three plays though, the Eagles lost a net of 11 yards on a run, penalty, incomplete pass and a sack, turning the ball over on downs to Pendleton on the Bucks 34 with 1:59 left to try to tie the game.
They wound up needing only 11 seconds as Connor Johnson found Lathan Alger, his go-to target all night, wide open behind the HRV defense for a touchdown.
Johnson then found Adam Footer in the corner of the endzone for a game-tying two-point conversion.
The Eagles got the ball back with a chance to go for the win, but again penalties killed their momentum, and they managed to take barely a minute of the clock before punting.
Even that did not work out as Pendleton returned the kick to the HRV 20 yard line with 50 seconds left. Pendleton needed even less time to take the lead than they had used to tie it.
On their first play Dylan Holcomb took a hand off and jetted 20 yards up the visiting sideline for the game-winning score.
"This year our thing is to jump offsides all the time," Sperry said of the Eagles difficulties getting their timing down on offense. "You can't win football games when its first and 15 or second and 20 all the time."
The Eagles were given offensive procedure penalties eight times during the game, costing them 40 yards.
The final scoring flurry gave Pendleton coach Mitch Sanders, who coached HRV through 2004, a win in his first game back in Hood River as an opposing varsity coach.
"This was one everyone wanted to win," Sanders said.
While it was a special win for Sanders ("I've had a lot of heart attack games as a coach on this field, but none like this," he said.) it was an incredibly difficult one for the Eagles.
""It comes down to me," Sperry said. "It's been a season of tough losses - I'm sick to my stomach. Here we are in week six and we are still doing the same stuff we were doing against Sandy in week one."
Before the penalties came back to haunt them in the final two minutes of the contest, the Eagles managed to work around them, and were playing possibly their most complete game of the season.
They took a 14-10 lead to the half following a pair of touchdown passes from Cody Walker to Cole Hunter.
The first was a 76-yard bomb which saw Walker roll out of the pocket and find Hunter all alone behind the Pendleton defense to give the Eagles a 7-3 lead with 8:48 to play in the opening half.
After Pendleton answered with a Johnson to Footer touchdown, Walker again found Hunter, this time from nine yards out to give the Eagles the lead heading into the locker room.
Pendleton threatened to retake the lead early in the second half when Cain Smith returned an Andrew Thompson punt to the HRV 23 yard line. Two plays later though, Gabi Nuno stepped in front of a Johnson pass in the end zone to end the threat.
Pendleton did get the lead back on their next drive when they rode Holcomb down the field before Johnson hit Alger for a touchdown and a 16-14 lead.
The Eagles jumped right back on top when Walker found Hunter for a 60-yard gain to get the Eagles to the Pendleton four-yard line. A run that got nothing, two-incomplete passes and a false-start penalty later the Eagles had to settle for Erik Gutierez field goal and a 17-16 lead.
The Eagles appeared to have all the momentum on their side and the game in hand as the third quarter wound down.
After Pendleton drove to the HRV 20 yard line, Johnson fumbled the ball and the Eagles got it back.
Following yet another false start penalty, they quickly moved the ball down the field as the quarter ended.
Facing a third and 11 at the Pendleton 45, Walker found Kyle Beam across the middle for the first down. However, the HRV junior decided he wanted a lot more.
He spun by the first defender that got to him, just keeping his knee off the ground, and then slipped through a pair of tackles as he raced to the endzone for a 55-yard touchdown with 8:46 to play.
"I just wanted to get in there and get into the endzone," he said.
The touchdown had the Eagles and their fans fired up. After Thompson sacked Johnson on third down and Wyatt Webber swatted down a fourth down pass on Pendleton's next possession, they appeared to be on track to get the win.
When Walker found Thompson open on third down on the Eagles next possession and got an 18-yard gain deep into Pendleton territory, the home stands at Henderson Stadium were set for celebration.
But it was not to be.
The Eagles have been in every game this season, but have only a win over Cleveland in week two to show for it.
"This was big," Beam said. "We wanted it and came out really strong."
Both teams made plenty of mistakes in the game, with the two possessions for each side ending in turnovers in the opening quarter, but Sanders said his team appeared to be making strides after switching to a more spread out offensive attack this season.
When his team got the ball back with under two minutes to play and down by a touchdown, Sanders said the plan was to score and get to overtime.
"I didn't expect to get all back on one play but we took a shot and it worked," he said. "I thought we would go to overtime but then we got one more chance."
In a devastated Hood River Valley locker room, Sperry tried to pick up the pieces after another frustrating week.
Penalties have dogged the Eagles all season, but they had appeared to be slowly putting things together.
Against North Salem two weeks ago, the passing game was going strong, last week against Summit the running attack was working. This week they had the passing game and enough of a rushing attack to mix it up and a defense that was coming up with big plays - and still lost.
"We've just got to come out on Monday and do what we do," he said. "We did some good things. We had two picks and some fumble recoveries, but it seemed like we would make a good play, then screw up, them make a good play and screw up. We still keep screwing up -- it's our nemesis this year."
Up next: The Eagles travel to Hermiston in a must-win game to have any shot at the league title - or even a top two finish.
It will not be easy either. After being devastated by injuries last season, the Bulldogs are back on track and have been lighting up the scoreboard.
They are coming a 56-10 pasting of The Dalles-Wahtonka Friday night in which running back Bobby Adams ran for 220 yards and five touchdowns. Containing Adams figures to be a key point of emphasis for an HRV defense that has struggled to stop the run this season and gave up a similar number of yards to Dylan Holcomb of Pendleton Friday.