Wednesday, October 19, 2011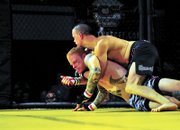 When Scott Baker stepped into the octagon on July 16, he had no idea what he was getting into.
Or rather, who he was getting into it with.
It was a full-contact cage fight - that much he knew. The Rumble at the Roseland was an amateur mixed martial arts event, and his opponent, he knew, was also fighting for the very first time.
To the tune of heavy metal music, Baker, a former Hood River Valley High School wrestler and graduate, entered the ring first and bounced around his corner poised for the bout. David Pederson entered second, to the tune of what resembled old Irish folk music.
Among Pederson's tattoos were a large swastika on his back, a picture of Adolph Hitler on his stomach and the letters "SWP" (Supreme White Power) stretched across his throat.
"I saw all the tattoos at weigh-ins and said to myself, 'oh great,'" Baker said Wednesday about Pedersen, who was arrested in California last week, accused of committing four murders with his girlfriend Holly Ann Grigsby. Among the victims was Pederson's father and step-mother, as well as a 19-year-old man from Lafayette, OR and a 53-year-old California man.
"I didn't believe it at first, when I saw his picture on the news," Baker said. "It's just crazy. After the fight, he shook my hand and said good job. He seemed like a nice guy."
Baker won the bout in less than a minute by getting Pedersen in a choke hold.
"I saw him again at the coast at a different event," he said. "After the fight a few of the fighters hung out. I even had a couple beers with him. And honestly, he didn't stand out. He was quiet, but he seemed like a nice guy."
When Portland news outlets caught wind of Baker's fight with Pedersen, it wasn't long before a reporter and camera were at his Hood River home, and before Baker and his two kids were on Fox News, telling the story of his bout with a murderer.
"The whole thing is just crazy," he said. "I found out right before the fight that he had just got out of prison. At that point it was too late to do anything but fight, so I didn't think about it."
Reports note that Pederson was released from prison in May after serving seven years behind bars for, among other things, assaulting a police officer and threatening the life of a judge.