Wednesday, October 26, 2011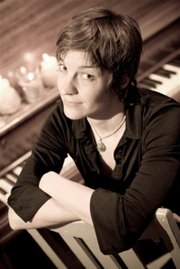 Fight against diabetes Oct. 28
The Hood River Elks Lodge will host a Halloween Hip-Hop DJ dance party on Friday, Oct. 28, starting at 9 p.m. Featured artists Ryan Laws (hotboxinmusic.com), GitDown (soundcloud.com/gitdown), ProfessorNemus 'N Iron Aiden and Mustache Marty. There's a costume contest with raffle prizes from DaKine, Second Wind, Double Mountain and more. Minimum donation is $5 at the door with a $20 Gold Package available. All proceeds benefit the American Diabetes Association.
VooDoo Alley at CG Hotel
Wake the Dead — that's the theme for the huge Halloween party at the Columbia Gorge Hotel on Saturday, Oct. 29. Musical guests VooDoo Alley headline the event. Join the Pacific Northwest's oldest haunted hotel for a night of fun, frights and dancing. The party starts at 9 p.m.; 21-and-over only. $20 at the door, but special entry packages are available. There's a total of $600 in costume contest prize money, so come to the party in style. For more information call the hotel at 541-386-5566.
Jam with Spruce 1 more time...
Stop by the Red Carpet Inn in Hood River to wish Spruce Baugher well as he heads down the road to Baja for the winter with a send-off jam with Spruce, Raven and friends on Wednesday, Oct. 26, from 6-9 p.m. www.reverbnation.com/sprucebaugher
Quick & Easy Boys, Barlow Road CD party at Double Mtn.
On Saturday, Oct. 29, alt-country band Barlow Road will be having a CD release party at Double Mountain Brewery in Hood River, from 8-11 p.m. The band's first CD, "Cinco," was recorded in Bingen, Wash., and features five original songs written by bandleader Matt Mesa. On Monday, Oct. 31, Portland's Quick & Easy Boys spend Halloween in Hood River in support of their sophomore full-length album, "Red Light Rabbit." With Jimmy Russell on guitar, Sean Badders on bass, and Michael Goetz on drums, the trio's sound has evolved to an amalgamation of funk, psychedelic rock, and garage-soul with a slight pinch of honky-tonk.
Bonham plays house concert
Ben Bonham is sort of the house musician of Hood River. He can be found all around town playing with a variety of groups, though for the past several years, he's been collaborating with a gifted finger-picking guitarist from Portland named Jamie Stillway. Stillway and Bonham will be at 401 Montello in Hood River for a house concert on Saturday, Oct. 29, starting at 7 p.m. For more information call Paul Blackburn at 541-387-4011.
'Cross Eyed' at Thirteen-O-One
The classic rock band Cross-Eyed Connie featuring bassman Al Schiebel will be rockin' "Al-O'ween," on Saturday, Oct. 29, from 9 p.m. to 1 a.m. at Thirteen-O-One, Steaks and Spirits on the Heights in Hood River. No cover charge. Thirteen-O-One, Steaks and Spirits, 1301 Belmont Ave., Hood River; 541-386-1774.
Ashleigh Flynn featured in songwriter series Nov. 5
Columbia Center for the Arts in partnership with Hood River Vacation Rentals is proud to bring Ashleigh Flynn to the Columbia River Gorge on Saturday, Nov. 5 at 7:30 p.m. Tickets are $15 and available at Columbia Arts and Waucoma Bookstore and online at www.columbiaarts.org. From Kentucky, Ashleigh Flynn grew up foot stomping along the Ohio River as the steamboats and barges made their way to the muddy Mississippi. Flynn has released two full-length studio efforts, Chokecherry (2002) and Ashleigh Flynn, self-titled (1999). Flynn's latest album, American Dream, is alive with stories about down-and-outers, young and old, all still hopeful, as is Flynn, that they can achieve the American Dream.
Joining Ashleigh on stage will be Ben Bonham and Ronnie Ontiveros. Check out Ashleigh at www.ashleighflynn.net. Columbia Center for the Arts is located at 215 Cascade Ave. in Hood River.
Opening the show will be singer-songwriter Matt Mesa and mandolinist Kerry Williams, both from the local alt-country band Barlow Road.
Kerry Williams at The Pines
10/27/11 6:30 p.m.-9:30 p.m. Kerry Williams & Co Quench your thirst and musical cravings Thursday night at The Pines! Join Kerry Williams and his musical compadres as they rock The Pines with their impromptu solos and smooth vocals. 10/28/11 6:30 p.m -9:30 p.m. Kerry Williams Rare solo performance! A chill evening of great music provided by local musician Kerry Williams. Sit back with glass of wine as he plays your favorite songs from the past decades, as well as some originals.
James Low at Cebu Lounge
Friday, Oct. 28: James Low Western Front, 9:30 p.m. – Western Folk-Rock Portland singer/songwriter James Low spins stirring, often pensive country- and pop-inflected narratives that warrant more comparison to immediate predecessors like Richard Buckner, while bearing the unmistakable influence of such vaunted troubadours as Townes Van Zandt and Guy Clark. "Raised in rural Oregon. Traveled the world. Wrote a few songs and recorded a few albums. Fell in love. Fell out of love. Got a dog. Got ready to slip off quietly into the sunset. Then one late night James was slouched at the bar contemplating a very dirty martini when the ghost of Ernest Hemingway came up behind him and smacked him on the back of the head. Get up you pansy! he said. Do you think you can defeat fascists in a self pitying stupor? Have another drink and get out there!"
Area 54 at Naked Winery
Sat. 10/29 7-11:55 p.m. DJ Area54 - It's Naked Winery's Third Annual "Exotic Erotic Ball"! Come dressed to impress, there will be fun costume contests! Also featuring live music by Portland's DJ Area 54, the number One rated Chill Radio Show in America. They play all the latest new music in genre bending styles. We will be serving very sexy appetizers from Voodoo Doughnuts in Portland, and White Buffalo in Hood River. Don't miss out on all this and many, many more surprises. Admission is $10 in advance or $20 at the door. Wine Club members get in for FREE with early reservations. Last year was sold out so don't wait, call 1(800) 666-9303 ext. 13, or visit www.nakedwinery.com to get your tickets today.
Sun. 10/30 5-7 p.m. Swing Crew - Linda McAllister, John Durkan, Mike Stillman, Paul Viemeister and Dennis Harvey play danceable swing, blues and popular hits from all eras. Come on over and show off your moves!
Mon. 10/31 7-10 p.m. OpenMIC night! Special Guest Appearance - Thinking of becoming a professional musician? Or just want to have a good time and make people dance! Either way, come down and be part of the fun with lots of talent from near and far away! Every monday night.
Tue. 11/1 6:30-8:30 p.m. Live Jazz with Mike Stillman and friends - featuring Chic Preston and Ryan Kolberg along with many other talented guests. They play a sparkling kind of music that blends perfectly with dancing and wine! So wether you like to show off your twirls, or have a beer, sit back and enjoy the show, come join us for a night of jazz, funk, soul, pop, swing and shuffle blues.
Art Gallery Show Opening – Mirrors and Reflections
This November First Friday the Columbia Center for the Arts Gallery presents Mirrors and Reflections. The show will open on November 4 with a reception from 6-8 p.m. In Mirrors and Reflections, artists will explore visions of themselves in the forms of mirrors, and the reflections they create. Mediums will include ceramics, glass, wood, fiber, metal, and painting.
In order to give Gallery visitors a chance to see the artists working in their studios, curator Dennis Mullen photographed each of them as they were creating work for the show.
As show curator Dennis Mullen say's, "In curating this show, I visited all of the artists in their working studios and found that out of the chaos comes real beauty. I am excited to present the creations that I have had the privilege of seeing come together."
To see each of the artists in their studios, please visit the Art Gallery page on our website at: www.ColumbiaArts.org. Participating artists include: Todd Smith, Serena Smith, Toms Royal, Kris Joy, David Sherburne, Elizabeth See, Judi Kane, Glenn Bargabus, Jim Diem, Chris Connolley, Addie Harding, Dennis Mullen.
This exhibit will be on display Nov. 4 through Nov. 27. For more information, please visit our website at www.columbiaarts.org or call Columbia Arts at 541-387-8877 during Center hours, Wednesday through Sunday from 11 a.m. to 5 p.m.
Classical guitar concert Nov. 4
Experience the full rich sound of the 8-string classical guitar with Andreas Ehrlich in concert at the White Salmon Valley Community Library's Sprint/Baker Gallery on Friday, Nov. 4, at 7 p.m. The performance will include music from the Renaissance, Baroque and classical periods as well as some favorite South American selections. The multitude of tonal variations produced on the 8-string guitar will amaze listeners. Ehrlich transcribes music written for many other instruments – piano, lute, harp, harpsichord, violin, mandolin, cello and even voice – making the sound natural to his guitar. The wide range of tones combined with the fluidity of the music he produces is a pleasure to hear. By playing several lines of music simultaneously, he creates the sound of two or three musicians, while his left hand "spider crawls" over the fingerboard. Ehrlich, who has played classical guitar for 40 years, and taught guitar for 29 years, began his musical studies in Hamburg, Germany and Vancouver, BC at the age of eight. He has performed in Master Classes with such notable musicians as Benjamin Verderi, Scott Kritzer, Laura Oltman and Michael Newman. He has also attended classes with Scott Tennant, author of the best-selling, Pumping Nylon. He has a wide following in the Pacific Northwest, the Midwest and Canada. For more information on this and other library programs and services, call the library (509) 493-1132 or visit the Fort Vancouver home page www.fvrl.org