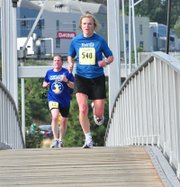 Someday the luck of the Columbia Gorge Marathon will run out and it will see runners gathered on a day with nothing but gray clouds and constant rain. Sunday was not that day.
Blessed with blue skies and unseasonably warm weather, around 1,100 runners total between the marathon, half-marathon and team half-marathon participated in the third annual event.
"It went exceptionally well," event director Chad Sperry said. "The weather could not have been better."
The only hiccup in the race was a delayed start in the half-marathon, after late-arriving runners created a backlog for shuttle buses to deal with. The start of the half wound up being pushed back by approximately a half hour, and Sperry said he hopes to be better at encouraging people to arrive early next year.
As for the race itself, MJ Engle cruised to victory in the men's race with a winning time of 2:35:13.4. William Strick took second with a time of 2:42:57.4 and Wes McCullough was third at 2:52:51.1.
Theresa Hailey won the women's marathon with a time of 3:14:07.8 in her first-ever marathon.
"My key was not starting out too fast," she said, "as well as stopping and drinking water at every aid station."
Heather Pola was second in 3:15.35 while Jill Hasselbach was third in 3:17:27.3.
Ryan Goldstein won the half-marathon with a time of 1:16.38.6, while Mike Olson was second in 1:21:05.3 and John Horvick as third in 1:22.34.3.
Sarah MacKay won the women's half-marathon with a time of 1:21:48.21, Hallie Janssen was second in 1:24:09.2 and Gwen Thomas was third in 1:25:29.1.
Sperry said the marathon is looking at a cap of around 1,500 for next year and will continue working with local groups to figure out traffic congestion at the intersection of Highway 35 and State Street caused by the larger volume of runners.
"It seems like there is a lot bigger buzz after this year," he said. "We should be able to hit the cap next year."
One runner who hopes to come back is Hailey, who now has a title to defend.
"It was really pretty," she said. "It didn't feel that bad even though it was really hilly. I hit the wall at about mile 18, but I really liked it."