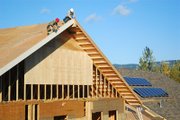 The 21,000-square-foot two-story work in progress on 18th Street is tantalizingly close to the tent-and-trailer complex now home to the Hood River Fire Department.
The $3.05 million fire hall project is on schedule for completion in late December, though Chief Devon Wells said contractor Corp Inc. has until Jan. 15 to finish the work.
"The whole department is really excited about this," said Wells, who also serves as project manager.
Fire department members assembled Oct. 26 to finalize a time capsule to commemorate the 2011 fire hall. The capsule will contain photos, clippings and other memorabilia of the department, which prior to 1986 was housed downtown in what is now the City Hall building at Second and State streets. The capsule will be encased under the front entrance, beneath the department fire bell.
"We're pretty close to being on target," Wells said. "Right now, the building is pretty amazing to walk through, to see it coming together."
On a bright day last week, Wells stood in front of the building and said, "It looks bigger than I expected it, even though it's coming together exactly the way the architect planned it. I'm just used to a single-story building."
The new fire hall does go up one more floor than its predecessor; the second floor will house dormitories, showers and a kitchen, along with a mezzanine with a workout room and records storage. Wells and his staff are currently choosing hardware, carpeting and other interior features, along with computers and items such as projection equipment for the training room.
"It's an interesting process; I've never built a fire hall before," said Wells, 37, who became fire chief in 2009. "And I doubt I ever will again."
Electrical and plumbing features are currently being installed, sheetrock will start in about a week, along with asphalt pouring in the parking lot, and landscaping is an ongoing process. Native plants on the west and south sides of the fire hall will provide embankment stabilization.
In light of coming winter weather, the apparatus bays, where trucks and other equipment will be stored, are in line to be finished before the offices, training and dormitory portions of the building. That way, according to Wells, the expensive equipment can be moved inside even if the entire project is not done.
Currently, the equipment is stored under tents, or in the open, at the fire department's temporary headquarters, in the public works complex 200 yards west of the fire hall.
The building's added elevation brings two notable features: the return of the fire pole; and a "third floor" training level. The mezzanine staircase will go to a third level, giving firefighters a place for such skills as interior hose use and carrying victims out of structures.
The new fire hall is more than double the size of its 10,000-square-foot predecessor, torn down last spring.
One thing the old and new buildings will have in common is the name: Ty Taylor Fire Station.
Taylor was a volunteer and inspirational leader who died in 1984 (see sidebar on page A10).
The old plaque honoring Taylor will be placed in the lobby of the new fire hall, where Wells said the department also plans to display the 1921 LaFrance "engine one," which Wells termed "the wonderfully restored first motorized equipment this department ever had."
The outside of the building will bear the traditional plaque noting the city and fire department officials involved in the 2011 project, which was paid for by bonds approved by voters in 2009.
"This is the community's facility," said Wells, adding that access to the property will be opened up to allow pedestrians onto the property, located next to the Hood River Aquatic Center and across the street from Hood River Middle School.
"This will be a more open facility. We want people to have the concept of 'let's come to the fire station'," Wells said.
"This building is going to get used," Wells said.
The new building is not only larger but will also provide better training facilities, according to Wells. Here are some of its main features:
A dividable training room that can also be used for public gatherings such as classes and birthday parties.
The space will be large enough for the entire department to meet, and to accommodate joint trainings with other departments.
Wells said the room will receive a commemorative name, of a person to be announced later.
Part of the room will be designated "dirty classroom" or debriefing room, where firefighters can gather while still in boots and other gear for debriefing, immediately after a fire or incident, or during a training session.
Wells explained it this way: "We can come in right away and talk things over, or go through a drill and then come in, talk about it or review videotape and then go back out and run it again, without having to take our boots off."
Expanded work space for firefighters
Ten showers, instead of the previous one.
"This fire hall is designed for a much larger department," Wells said. "There's room for more people in the dorms or for more firefighters needing offices, and it has all the apparatus space we'll ever need."
A physical training room, replacing a smaller one that eight years ago was turned into a locker room and lounge.
"It'll be good to have the training room back," Wells said. "That's the thing everybody's been missing."
Two bioswales to filter roof runoff
Solar panels to help heat the building
Then, there's that fire pole. A new one has been ordered, and firefighters will slide down it to quickly get from the upper-story dorms to the trucks.
There was a brass pole in the downtown station, used until 1986, and that pole has been in storage. The old one is too short for the 15-foot ceiling in the new fire hall, but Wells said "somehow, we'll find an honorary place for it."