Wednesday, September 28, 2011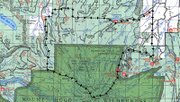 As of September 28, the following areas have been reopened after closure due to the Dollar Lake Fire. For fire and closure updates, visit www.inciweb.org/incident/2563.
OPEN:
Forest Roads 1811, 1650, 1660,2840 south of Kinnickinnick Campground, 3511, and 3512012 and all their associated spur roads and all other National Forest System Roads as depicted on the attached map.
STILL CLOSED:
Trail #600 from the Eliot Branch crossing near Cloud Cap northwest to its terminus at McNeil Point; Trail #627; Mazamas Trail #625, Vista Ridge Trail #626, Elk Cove Trail #631, and Pinnacle Ridge Trail; #630.