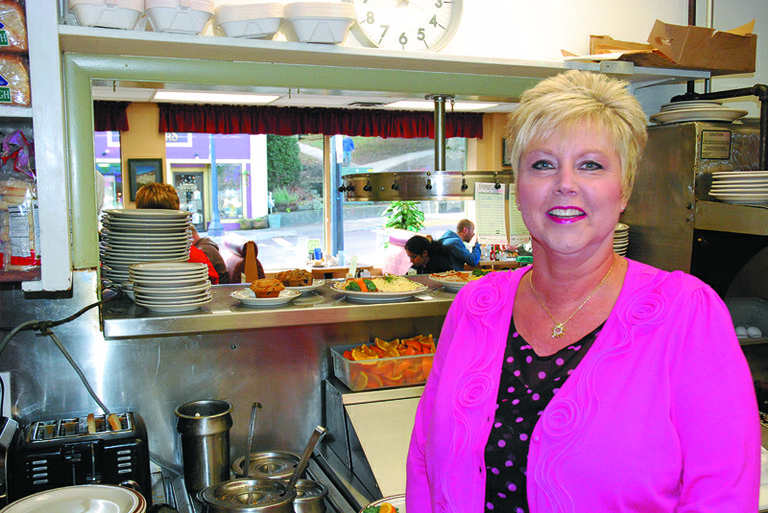 Wednesday, April 11, 2012
High-demand cinnamon rolls and frequent waiting lists make it hard to believe that Bette's Place once used Bunnies and Beetles to drum up business.
"Follow this bug to Bette's" said a sign on Bette and Jerry Walters' red-white-and-blue Volkwagen bug when Bette opened the corner diner in April 1975 with three tables and a counter.
Back then, the restaurant also tried dressing the wait staff — owner Bette Walters included — in pink smocks and floppy rabbit ears, another promotion long-since retired.
But friendly service and consistently good food drew in the locals and visitors at the successful café at Oak and Sixth streets.
Last fall, Bette's expanded for the fourth time, adding "Bette's Corner," just down the hall in what had been a storefront that was empty for two years.
No more dining in the hallway — that's for the waiting list.
On Wednesdays owner Gay Jones, Bette's daughter, cannot make the cinnamon rolls fast enough and, every day, locals and visitors fill the window booths and numerous tables spread throughout the place.
Gay's husband, Gary, recently retired and he keeps track of the waiting list: "not an easy job," said Gay, who believes the restaurant's success is based on two principles Bette taught her from Gay's years as a teenager working in the cafe: "we never say 'no'. We give the customer what they want."
The other is "never serve anything to a customer you wouldn't want to eat yourself."
Customers are likely to be served by Sheri Castenada or Tana Stanphill, who this spring both mark 25 years working at Bette's. They were hired by Bette, who started the restaurant after running the snack bar at Safeway for years. When the grocery chain (then located in the former store site now home to the Hood River News) closed out its snack bars, Bette worked a few jobs before learning that the owners of the former bowling alley wanted a restaurant for the property.
"My hairdresser told me they wanted to put a restaurant in, and I went to talk to them, and that's how Bette's place got started," said Bette, who opened got her sister Frances Chambers involved cooking right away, along with Gay and her brother, Mitch. Bette sold the restaurant to Gay in 1994.
"I'm proud of my daughter, she's done an excellent job," said Bette.
"I have a great staff. I couldn't do it without them," Jones said. "And if my employees need a weekend off or some time off, do it. Because that's important. It's important to me that you have your children and your family. Family is first. That's the way we've always been and I don't plan to change that.
"They are my support system," she said of her workers, who have a history of longevity. The secret to that is, "be nice to them," Jones said. "Work as hard as they do, that's what my Mom always said. My Mom never sat around and told anyone what to do, she worked as hard as she expected them to work."
Bette said, "this is from what I can see, just a nice place to work, if these girls have stayed around for 25 years. It's not like a regular restaurant where they go from place to place. Gay's responsible for a lot of that."
Gay said, "We grew up together. I used to be their age, you know, and it felt like we were all the same. I was Mom's employee. I didn't have to be their boss and now that I'm older. One day a week I tell them they can each be the boss and see how they like it."
Jones keeps her summer work crew at 15-20 people, and 12 in the winter.
"With the addition (of Bette's Corner) it has helped, we have served quite a few groups," this fall and winter, she said.
Gay grew up on State Street, just a few blocks from the old bowling alley.
"We would walk downtown to the dime store and buy candy, and every afternoon walk to the pool with my brothers, and go swimming all afternoon and go home, we had such great neighbors to play with," Jones recalled. "I have great memories of living on State Street and growing up there. I love Hood River. I can see why people come here."