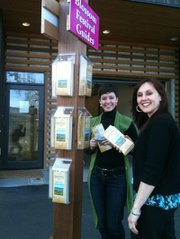 With Hood River Blossom Fest comes a host of activities. Blossom Fest continues April 20-22 and April 27-29.
Here's what you can find this weekend, April 13-15:
The Gorge White House, 2265 Highway 35. Open Saturdays and Sundays from 10 a.m. to 5 p.m. Winemaker Steve Mason from Major Creek Cellars will be on-site. Admission is free; wine and beer tasting $1 each.
Rasmussen Farms, 3020 Thomsen Road. Open Fridays and Saturdays from 9 a.m. to 5:30 p.m. Weekend Pansy Party featuring all kinds of pansies, frost-hardy perennials, herbs, annuals and accent plants in singles or flats. Oregon food products, crisp apples and pears and product sampling. Admission is free.
Glassometry Studios, 3015 Lower Mill Drive. Open Saturday from noon until 5 p.m. and Sunday from 11 a.m. until 3 p.m. Blow your own glass "fruit," watch demos and see beautiful glass art by owner/artist Laurel Marie Hagner. Blow your own appointments suggested; call 541-354-3015. Prices for blow your own ornaments are $20-$50.
Packer Orchards and Bakery, 3900 Highway 35. Open Saturdays and Sundays from 10 a.m. to 5 p.m. Fresh new bakery items and cookies. Beautiful blossom view right out front. Admission is free.
Cascade Alpacas and Foothills Yarn and Fiber, 4207 Sylvester Drive. Open Saturdays and Sundays from 11 a.m. to 4 p.m. Abstract Fiber Trunk Show; see shawls, socks, hats, scarves and gloves knit with luscious alpaca yarn. Meet the alpacas and visit the farm. Admission is free.
Mid Columbia Lions Follies, Hood River Middle School Auditorium. Friday and Saturday at 7:30 p.m. and Sunday at 2 p.m. "Pirates of Neverland" features local actors, singers and dancers. Annual production sponsored by the Lions Clubs to raise money for the Oregon Lions Sight & Hearing Foundation. General admission is $9.
Full Sail Brewery, 506 Columbia St. Brewery tours every Saturday and Sunday on the hour between 1-4 p.m. Admission is free. Open daily at 11 a.m. serving lunch and dinner.
Looking ahead
April 21-22 will be the second of three weekends in the newly expanded Blossom Festival:
The Midweek edition stated that "three Hood River Blossom Festival traditions that normally would take place this weekend will shift from their traditional time to one week later."
Local writer Davinne Mckeown-Ellis notes that the events have not "moved," but are in fact being held on the same dates as ever: during the third full weekend of April. That's April 20-22. (Details are in Blossoms section, Panorama.)
The events mentioned are:
West Side Fire Department breakfast, 7-11 a.m. April 22 at the Barrett Road station. (An omission on the Blossoms map in Panorama gives no date for this event.)
Parkdale Fire Department Casino Night, April 21 at the fire hall, 6:30 to 11 p.m. (ages 21 and over)
Blossom Craft Show at Hood River County Fairgrounds, April 21-22. (The April 11 issue wrongly called it a "fair.")
The show runs from 10 a.m. to 5 p.m. both days and includes the annual Blossom Fest Quilt Show.