Wednesday, April 18, 2012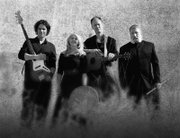 Jonathan Byrd plays Mosier
North Carolinian country folk songwriter Jonathan Byrd will be bringing his old-time style folklore to Mosier on Sunday, April 29, at the Mosier Grange. The show starts at 2 p.m. and tickets are $15. Byrd's 2011 release "Cackalack," won a Top Folk Album award in 2011 by the Roots Music Report and was also a top album in 2011 on the Folk DJ-list. The CD is a collection of some of the most ordinary topics, presented in an extraordinary way: chicken wire, concrete, roofing tacks, wild ponies, I-95, and other various nonfiction tales. Byrd's songs have since been recorded by Tim O'Brien, Red Molly, Raina Rose and many more.
'Pedal Driven' screens April 26
The Hood River Area Trail Stewards presents "Pedal Driven," a bike-umentary, on Thursday, April 26, at 6 p.m. at Springhouse Cellar in Hood River. Tickets are $10 at the door. All proceeds go the Hoodrats for local trail advocacy. Visit www.hrats.org for more information. Excerpt from the "Pedal Driven" website: In the pristine forests above Leavenworth, Wash., there exists a world of hidden trailheads and clandestine trails. Here a sect of outdoor enthusiasts, extreme mountain bikers called freeriders, have gone underground. They are the skate punks of the forest, unwelcome and under pressure to leave. The movie will take you behind both sides of this confrontation — riding with the freeriders and chasing them down with the rangers — in an exploration of issues increasingly important to all Americans.
'End of Money' reading April 25
Author David Wolman will be in Hood River for a reading and discussion of his new book, "The End of Money," on Wednesday, April 25, at 6:30 p.m. at Springhouse Cellar (13 Railroad St., Hood River). The event is sponsored by Waucoma Bookstore and the Gorge Owned Business Network. About the book: For ages, money has meant little metal disks and rectangular slips of paper. Yet the usefulness of physical money — to say nothing of its value — is coming under fire as never before. Intrigued by the distinct possibility that cash will soon disappear, author and Wired contributing editor David Wolman sets out to investigate the future of money … and how it will affect your wallet.
Banff Mountain Film Festival
Skylight Theater in Hood River brings the Banff Mountain Film Festival to town April 27, 28 and 29. Ignite your passion for adventure, action, and travel! This film festival will feature two hours of skiing, climbing, kayaking, mountain culture and the environment, and is produced by some of the world's best outdoor cinematographers. Traveling to exotic landscapes and remote cultures, and bringing you up-close and personal with adrenaline-packed action sports, the 2012 World Tour is an exhilarating and provocative exploration of the mountain world.
'Tummy Buckels' at Pint Shack
This week at the Pint Shack in Hood River: Thursday, April 19 — Ladies Night and Trunk Show from 6-8 p.m. At 9 p.m. it's open mic night with Mark Farner. Friday, April 20 — 7 p.m. Representatives from Tarkio Kayaking Adventure will be presenting a slideshow on a recent trip to Bhutan (all ages). Music by the Tummy Buckels from 8-11 p.m. Join Oregon songwriters Megan Cronin and Chris Baron as they play a tasteful original sound that draws on studies of classical music theory as well as club-style rock and roll (21-and-over show).
'Craicmore' plays April 19
On Thursday, April 19, at 7:30 p.m. Columbia Center for the Arts presents Craicmore, contemporary traditional Celtic music and dance. With deep roots in the music of Scotland and Ireland, Craicmore features critically acclaimed contralto Nancy Johnston and driving rhythms from guitar, bass, Bohdran drum, conga and other percussion. Along with high-spirited whistles, flutes and bagpipes they powerfully render jigs and reels. Four-part harmony, rhythmic hardshoe dancing, an East Indian shruti box and rumbling didjeridoo all accent the warmth and passion of Craicmore's fiery performances. Their music has been heard in the USA, Great Britain, Australia and New Zealand on the CBS prime-time hits "Without a Trace," and "How I Met Your Mother" and NBC's daytime drama "Days of our Lives." Tickets for this show are $15 for adults, $12 for students and seniors (62+) and $8 for children 11 and under.
Rhoades, Redwood Son at CEBU
This weekend at CEBU Lounge: Friday, April 20: Bill Rhoades & the Party Kings, 9 p.m. — Harp-driven, house rockin' electric blues. Bill Rhoades has been called the "Godfather" of the Northwest Blues scene. Over the past 15 years, Bill has received the "Muddy Award" for Best Blues Harmonica six times, most recently in 2007. Saturday, April 21: Redwood Son w/Tim Snider and Cody Beebe & the Crooks, 9 p.m. — West Coast Americana triple bill. Redwood Son, purveyor of eclectic Americana, returns to Cebu Lounge with Reno's Tim Snider and Seattle's Cody Beebe & the Crooks. Redwood Son's 20-song double-disc debut, "The Lion's Inside," boasts a dynamic versatility that crosses the borders of their West Coast Americana with hook-laden roots-rock and universal pop-vibe.
Chervona at Everybody's
All bets are off when Chervona comes to town. Have you seen this madness before? This band is absolutely infectious. It's impossible to resist the urge to dance when they play. Next thing you know, you are jumping around and shouting in Russian. Sound unlikely? Brewer Doug double-dog dares you to come to Everybody's Brewing on Friday, April 20. Everybody's Brewing, 151 E. Jewett Blvd., White Salmon, Wash; 509-637-2774.
Entertainment listings can be e-mailed to jdrake@hoodrivernews.com