Wednesday, April 18, 2012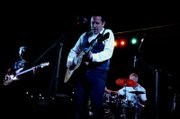 Jim Drake's Entertainment Blog
Don't let this one slide
The first thing you see when you go to Dennis Johnson's website (dennisjohnsonslide.com) is a close-up of his acoustic guitar. You can see the wood grain on the top soundboard. It has this well-aged look to it — an aura seems to surround the instrument.
When you walk into a guitar shop, there's usually a whole wall of guitars hanging up in a row. A lot of them look the same. But I can picture in my mind, this particular guitar hanging up on the wall, with all the others. And I picture myself choosing that one from all the others — you know, to try out. I'm really hoping he brings it to the gig.
Dennis Johnson and the Mississippi Ramblers will be at the Waucoma Club on Saturday, April 7, 9 p.m.
INTERVIEW WITH DENNIS JOHNSON
Thanks for making a stop in Hood River. Have you been here before?
This is my first visit to Hood River. I have heard great things about the city and The Waucoma Club. It's a beautiful area. I'm really looking forward to the show.
Most of your online photos show you playing a parlor-style Martin acoustic guitar with what looks like a custom soundhole pickup. Can you give us the details on that instrument and why you chose it for your slide-guitar playing?
Its a 1961 Martin New Yorker and my favorite guitar. The pickup is a humbucker from the 1970s. It has a nice tone for slide guitar. Its a very playable instrument.
Please tell us who influenced your playing growing up and who do you currently listen to?
My main influences are Robert Johnson and Roy Rogers. I also listen to a lot of horn players like Wynton Marsalis and Louis Armstrong.
Your website says you have an album called, "Slide Show." Are there any other projects in the works?
There is a new album to be recorded in the fall. I am almost done writing and arranging it. It will bring slide guitar to some new musical genres like New Orleans style music, Duke Ellington and maybe some latin music.
It looks like you guys play a lot of blues festivals. How do you arrange your setlist to handle the smaller clubs?
The audience is key. Some audiences love to listen more and some to dance more. I try to play music that people enjoy listening or dancing to. Smaller clubs get the audience closer to the music and they can hear much more musical nuance.
Thanks for your time Dennis and enjoy your visit to the Gorge!