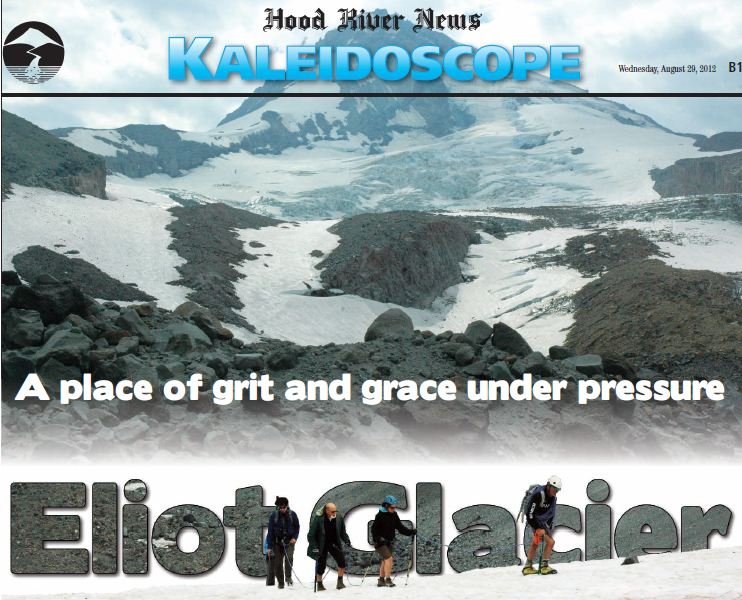 Wednesday, August 29, 2012
Gravel, rocks, snow, compact soil and dust: You trod on them all getting to Eliot Glacier, on the north side of Mount Hood.
At 8,000 feet you come across sand dunes: soft gray windblown sand undulates between ground vegetation and protective rocks along the trail within view of the glacial moraine with its walls 100 meters high — a bowl that looks like something halfpipe meister Shaun White would see in his most glowing dreams.
Those ice-carved walls only look smooth, though. At their base is a bumpy rock flat strewn with boulders, scattered small patches of snow and a single pale green pond, known as a tarn, that looks like an emerald floating in hot chocolate (photo, page B12).
Rocky debris of every grade, from powder to bus-size boulder, covers the trail or its surroundings — and more importantly, the glacier itself.
From the valley floor, Eliot looks like a smooth snow-and-ice natural structure, but up close one sees it for what it is: a rocky, sandy, mud-covered expanse. And it is that dressing of volcanic grit and granule that has been its savior from more extensive melting in recent decades.
"This material insulates the snow and ice, and keeps it from melting," glaciologist Steve Wilson told visitors on an Aug. 18 trip onto the glacier.
"This glacier, probably because of the debris, and snow and rock cover on it is probably longer than it otherwise would be, because of the protection over it," Wilson said. "If it didn't have that the terminus would probably be farther up the mountain."
Wilson, who has studied glaciers in Alaska, Antarctica and Mount Rainier, explained that "a glacier does melt, not completely. A glacier is a perennial mass of snow and ice that moves under its own weight."
In Eliot's case, a meter per year, more or less, Wilson said. "It is moving slowly but it's moving, and carrying this debris down and depositing it on the bottom or the sides, advancing, bulldozing, pushing, carrying surface stuff down," Wilson said.
For a first-timer on a glacier, it is indeed impressive to see up-close the sheer variety of mineral debris scattered on the glacier, combined with the palisades of red rock and blue ice that rise both overhead and underfoot.
Seventeen hikers gained a close view of the geological and esthetic wonders of Eliot Glacier and its surroundings on the dramatic north face of Mount Hood. Community Ed Director John Rust, an experienced climber, and Crag Rats Paul Crowley, Joe McCullough and Dick Arnold helped lead the tour, a first of its kind: Crag Rats mountaineers teamed with Community Education and Hood River Watershed Group to lead the group up to and onto Eliot Glacier, the largest north side glacier, which is visible from the city of Hood River, and is a major source of drinking water and irrigation water for the Hood River valley.
Orchardist Tom Garafalo of Hood River enjoyed seeing the source of the water that supplies fruit trees such as his, and Horizon Christian School's Sheila Sletmoe took numerous photos that she will use this school year to teach her students about erosion.
Wilson pointed to a dominant example of that: the large cliffs and rocky overhangs high on the glacier and its sides are composed of "thermally altered rock that's not very cohesive and likes to fall apart.
"If you're a climber it's not good stuff to be on," Wilson said.
"Climbers say it's like a bowling alley in the middle of the day," Crowley said
"What it's doing is landing on the glacier and the glacier is carrying it down," Wilson said. Eliot differs from southside glaciers in that respect.
"You don't have that on the other side of the mountain. That's why this glacier is so full of rock," he said.
He noted that the moraine is "pretty smooth, which means a pretty steady retreat going on."
n
In 2006, a PSU team looked at whether Mount Hood's glaciers in particular were growing or shrinking and at what rate. They found that the mountain's glaciers on average have lost 34 percent of their volume. Since 1982, Eliot Glacier has shrunk 30 meters in depth and lost 50 percent of its volume, according to a report by Susan Hess in the online journal New West.
From 1901-2004, Eliot Glacier receded about 625 yards, the effect visible in the mostly barren moraine, according to PSU team member Keith Jackson in his blog, geopulse (though Wilson noted that sections of ice might remain under the moraine, insulated by the rocky sides).
The most pronounced shrinkage has occurred since 1995, according to Jackson. The other six glaciers on Mount Hood exhibit similar patterns, retreating through the first half of the 1900s, advancing or at least slowing their retreat dramatically in the 1960s and 1970s, and then retreating again.
Proportionately, Coe Glacier lost the least area, 15, while White River Glacier lost the most, 61. The ice-covered area of the seven glaciers lost 34, according to Jackson.
n
Eliot is more than the snow-and-ice natural structure it looks like from the valley floor. It is an expanse of five main coverings: first, fields of rocks; second, gritty lava sand and mud; and third, a glistening hardpack of ice that looks like icy tile with an abstract pattern. It's awe-inspiring to trod on these sections, because you realize you are walking on your drinking water.
The fourth and fifth dominant features are the red and brown cliffs looming overhead, and massive strips of cool blue ice that resemble frozen six- to 10-foot waves.
And what covers most of these features is a dressing of volcanic grit and granule. However, just what it is resting upon could be thick or thin, stable or unstable.
The Aug. 18 tour stayed well away from the cliffs and Rust and the Crag Rats found a route to the midpoint of the glacier that steered clear of wide crevasses, though the team roped up and donned helmets and crampons (grips worn on boot soles) to stay as safe as possible on the glacier. Crevasses are often hidden and they can be quite deep.
"You have to careful on a glacier because it may seem like you're walking on snow, but the last thing to be uncovered is all the (crevasses), because that's where the deepest part is. So if you see a line of snow visible, you probably don't want to go traipsing down there."
Rust shared the following joke:
A climber slips into a crevasse and a partner leans over and calls down,
"Collins, are you okay?"
Comes back the reply, "I don't know; I'm still falling."
n
Wilson said aerial surveys of glaciers are part of what goes into monitoring and measuring them, but crampons-on study is critical at some point with every glacier.
"You can't always tell where the terminus is and to make repeat measurements, you gotta come out here," he said.
He will often hike for days to get to the glaciers he needs to study, and said that as rugged as Eliot Glacier is, "some are not as easy to get to as this one."
Close study of all Mount Hood glaciers is important in light of heavy and destructive debris flow like that seen in 2006 and 2008, he said.
"It's become a huge impact for infrastructure and the environment," he said.