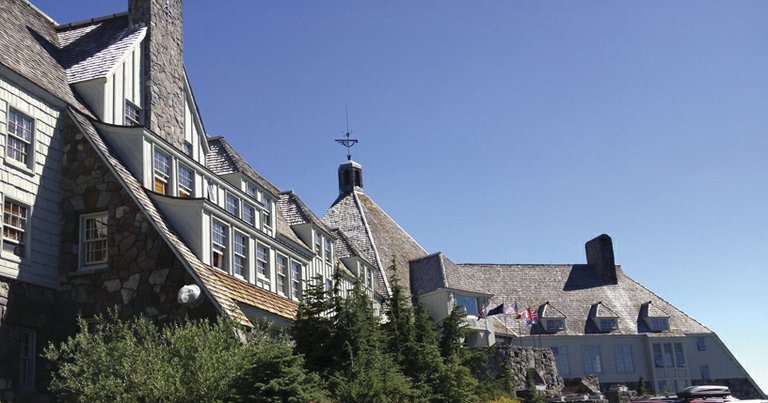 Wednesday, August 29, 2012
Being around for 75 years: That is a hard concept for me to grasp considering I've barely made it through just 17 years. Timberline Lodge on the flank of Mount Hood has remained all these years, but during the construction of the facility America was facing some of its hardest tests in the 20th century.
Today, Timberline attracts about 1.9 million visitors annually and is opened every month of the year to skiers, snowboarders and vacationers.

The historic structure's history all started with a man named Emerson J. Griffith, who spent a decade trying to get a lodge built on Mount Hood. After the Great Depression hit, Griffith was named the WPA director for Oregon.
WPA, known as Works Progress Administration, was one of the largest federal agencies created during the New Deal. The agency appointed jobs to untrained workmen to do public work projects during and after the Great Depression that occurred between the 1930s and the early 1940s.
About 400 men worked on Timberline through the WPA while another 400 men and women worked in Portland, learning skilled crafts. In Portland the craftsmen would work as apprentices, to learn the hand skills that they would apply while working on the lodge. The work included wood-carving, weaving, mosaic-laying, stone masonry and blacksmithing, among others.
Many of the master craftsmen believed these were dying arts and they wanted to preserve them. Master craftsmen were paid 90 cents an hour while the apprentices were paid 55 cents per hour.
Griffith's first funding request, after taking office was to build the lodge and the request was approved in late 1935. The lodge was built between 1936 and 1938 and was opened to the public five months before the interior of the lodge was entirely completed.
On Sept. 28, 1937, Franklin Delano Roosevelt dedicated Timberline Lodge in front of an assembly of 1,200 people.
When I was assigned to write about Timberline, I was a little lost. I had heard about Timberline before but I'd never been to see it. How was I supposed to write about something I'd never witnessed before?
Before I was born, my parents had been to Timberline with my brother and sister, but the downside to being the significantly younger sibling is that I missed out on things like that. So two weeks ago I took a trip up with my mom to experience Timberline for the first time.
As I arrived, it was like I had stepped into Marty McFly's "Back to the Future" time machine — except for the countless number of iPhones.
I seemed to be standing in a gigantic log cabin. The one thing that immediately caught my eye when we walked in was a gorgeous mosaic of the mountain's natural wildlife. It was made of the tiniest tiles that I would never have the attention span to work with, let alone turn into something beautiful.
In honor of the 75th anniversary, the lodge staff has set up a timeline to document the construction of the lodge and its important events. The display includes a photo from that time period. I thought that the pictures were really cool; I'm kind of a history nerd so I loved looking at them.
We went up to the second floor and found ourselves on the balcony at the front of the resort. The view from the top was absolutely stunning; it felt like I was where the mountains blended into the sky — my breath was taken away.
My promising snowboarding career ended at the age of 10; therefore I never really came up to Mount Hood. The mountain view was something I had never seen before so I won't forget it anytime soon; not because my memory is great but I took lots of great pictures.
After seeing everything at Timberline, it made me think about what that area was like back then and what this meant to the people, the artisans, who built it.
While I was researching I found one quote online that sums everything up brilliantly:
"Timberline's anniversary is not just about history. It's about how a living history can give us meaning and momentum into the future. This will be a celebration of American spirit," said Jon Tullis, Timberline's public affairs director.
Thinking on it, in the 1930s, America's economy was at one of its worst points, and it's not doing well today either.
Timberline was something that gave untrained people a job, therefore giving them hope for the future and helping them believe that they wouldn't always be in poverty or financial trouble.
It seems like history is repeating itself and Timberline is a great example of how America can still overcome the biggest problems it faces.
n
On Labor Day, Timberline is hosting a free concert and heritage fair. There will be information booths in and around the lodge along with a barbeque, face painting and other children activities.

A free, day-long music concert will feature singer/songwriters Moe Dixon, Sarah Lee Guthrie and Johnny Irion, Slaid Cleaves, Eliza Gilkyson, Jimmy LaFave, and harpist Bryan Bowers. Performers begin at 1 p.m.
The musicians and staff will be celebrating folk artist Woody Guthrie's 100th birthday at 7 p.m. performing a two-hour tribute performance entitled "Walkin' Woody's Road." Guthrie wrote songs that captured the Depression-era experience and the hard work ethic that kept Americans going when times were down.