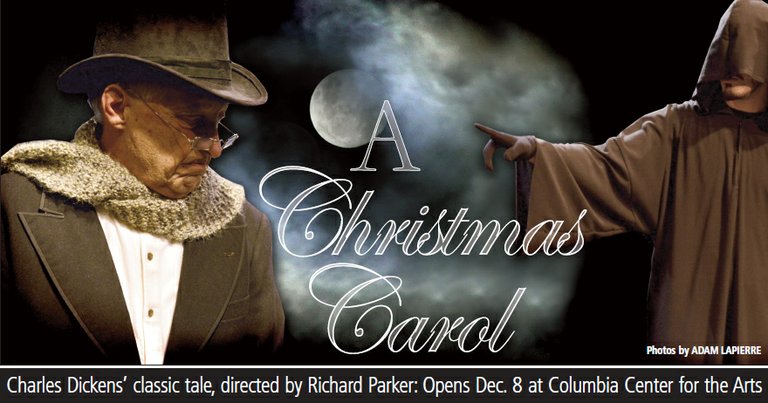 Tuesday, December 4, 2012
Everyone knows what became of "the clutching, covetous old sinner" Ebenezer Scrooge.
"Spoiler alert" was not a Victorian era term, nor is it needed here.
As the tale of "A Christmas Carol" is central to our cultural sense of the season, and we all know what happens, it is giving nothing away to present the above quote, one reflecting the moral transformation of Scrooge.
Charles Dickens' beloved story is presented on stage starting Friday at CAST theater at Columbia Center for the Arts (details below).
Gary Young reprises the lead role, one for which he is well-known. He played Scrooge at CAST in 1998, 2002 and 2006. (See sidebar, bottom right for his thoughts on returning to Scrooge.)
It's also a return to the classic for director Richard Parker, who also directs the Columbia Gorge Community College drama department.
"I'm far enough along in my life that I don't feel I always have to do something new, that there are certain things that can be revisited and should be revisited, over time," said Parker, who directed the play in 2006.
"Someone said, 'Well, you direct this pretty much every year, don't you?' and I said, 'No, last time I did it was six years ago.' There is this sense that we do it every year, but we don't."
(Parker did direct an alternative take on the Scrooge story, "Mrs. Bob Cratchit's Wild Christmas Binge," at CAST in 2007.)
With this production, Parker is working with his largest cast yet, 30 people.
"I'm incredibly pleased with the cast that ... wandered in, basically, truly because of everyone who auditioned in the show, and we have truly talented people, and it's been easy in lots of ways," Parker said. "People take it seriously and are committed to what they're doing, even the little ones."
The cast has seven children 14 and under, including a family of five, two sets of siblings and a father-daughter who are on stage together. The 7-year-old is showing Dad the ropes, but more on that later.
CAST veterans in the play are Galen McMahon as Bob Cratchit, William Thayer-Daughtery as Ghost of Christmas Present, Lisa Roth-Baisden as Mrs. Bob Cratchit and her husband, Gregory Baisden, as Jacob Marley and Old Joe.
Theresa Kappel is the Ghost of Christmas Past; Andy Martinez handles the mute role of Ghost of Christmas Yet to Come, and Leion Thompson and Janelle Child portray Mr. and Mrs. Fezziwig. Their daughters are played by Alyssa Regentin, Lucy Fine and Giulia Terrana.
Gary Young's wife, Barbara, plays a laundress, and siblings Alyssa Regentin and Peter Regentin play Martha and Peter Cratchit.
John and Phoebe Wood of Hood River, and an entire family – three boys and parents – the Roths from Snowden, take a variety of roles: Joel plays Tiny Tim snf his brother Gabriel is in the ensemble, along with brother Nate.
John Wood said, "This is the first time I've done anything like this since the fourth grade."
Phoebe, 7, may be young but this is not her first local production. A year ago, she had a key role, with numerous lines, in the thriller "Wait Until Dark," also directed by Parker.
In the role of Belle, Scrooge's fiancée, is Emily Vawter, and Pam Riedl plays a charwoman. Lisa Spicka and Rosemary Shepherdson play the Gentlewomen who ask Scrooge for donations in one of the first scenes.
In the ensemble, and taking their turns with scene-setting lines and announcements are Chris Henrikson, Edith Fleck (who played "Mrs. Cratchit" in the 2007 "Binge" production), Ashley Salisbury, Michelina Roth, David Roth, Gabriel Roth and Nate Roth. Gabriel has the role of "Turkey Boy," sent by Scrooge to the poulterer's on Christmas morning.
And Gary Young is back as Scrooge. Asked what is he doing differently this time, Parker said, "What he brings differently is what the other people bring; what the interaction is with the other cast members."
He added, "For some of the younger ones, one of my students (Andy Martinez) is playing (Scrooge's nephew) Fred and also young Scrooge, and I said, 'You've got to loosen up and remember that you're two sides: as Fred, you're the young man Scrooge started out to be and then you've got that transition scene, where you're much harder."
Parker said the 2012 "Christmas Carol" is similar in lots of ways to past productions.
"I did think about moving certain areas to different things, but it worked very well before so I don't want to fool with that, but the difference now is with that many people, you have a lot more going on.
"It's really about directing traffic in some of those scenes. In Fezziwig party scene, it was sort of free-form before. This time we're actually doing a period dance, traditional dance that the Virginia reel descended from."
Parker said the show is also different from past joint CAST-CGCC productions in that it mostly comprised of community members.
"The large cast is a blessing in some ways because we have some very good singers, and we have added Christmas carols throughout," Parker said.
The interspersed songs propel the story along with the varied actors' pronouncements and observation: "As Scrooge looked fixedly at this phenomenon, it was a knocker again…"
Some of the cast members are providing the music. John on fiddle (and Phoebe in one scene), Theresa Kappel on flute, and Lisa Spicka on trumpet.
"I didn't know John played until he heard me saying we need to find a fiddle player and he said, 'I play,' and I said, 'Okay, you're in,'" said Parker, who adds his voice to the chorus on stage.
"My carolers are kind of like a Victorian England Greek chorus, wandering in and singing and setting the mood, or commenting on what's coming up," he said.
"We had fun selecting what music was going to go where," Parker said. "They are all carols that were sung in Victorian England, but you'll be able to recognize them."
For example, "In the Bleak Mid Winter" is sung just before the scene in which Belle breaks up with the young Ebenezer. She told him, "another idol has replaced me."
It's one of those moments when the sadly lyrical side of Dickens comes through: "You may have pain in this; the memory of what is past half makes me hope you will," Belle tells Ebenezer as she breaks their engagement.
Does the 2012 production reflect the current time or is it Victorian?
"It's very Victorian," Parker said. "I think it's impossible not to have the world color it in some way, especially coming off an election where the haves and have-nots were so pointedly referred to, constantly," Parker said.
"Certainly when I agreed to direct this two years ago that was the last thing on my mind, but it's true some things never change. They just truly don't. Some haves never truly get it. It's not that they're awful people; Scrooge is, he's allowed himself to become that. But they stop ... seeing what the world really is; that everyone who's in a bad way did not put themselves there. It's not always somebody's fault."