Tuesday, December 4, 2012
Snowboard film screens Dec. 14
MonsterHutch.com will present the snowboard video premiere of Jeremy Jones' "Further: The Journey Is the Reward," on Friday, Dec. 14, at the Waucoma Club, 207 Cascade Ave., Hood River. The show will start at 6 p.m. for all ages, with the Hood River Valley High School snowboard team presenting, and again at 9:30 p.m. for those 21 and over. Admission is two to four cans of food to benefit the FISH food bank.
Meet the Brewer Dec. 6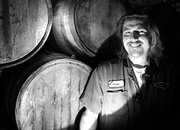 "Meet the Brewer and the Beer" at the Full Sail Tasting Room and Pub in Hood River, on Thursday, Dec. 6, from 5-6:30 p.m. Join the Full Sail crew to celebrate and toast a pint of their new Brewer's Share Experimental Beer "Lord of Darkness," a Cascadian dark ale brewed by Gavin Lord. Proceeds from the event benefit Groundwork Portland.
'Sugarcane' at Everybody's
Everybody's Brewing hosts music from the Sugarcane String Band on Friday, Dec. 7, starting at 9:30 p.m.
On Sunday, Dec. 9, starting at 4:30 p.m. there is a special benefit event for employee Garrett Arceneaux to help with medical expenses. Music from Tracy Klas, McDougall, the Tony Coleman Trio and more. Everybody's Brewing, 151 E. Jewett Blvd., White Salmon, Wash; 509-637-2774.
Lolo Motion at Pint Shack
This week at the Pint Shack in Hood River:
Wednesday, Dec. 5, dance to locals Lolo Motion from 7-9:30 p.m.
Thursday, Dec., 6-7 p.m. Ski films featuring 70 years of thrills, chills and spills with "The Performers" and "Blizzard of Aahhh's."
Monday, Dec. 10, 8 p.m. Open mic night.
Tuesday, Dec. 11, Open from 6-8 p.m. for a ladies-only Pure Romance party.
Stillman at 301 Gallery
Mike Stillman & Friends play The Gallery 301 on Friday, Dec. 7. Come and hear what a man with mis-matched socks can do with a saxophone. This boisterous group will play a few jazz classics and spread holiday cheer, starting at 5 p.m. The Gallery 301, corner of Oak and Third, Hood River.
Country Dance returns Dec. 8
On Saturday, Dec. 8, from 7-10 p.m., the Second Saturday Country Dance returns to Rockford Grange. The dance caller will be Sue Baker and the band will be the Mill Creek String Band. Dance lessons will begin at 7 p.m. All ages welcome. No partner required and dances are family-friendly. $6 for members, $7 for non-members, $1 for youth and students. Please bring snack treats for break time.
Call Keith Harding at 541-352-7550 or Tom Hons at 541-386-5771 for further information.
'Ingredient' film screens at Rockford Grange Dec. 9
The movie "Ingredients" will be shown at Rockford Grange, 4262 Barrett Rd, Hood River, on Sunday, Dec. 9, at 6 p.m. Free admission, suggested donation $5. There will be discussion and snacks will be available after the film. The movie is sponsored by Azure Standard of Dufur, Ore.
About the movie:
At the focal point of this film are the farmers and chefs who are creating a truly sustainable food system. Their collaborative work has resulted in great tasting food and an explosion of consumer awareness about the benefits of eating local.
Attention being paid to the local food movement comes at a time when the failings of our current industrialized food system are becoming all too clear. For the first time in history, our children's generation is expected to have a shorter lifespan than our own. The quality, taste and nutritional value of the food we eat has dropped sharply over the last fifty years.
Shipped from ever-greater distances, we have literally lost sight of where our food comes from and in the process we've lost a vital connection to our local community and to our health.
A feature-length documentary, "Ingredients" illustrates how people around the country are working to revitalize that connection. Narrated by Bebe Neuwirth, the film takes us across the U.S. from the diversified farms of the Hudson River and Willamette Valleys to the urban food deserts of Harlem and to the kitchens of celebrated chefs Alice Waters, Peter Hoffman and Greg Higgins.
The movie is a journey that reveals the people behind the movement to bring good food back to the table and health back to our communities.