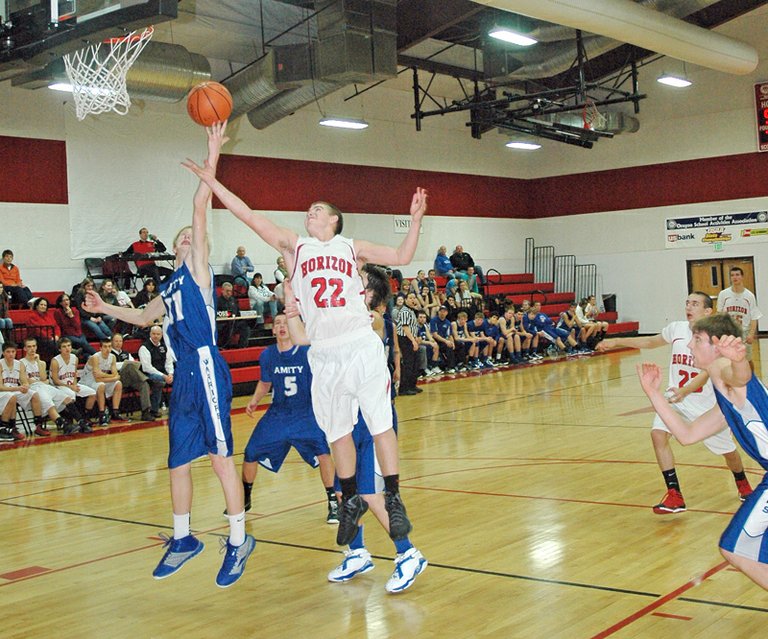 Tuesday, December 4, 2012
Horizon Christian School boys basketball team started strong in its campaign to repeat as state 1A champions.
The Hawks defeated the 5A Hood River Valley Eagles 72-51 and the Amity Warriors (3A) 53-31 to win its own season-opening tournament Friday and Saturday.
Both games were entertaining, with a large HRVHS student contingent filling up half of the packed gymnasium on Friday night. It was the first time the varsity squads from the two high schools in Hood River had ever competed.
In the boys game with Amity, the Hawks removed all doubt at halftime, when it was 28-17, by holding Amity to four points on 1/7 shooting and staking an insurmountable 39-21 advantage at the start of the fourth quarter.
Amity won the girls tournament, defeating Horizon 72-19. Horizon had come from behind on Friday to beat Trinity Lutheran, 32-31.
HRV and Amity have agreed to return for the 2013 Horizon season-opening tournament.
"It was a great tournament," said Horizon Athletic Director Oscar Stenberg. "We had tremendous community support for the sport of basketball. Thank you, Hood River. There was great play by both home teams — the Hawks and Eagles!"
The Horizon girls lost the tournament championship game to Amity, 72-19, but looked upon the defeat by the 3A team as a set of building blocks. (See Horizon preview, this page.)
Hood River Valley beat East Linn 56-49 to round out boys action, and the East Linn girls beat Trinity Lutheran 52-38.
Horizon boys bolted to a quick 10-3 lead over HRV, and never looked back. HRV managed only one first-quarter field goal, a three-pointer by point guard Cesar Romero.
HRV could not contain the Horizon inside game, and Horizon hit 23 of 39 shots (59 percent) and added a pair of threes, as well as outmatching HRV on the boards, 32-18.
Ryan Wheat led HRV with 20 on 7 of 17 shooting, all in the second half. Freshman Parker Kennedy was three-for-three for eight points, including a trey. Luke Kopecky added seven and Eli Fults six, and Wyatt Webber two. The Eagles were cold in the first half but ended up hitting 10 of 22, or 42 percent.
Jake Wells was 6/10 for 16 points to lead Horizon, and Matt Totaro had 13 and Mason Bloomster 12. Jared Davis had nine including two of the four treys he attempted. Micah Engel scored seven, Ryan Aldrich six and sophomore Wes Johnston five for a balanced Hawk attack.
Late in the first, HRV was whistled for a 10-second violation, Wells blocked a shot and a Totaro steal, followed by his jumper, made it 15-3, to end the first quarter.
RJ Chavez of HRV and Davis slapped hands as the first-quarter ended, and the packed HRV cheering section kept up the energy, but Horizon would put the game out of reach in the second quarter.
In the second half, a series of jumpers by Wheat breathed life into the Eagles' game, but the Hawks' backcourt press combined with the Hawks' inside game at both ends (two blocks each by Totaro and Bloomster) overwhelmed the Eagles. The Hawks stole the ball 15 times, including five by Engel.
In the finale against Amity, Totaro and Davis shouldered scoring leadership, with 14 and 12 respectively, while Bloomster hit seven, Wells six, Aldrich and Engel five each. The Hawks dominated the boards, 36-19, with Totaro and Bloomster taking 12 and 10.
The team shot better from beyond the perimeter (6/13, 46 percent) compared to inside the arc (11/27, 41 percent).
When the Warriors cut Horizon's lead to 10 in the third, it was Davis' pair of threes that effectively put the game out of reach, coupled with relentless backcourt defense led by Engel and Aldrich. Amity tended to hasten to beat the half-court traps and then rush low-percentage shots, which Horizon would routinely rebound.
Hawk girls win first game
The boys championship was not the only bright spot for Horizon in the tournament. In their first game of the season, the Hawk girls came from behind to beat Trinity Lutheran 32-31, led by Katie Tolbert's 16 points.
Down by as many as seen in the fourth quarter, the Hawk girls pulled within 26-22 with 4:46 left, on a shot by Alyssa Bryan. In a 28-second span starting with 4:07 left in the game, Tolbert scored three times and grabbed three rebounds, and the Hawks took the lead for good on a shot by Tolbert, with a free throw by freshman Marlie Bloomster making it 28-26.
Trinity tied it at 28, but Tolbert scored again 18 seconds later, and Bryan's two-pointer made it 32-29 with 2:29 left. Rachel Spencer of Trinity hit a two to narrow the Hawk lead to one, but the Hawks held Trinity to just two more field goal attempts and used a forced turnover by Hannah Lingel, and rebounds on both ends by Tolbert, to hold on for the win.
In the final quarter, Horizon outscored Trinity 16-8, shot six for 11 from the field while holding their opponents to 1 for 11, and outrebounded them 15-10. (In the last four minutes, Horizon grabbed 10 rebounds — five on each end — to Trinity's four.)
Senior Kasia Nielsen added seven and senior Alyssa Bryan five, and junior Hannah Bouvard and Bloomster two apiece.
In the Amity game, Nielsen led Horizon with 15. Trista Hicks added four, and Tolbert had one. A statistical bright spot was that Horizon had 17 defensive rebounds to Amity's 15, but the Warriors had the 42-33 overall edge.