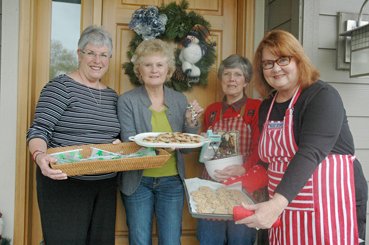 Tuesday, December 4, 2012
The baking dozen is on the move.
Have cinnamon cookie, will travel.
The Odell Lionesses Club hits the sidewalks for the 15th annual "Walking Bake Sale" Saturday in downtown Hood River.
Starting at 10:30 a.m., 12 or so Lionesses will walk Oak Street, singing carols and offering bags of fresh-baked cookies.
The Lionesses will accept donations for the cookies, and sing on the streets and inside businesses, starting with At Home on Oak Street, and heading west up one side, and east down the other.
"Walk, sing and sell," is how Lioness Jan Tatyrek put it.
All proceeds will go to helping fund the numerous community groups supported by Lionesses throughout the year:
Upper Valley Project Graduation, Oregon Lions Sight and Hearing Fund, Gales Creek Camp for children with diabetes, Promoting Responsible Ownership of Dogs (PROD), Opportunity Connections, Start Making A Reader Today (SMART), Baby Book Bags (Mid Valley School), Hood River Christmas Project, 4-H Summer School, Camp Talaoli for hearing-impaired children, Dogs for the Deaf, Leader Dogs for the Blind, Lions Project Canine Companions, Big Brothers/Big Sisters, Pregnancy Resource Center, and scholarships for high school senior girls.