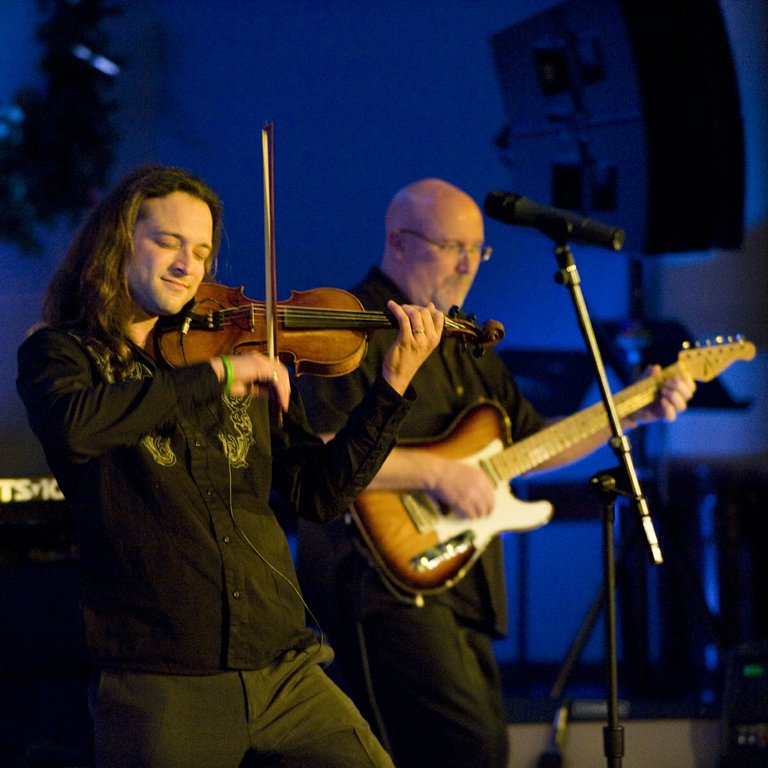 Imagine a sumptuous musical mixture of rock, pop and classical all swirled together like a peppermint parfait served up by world-class musicians presented with high energy and uplifting spirit.
That may be the best way to describe the upcoming performance by concert rock violinist Aaron Meyer, slated for Sunday, 3:30-5 p.m., benefiting United Way of the Columbia Gorge.
"The great thing about Aaron Meyer is his unique style," said Gordy Sato, co-organizer of the event for United Way. "He's a rock violinist but he appeals to everyone. Once people have heard him, they are there every time he's in town."
According to Sato, Meyer is well-known around Oregon and has toured the world. A classically trained violinist since age 5, Meyer debuted with the Philadelphia Orchestra at age 11, and has soloed with major international symphony orchestras and ballet companies.
He has also performed for many world leaders including the Dalai Lama, and has worked with widely contrasting artists such as Pink Martini, Smokey Robinson, Aaron Neville, and The Temptations.
Recently Meyer performed with the Oregon Symphony and locally with the Columbia Gorge Sinfonietta, while continuing his pioneering combination of contemporary music with virtuoso violin playing.
Back for a third year supporting United Way, Meyer and his six-piece band will dazzle crowds with haunting renditions of well-known seasonal music along with a wide variety of pop, classical and new age pieces as well.
"We know that in conjunction to having a great concert experience, the audience will also help so many people in the community by coming to listen," said Sato.
As with all United Way donations and fundraisers, according to Sato, 99 cents of every dollar raised stays in the community "to help your neighbors. So, yes, the money stays here."
The ticket sales have already hit a good pace, according to Sato, with the pre-concert artist meet-and-greet seating already sold out. "We do still have general admission seats available," he noted.
This year, he said, the local United Way allocated more than $130,000 across 28 agencies, to fund nonprofits that meet basic needs, offer protective services, help youth and families and improve quality of life.
A sampling of recipient agencies include: FISH food bank, Meals on Wheels, Hood River Christmas project, American Red Cross, Hood River Warming Shelter, HAVEN, Helping Hands Against Violence, CASA, Big Brothers-Big Sisters, St. Francis House of Odell, First Book and Mentor for Success.
"A lot of people want to give to the community but don't want to do the research, but by giving to United Way you know that every dollar is going to greatest need," Sato said.
Tickets for the Dec. 9 event are available at the Best Western Hood River Inn Gorge Room front door, or by presale at Waucoma Bookstore, Best Western (front desk) and through any United Way council member. Prices are $20 for adults or $15 for youth 12 and under.