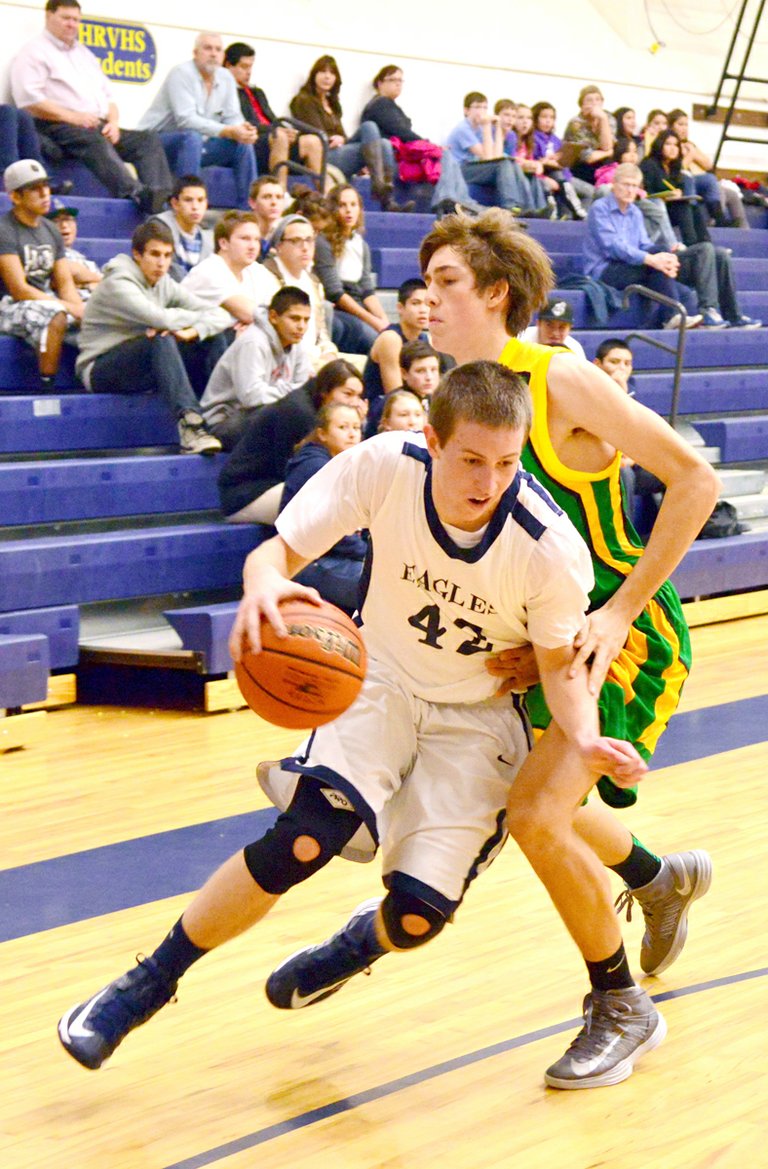 Hood River Valley High School boys basketball team showed Tuesday it knows how to scrap back from a 10-point margin and throw a scare into an opponent.
They did just that in an exciting 43-38 home loss to the visiting Cleveland Warriors.
Ryan Wheat led the 1-2 Eagles with 17 points and Luke Kopecky added 11.
Cleveland spread its scoring around, with players hitting 9, 8, 7, 6, 5, 4, 2 and 2, and holding the lead for all but a few minutes in the first half, and widening it to as many as 10 during the third quarter, when it outscored the hosts 13-7.
The Eagles held the Warriors to five points in the fourth quarter, but they scored only nine themselves, narrowing the margin to as little as two points with four minutes left, but the Warriors held on.
Eagles senior RJ Chavez added five, including his three-pointer to bring HRV within five at 14 seconds left.
Victory was still in reach, and Cleveland then did something to widen the Eagles' hopes: After Chavez's score, HRVHS pressed and a Cleveland player streaked for his basket, the in-bounds pass sailing well over his head and bouncing against the end wall. No one touched the ball before it went out of bounds, meaning not only had no time gone off the clock but HRVHS got the ball back under its own basket.
But the Eagles used a full five seconds before attempting a shot, and sophomore Austin Clarke's jumper rimmed out.
"We accomplished five of our goals but we really need to accomplish 7-8 of these goals to win the game," coach Steve Noteboom said. "We held Cleveland to 43 points, we out-rebounded them; only had 13 turnovers and 13 fouls."
"The game came down to two possessions where late in the fourth quarter we were making a run and down by three. We missed a three-point shot and they made one and then we had a defensive lapse and followed their three-pointer with a layin. This ended our run and our chance to win the game."
Hood River Valley started the game well, going up 11-8 at the end of the first quarter, and showing crisp passing to the inside early in the second,taking the lead to 15-13.
Wheat, Kopecky and junior Wyatt Webber all made deft scores at the hoop, off passes from Cesar Romero, Eli Fults and Austin Clarke, and Kopecky converted all three free throws after he was fouled attempting a trey, knotting the score at 20.
Fults scored inside to start the second half, bringing HRV to 24-25, but Cleveland's Alonso Russell hit another three and Hood River could not break the press, allowing the Warriors to go up 34-26. Things heated up again when Wheat hit a three-pointer, senior Nick Weekly had a takeaway, then a rebound, and a loose ball retrieval in rapid succession.
The Warrior lead was 38-34 with 4:36 left, thanks to threes by Kopecky and Wheat, a few seconds apart. Wheat scored again to make it 38-36.
Cleveland's Russell scored twice more (he had eight on the night) and the Warriors stretched the lead to 43-35.
Then Chavez hit his late shot but there was just not enough time on the clock and HRVHS was unable to put up an immediate shot off the inbound.
One area of improvement over the Horizon tournament games was willingness to shoot; HRV appeared to be looking for shots, and did not pass up as many open looks as they had in their opener.
n
Processing, but moving on. That's the essence of the Eagle boys' take on their season-opening loss to Horizon Christian School on Nov. 30 and their Dec. 1 victory over East Linn.
The Horizon game was the first ever between varsity teams from the two schools. The occasion was the Horizon season-opening tournament, which Horizon won by defeating 3A Amity.
Senior captain Eli Fults and coach Steve Noteboom said the team looked upon the tournament as a learning experience.
"It was a tough loss," Fults said. "They're (Horizon) a good team but we're trying not to let that set the stage for the rest of the season, so we're trying to focus on the next one.
"They are not a normal 1A team," Fults said of Horizon, the defending state champions. "I think they could play with any team we play. They're going to be one of the best teams we'll face all year, 1A or otherwise."
"We have team goals for each game, there's nine of them and we only achieved two of them," Noteboom said. "Whether you're playing 1A or 6A, you're not going to win doing that."
Our biggest area of focus is we have to do a better job on the boards," Noteboom said. He said that against East Linn, the team accomplished seven of nine goals including taking it possession by possession, giving the opponent only one shot, moving the ball, making sure to get good shots, rebounding, good defense, forcing opponents to shoot from the outside instead of getting the ball inside."
"We know we can hang with good teams, so we're not letting it affect us too much," Fults said. "We know we're a better team, we played them a lot better team than we played them in the first half. We're a lot better shooters than we were in the first half, we put in 13 points in the half and we know we can do better than that. We're a better team than we showed."