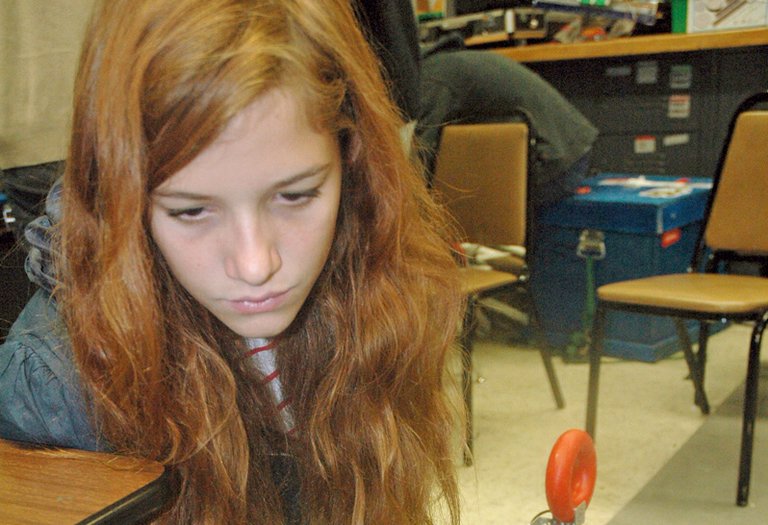 Running the table holds new meaning in the Gorge these days.
In youth robotics competition, the table is the word for the course or the platform of competition in First Lego League robotics.
For the first time on Saturday, high school students are running an FLL-qualifying tournament, at Wy'east Middle School in Odell.
Robot Games in Odell
Twenty teams of kids from throughout the Gorge, in grades 5-8, will compete at Wy'east Middle School for the right to advance to state in the Oregon Robotics Tournament and Outreach Program.
Teams include Robot Rockers and Lego Lords from Hood River, the Nerd Herd from White Salmon, Gorge Girls from Hood River, Wy'east Blue and Wy'east Gold, Autobots from Dallesport and EagleBots from Glenwood.
Competition starts at 9:30 a.m. and the community is welcome to attend.
"We thought it would be a good idea. It's the first time we've had a student team host it," said senior Petra Knapp, a member of Jeff Blackman's Robotics class at Hood River Valley High School.
"Students have hosted junior ones, but we thought, 'We should do this,'" Knapp said.
It all starts at 8:30 a.m., with an opening ceremony at 9 a.m. at Wy'east. Teams come from Mosier, Hood River, White Salmon, Glenwood, Odell and Dallesport.
For Knapp, who is coordinating the competition, doing so is a way of setting the table for the long-term growth of robotics study and competition.
"My classmates have helped volunteer last two years, and it's really helpful to have the high school kids there; they have the skills to cue people, reset tables; the little jobs," Knapp said.
"But it's really exciting for the kids when you're a little older than them but not an adult and they can see themselves. You can talk to them, show them our robots, and encourage them when they get to high school."
Throughout the Gorge, adults with science, engineering and other technical expertise are spending time with robotics students, including "robotics night" in Blackman's classroom on Wednesday, with Insitu and Google employees working with the HRVHS students to refine their designs and the computer programs that drive the student-made robots around the tables. Now, experienced older kids are able to pass on what they know, as well.
"We all thought it would be a good idea and it sounded fun," to run Saturday's FFL, said Knapp. "It's another side to the robotics thing, the tournament side and creating a competition.
"It's kind of like a warm-up, because Mr. Blackman is hosting a high school robotics tournament this spring and we decided we should have a qualifying tournament here if we want to become a big robotics town," Knapp said.
"That will make it so that people in our community have a better opportunity to learn about robotics. And we have such a strong program for the kids I think it's good to keep it going in high school."
In class on Thursday, Blackman said at the spring tournament, "Judges will ask, 'What have you done to promote robotics in the community?' so I'm hoping you'll be there on Saturday. We really need to pull this one off."
Knapp explained that students are judged not only on how well their robots do — in such tasks as maneuvering the course and lifting and placing plastic donuts onto pegs — but also on their knowledge of robotics, evidence of their research, and also on "core values" of teamwork and support of other competitors.
Knapp said that to proceed to state, teams have to be strong in two areas: the "off the table aspect," she called it.
"Are they good competitors; do they know what they're talking about; and have they learned something," she said, adding that "the aspect of scoring high on the table, and other half is ACE awards for overall success, touching on the core values: professionalism.
"They want you to be competitive but never put anyone down and stay positive," she said.
So robotics is about results, but also presentation, knowledge, and especially "attitude, teamwork, knowledge and research — especially research."
The HRV hosts have created the "Inspire Award," honoring a team that not only has a standout robot design but can also demonstrate that they're very involved in the community.
Knapp and company stepped up when FLL coordinator Jessica Metta of co-sponsor Gorge Technology Alliance gave birth to twins last month. Another parent volunteer, Mark Dane, asked Blackman and the HRV students to take it on.
"Last year I coached and I knew enough about it, and there are a lot of good resources on the Internet through FLL, and the ORTOP for running a tournament," Knapp said.
"Since August I've e been following instructions on the ORTOP web site, which has (template) emails to use and information to follow, and involves finding head judge, head referees, which is Mr. Blackman, and a volunteer director.
"I basically delegate them the tasks to find volunteers, and we have trainings via teleconference, and for judging the three parts project, robot design including programming and core values, which is how well they work together as a team, basically," Knapp said.
"Last week I was pretty overwhelmed — a lot of details to deal with — but this week I feel pretty good about it, am making sure I have all the packets and ready."