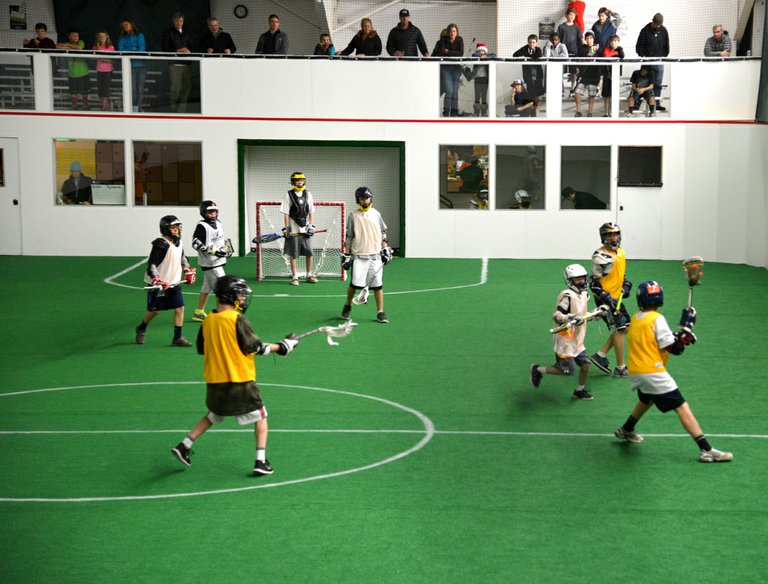 Tuesday, December 11, 2012
A new turf indoor facility that opened this month at The Dalles Fitness and Court Club is already proving valuable to Gorge-area athletes during the off-season of field-based sports.
In addition to youth and adult soccer leagues that are being formed (see below for details), a middle school box lacrosse league has been in action for the last couple of weeks. The league, formed by Hood River Youth Lacrosse Club, has 25 players grades six through eight; enough to field four full teams of six to play the compact, rapid-fire indoor version of lacrosse.
"We recruited some eighth-graders with box lacrosse experience, so we decided to put them on different teams and make them coaches," said Cory Roeseler, HRYLC coach. "That has turned out to be a great decision. It's the off-season, so the kids really aren't into being coached. They just want to play."
This first indoor season will end in late January and those who participated will have a big head start for the outdoor season, which starts in March. HRYC provides lacrosse opportunities for players as young as first grade. For more information or to register visit www.hoodriverlacrosse.com (registration is through Hood River Community Education).

n
The new indoor facility is housed at the Fitness and Court Club's Pomona Street location. It was built over an existing tennis court surface but is a full turf field surrounded by arena walls. Spectators have a good view of the action from an upstairs mezzanine area at one end of the field.
Club management is in the process of organizing several indoor soccer leagues, which are set to start in early January. For adults, mens, womens and co-ed leagues are being organized and are still open to more players. Youth leagues are being formed but will not have a start date until enough players are registered. Organizers are trying to recruit U-11 to U-18 players for those leagues.
For more information on indoor soccer at the facility, contact Izzy Quiroz at 541-340-9175 or soccer@fitnesstd.com.