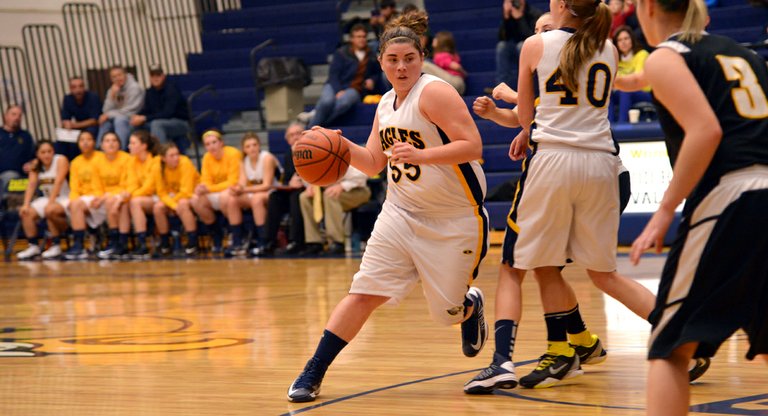 Friday, December 14, 2012
Hood River Valley High School varsity girls basketball fought back a persistent Lady Lions squad from St. Helens Tuesday night to hold onto a narrow lead and finish with a 44-39 win. Despite needing improvement in several key aspects of the game, the team was on a four-game winning streak (4-1) before facing Franklin at home Friday evening (results weren't available as of press time).
Tuesday's game turned out to be a show of stamina between two fairly evenly matched teams. The Eagles shot 50 percent from inside the paint to hold a small lead most of the game but weren't able to pull away a big enough lead to relax. A series of turnovers and missed free throws late in the fourth quarter gave the Lady Lions a glimmer of hope and the first lead of the game with just a few minutes left.
Key buckets by Kelsey Wells, Hallie Curtis and Natalia Ames inside the two-minute mark gave Hood River six unanswered points and a lead that the team held onto for the rest of the game.
Wells led the team with 13 points overall, followed by Ames with nine, Laura Waller with eight and Curtis with seven. From inside, the girls shot 16-32; a decent figure somewhat overshadowed by shooting 1-12 from the three-point line and 9/22 for free throws. Wells' team-leading performance gives her retribution for an uncharacteristic 1-10 performance at the line.
Wells also led the team in rebounds with 10, seconded by Waller with seven and Annie Veatch with five. Veatch notched five assists to lead the team in that category.
"Kelsey wasn't herself at the line," coach Tom Ames commented. "She's normally pretty good. I've found over the years that there is a fine line between adding pressure and adding confidence regarding free throws. We shoot them every night and record results some nights, run for misses some nights. The bottom line is we need to get better overall; free throws are one of many areas that need improvement."
Making only one of 12 three-pointers, the Eagles will have to improve on outside shots as the season progresses if they're going to keep up with better-shooting teams. That'll hold particularly true against teams with a lot of height that will have the upper hand on the inside against a relatively short Hood River squad.
n
After Friday's matchup the girls host the Hood River tournament Dec. 21-22. League action kicks off in a few weeks, with a home game against Pendleton on Dec. 15.