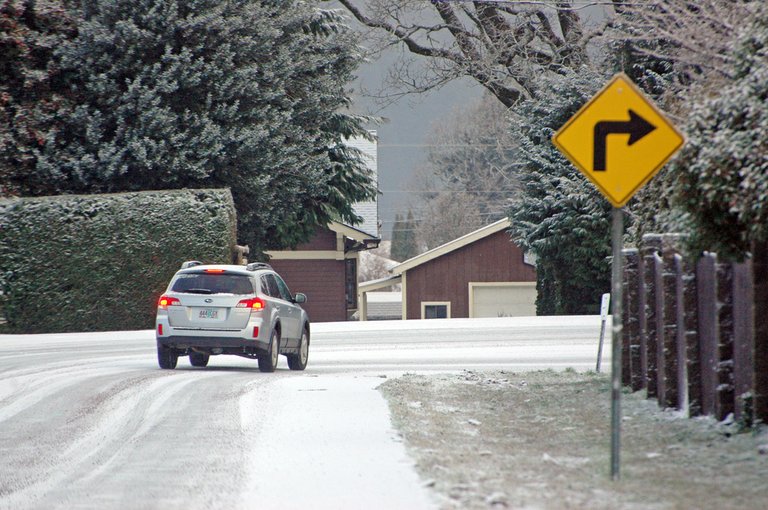 Tuesday, December 18, 2012
It's called "black ice" because it tends to look like the rest of the pavement on the road.

In truth, it's actually just clear ice that formed without creating bubbles — making it blend in with any surface it forms over.
Black ice is dangerous precisely because it's hard to detect in advance. However, any ice, black or white, creates danger for drivers.
Standard winter driving tips can help prevent ice or snow related driving accidents. Beginning with the basics:
n Be sure to clear your whole windshield and all surrounding windows of ice before starting out.
n Use your low-beam lights to improve visibility.
n Slow down and avoid rapid acceleration on icy roads.
n Increase your following distance; ice can double the stopping distances needed.
n Minimize braking and avoid sudden directional changes; anticipate your steering inputs to drive as smoothly as possible.
n Watch for black ice in areas that don't receive direct sunlight.
n Review the owner's manual of your car to familiarize yourself with your car's handling techniques — and learn what your anti-lock braking system (ABS) feels like when it engages.
n Conduct real-world training for ice-driving; use vacant parking lots to test braking distances and slide experiences — particularly for new drivers.
Understanding how black ice forms will increase your safe driving preparedness.
Black ice develops most commonly at night or in the early morning when the temperatures are at their lowest, or when the sun isn't visibly warming the roads.
Black ice tends to form on parts of the road without much sunshine, such as along a tree-lined route or a tunnel. Shadows on the roadway are a sign of potential danger.
Also watch roads that are less traveled on for increased ice formation.
Black ice forms readily on bridges, overpasses and the road beneath overpasses. This is because the cold air is able to cool both the top and under the bridge or overpass, bringing about faster freezing.
With a few more detailed tips, drivers can further reduce chances of ice-specific slides and crashes.
If you hit black ice:
n remain calm and avoid overreacting
n do not hit the brakes
n slow down by taking your foot off of the gas
n if you can, shift into low gear
n try to keep the steering wheel straight
n if you feel the back end of your car sliding left or right, gently turn the steering wheel in the same direction to lower the risk of skidding or spinning out
And, following the advice of an old television police supervisor, "Be careful out there."