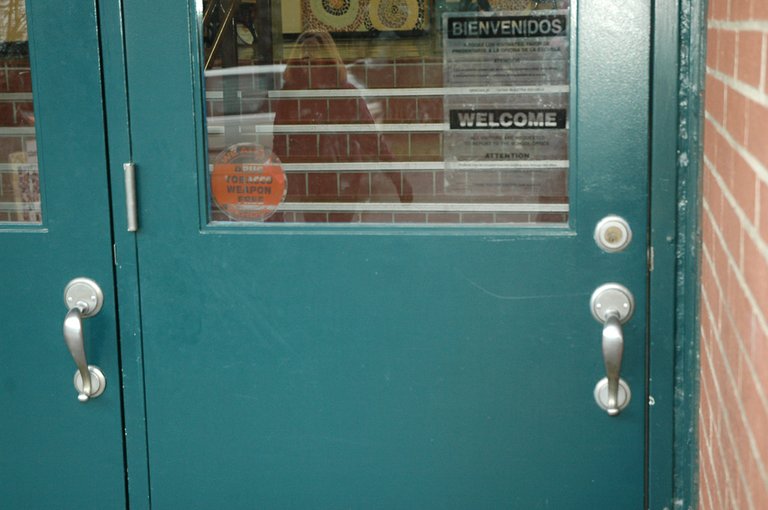 Tuesday, December 18, 2012
What will be the effect of the Sandy Hook tragedy on Hood River County School District?
The immediate answer is that the district is putting as many resources as possible into helping students and families feel safe in their school.
Longer-term, the district will look at the overall safety of building design and how public access is made to schools, but no extra security measures are planned at this time.
On Monday the district issued a letter to parents, one written in English and Spanish, with tips from National Association of School Psychologists on "how to work with your child on a tragedy issue," said Bob Dais, district communications officer. (See page A9 for the list.)
"When you get a tragedy of this caliber people want to process and talk about it . . . it is like principals saying we get a lot of calls from parents, and a lot of them want assurance that we have things in place that will protect our children," Supt. Charlie Beck said.
Beck's letter to parents read, in part, "On behalf of District Staff and members of the Hood River County School Board, I would like to express our deepest sympathies for the children and families of Sandy Hook Elementary School. The tragic events that took place last Friday have impacted the entire educational community.
"Over the weekend, as more information came forth, it was clear the scope of this travesty was far more extensive than one could imagine. It is imperative we reach out to our students, families and staff and assure them the safety of children and staff is our highest priority."
Dais said that the schools each have a crisis team that works "on how to bring support to kids at times of need."
At the district level a team coordinated through Human Resources Coordinator Kevin Noreen, and Special Education Director Anne Carloss works with staff at each building. Carloss and Noreen met Monday morning with child development specialists and counselors to lay the groundwork for the parental outreach and responses at the schools.
Beck said, "Had this happened on Thursday and we were back at school on Friday this might have been a lot more compacted, but because we had a weekend in between I think people have taken a deep breath, and we are providing those supports; but there have not been a lot of telephone calls in here. We have talked to the board and intend to do a work session in January with the board on all the things we have in place.
"Whenever an incident happens such as when a school suffers the loss of a student, we ask, 'what do we need to do to provide support for students and teachers in time of tragedy?'" Beck said. "In such cases, specialists and those trained in counseling flood the building, set up a safe room, a place where kids can come in and write and do cards and letters," Beck said. "We have not done that with this, but we do have folks trained to do so."
Beck and Dais met Monday with the district administrative team at 4:30 p.m., after principals had time to talk with staff about how students were doing at school that day.
"We'll talk about what they need; what support we can give them; tomorrow (Tuesday) we will implement those things," Beck said.
Dais and Beck said that each school does annual lockdown drills, and that staff are well-versed on what to do in case of a building intruder.
Further, each school has security cameras linked to the sheriff's office.
Last year the district used grant funding to pay for equipping each school with a police radio that can be used to directly call 9-1-1.
"We were concerned that when an incident does occur, cellphone owners shut down because the 9-1-1 call centers can't take all the calls because everyone has cellphones," Dais said.
"We do try to keep all the doors locked other than front door; virtually all the buildings have to walk by the front office when you walk in."
He pointed to last summer's remodeling of the lobby and offices at Wy'east Middle School, where anyone entering the building now must pass by the reception area.
"We will continue to do those types of upgrades as we are (able) to do them," Beck said. "The advice is you have one door open and then people walk by the office. We are trying to look at our organizational structure and make sure that happens."
"The goal is to keep all doors locked that are possible," Beck said. "The issue at high school is kids going between ag building, portables, FFA land lab, and others, but the other doors are locked."
At HRMS, students go back and forth between the main building and the library, music room, and science classroom.
"Where possible, keep them locked; but some are virtually impossible and that's where we have to start looking at our building designs and see if there are other things we can do," Beck said. "I think one of the things is just to have all the staff make sure they know how to lock their doors and make sure the doors do lock, and being a little more vigilant and make sure everything works as it should."
Dais noted that the lockdown procedures are consistent among the schools, and were developed cooperatively between state police, the police department. sheriff's office, with input from Dais and high school Assistant Principal Rich Polkinghorn.
He said that if a teacher has found it difficult to lock their door, "we will go after the lockdown drill and make sure it is a functioning lock."
Dais said, "A couple of years ago the board did look at what it would take to get an electronic card system in, and it's pretty expensive, but we can talk about that as an option; but that's (the board's) decision."