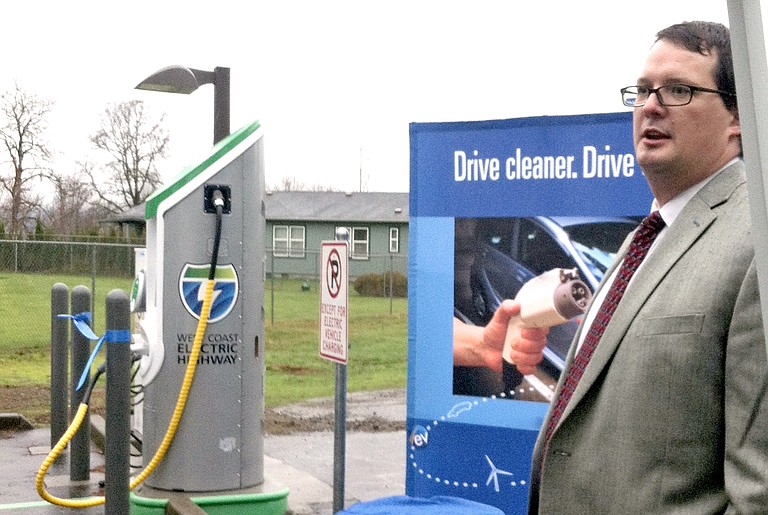 Friday, December 21, 2012
The weather was rainy and windy, typical for a winter's day in Cascade Locks, but the moods of the gathered electric vehicle enthusiasts were warm and sunny.
On Dec. 15 Ashley Horvat, transportation electrification project manager for the Oregon Department of Transportation, provided the inaugural demonstration and the bevy of E-vehicle owners provided the cheers, as the new electric vehicle charging station was officially opened in Cascade Locks.
Mayor Lance Masters welcomed locals and the visiting parade of EV car owners on hand for the event. The station is located at 95 NW WaNaPa Street, in front of the town's cemetery and adjacent park.
According to ODOT, EV charging stations are being installed across the state. The stations provide a network of locations where vehicles can plug in to an electrical source to re-charge batteries. EV charging stations are necessary to support what is expected to be a growing fleet of EVs throughout Oregon.
"Every vehicle manufacturer has announced plans to release plug-in vehicles, and many of them are arriving in Oregon daily. But their popularity will only increase to the degree that there are charging stations available for vehicle owners to recharge their cars," notes the ODOT website page addressing the state's goal to support EV ownership and use.
To create a favorable climate supporting increased ownership of EV's in Oregon, ODOT's goal is to create a network of conveniently located charging stations to ensure EV owners won't become stranded in between charges.
Hood River installed one of the first rural EV charging stations this fall. It may be found in the city-owned parking lot at Seventh and Columbia streets. The Dalles is under review as a potential station site as part of ODOT's Phase 2 installations.
"Our dependency on imported fossil fuels, impacts of global climate change and the introduction of new carbon emission standards have created an urgency to find alternative solutions. ODOT has sustainability as one of its core values, and it is in the best interest of the state to support a growing EV industry," states the ODOT website. For more information visit http://1.usa.gov/ UfBZDw.
Why is ODOT involved? According to the Office of Innovative Partnerships and Alternative Funding at ODOT, "Petroleum-based transportation is not sustainable in the long run, either environmentally or economically.