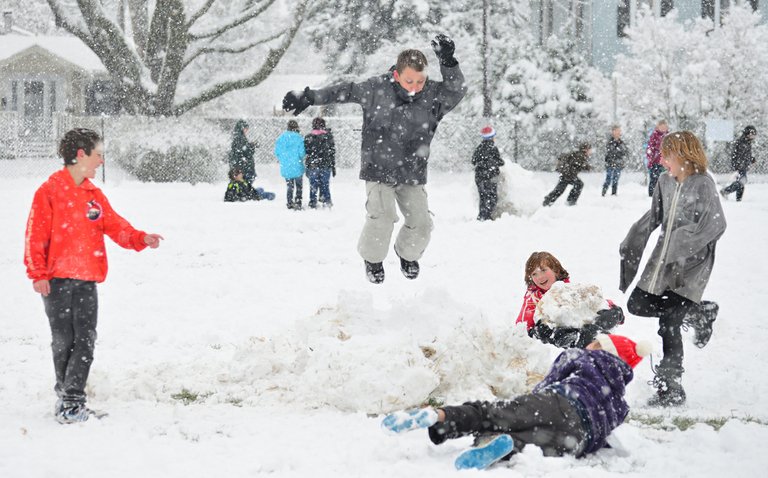 Friday, December 21, 2012
"Mother Nature has given us a boost," said Mark Russell, Manager of Les Schwab, of the snowstorm that hit the Gorge this week.
Since Dec. 15, Les Schwab employees have been working two to three hours past closing to meet demand. In addition to snow tires, many customers are having chains installed on their vehicles.
For those still needing snow tires or chains, Russell recommends coming in as early as possible. Delays are to be expected with the heavy volume the store is experiencing.
"We're trying to do the best we can to get everyone on the road safely," said Russell. "We will work as hard as we possibly can to get you in and out."
Rivers Edge Towing and Automotive reported being very busy Wednesday as snow covered the Hood River area, installing snow tires and helping drivers get back on the road.
Parkdale Towing and J and L Towing reported numerous slide-offs, and Parkdale responded to a totaled car near Mt. Hood Meadows on Sunday.
"Highway 35 seems to be our trouble spot," said General Manager Bob Rhodes. Trucks were not being allowed to travel south on the highway without chains, and cars were sliding off the road.
"It's a good thing to chain up," said Rhodes, who expects to be even busier when the snow begins to melt. "We have the most issues when it gets slushy. Cars hydroplane more. It's harder to steer in slush."
To keep your vehicle on the road, Rhodes suggests giving yourself plenty of distance between other cars, allowing extra time to get to your destination, and slowing down.
Woody Eskildsen of Your Party and Rental Center said that business was quiet on Wednesday, aside from a few more calls for plowing business and apartment parking lots.
But he expected things to pick up once the snow begins to melt.
"If the snow melts fast, (people) will rent pumps to pump water out from underneath their houses," he said.
The snow can also mean a new demand for play equipment
At Second Wind, owner Pepe Girard said his shop has been busy selling cross country skis, snow shoes, and grippers to apply to boots for walking in snow and ice.