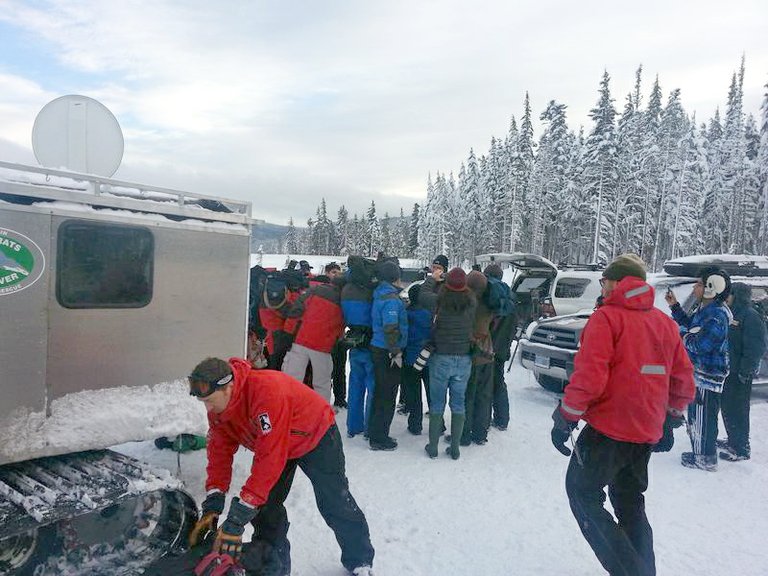 Friday, December 28, 2012
A trio of backcountry enthusiasts, attempting an overnight snowshoe trip into the White River Canyon area of Mount Hood, was ultimately rescued on Dec. 24 after becoming lost in heavy snowfall conditions and dense fog on Dec. 23.
A veteran mountain guide and outdoor survival instructor, Mark Kelsey, 62, of Portland, and two trail mates, Margarita Estrada, 49, of Milwaukee; and Debra Shindler, 58, of West Linn, made a 9-1-1 cellphone call Dec. 23 reporting distress. The group had planned to spend the night at a rustic cabin on the mountain but became lost during near white out snow conditions.
While Hood River County Sheriff coordinated a multi-agency search and rescue mission beginning Dec. 23 after receiving the group's one successful call, the trio set about creating a makeshift shelter to spend the night in the snow. Kelsey, a former member of Portland Mountain Rescue, had extensive survival training with which to assist the group.
According to Kelsey, who was interviewed after the rescue, the group "located a sizeable tree well ... laid tree branches on the ground and then branches around the perimeter ... creating a teepee-like structure." With continued snowfall piling up rapidly on the shelter, the three were able to stay inside the now insulated space. They had sleeping bags, food and water as they waited for nightfall.
That same afternoon about 20 rescuers using skis and two snow cats were checking areas on the north and south sides of the White River drainage, near Barlow Road, said Hood River County Sheriff-elect Matt English.
Hood River County Sheriff personnel were assisted by Crag Rats and Clackamas County rescue teams along with Mountain Wave Emergency Communications, American Medical Response and Portland Mountain Rescue during the search and rescue operations.
With darkness descending and weather conditions worsening on Dec. 23, search efforts were suspended in the late afternoon.
Early morning on Dec. 24 a new rescue effort began and the lost party was then spotted around 11 a.m. by members of Crag Rats and Portland Mountain Rescue about three miles from the White River West Sno-Park, down the White River canyon.
With assistance, the three arrived to safety at the White River West Sno-Park and were being welcomed back by their family members around 3 p.m.
According to Deputy Chris Guertin, one of three incident commanders for HRCSO, no one in the group was injured. Sheriff-elect English and Deputy Mike Anderson also served as incident commanders during the two-day effort.