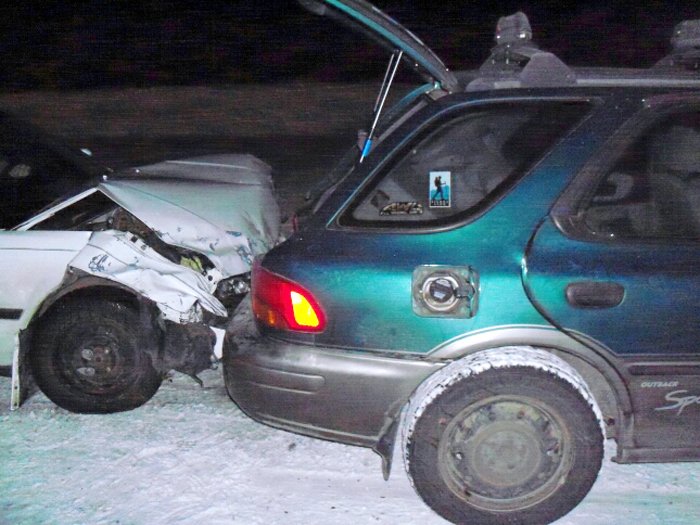 Saturday, December 29, 2012
Oregon State Police is continuing the investigation into Monday night's traffic crash on Highway 35 near Mt. Hood Meadows that injured two people, one seriously.
On Dec. 24 at approximately 8:27 p.m., a white 1993 Honda Accord driven by Cornelio Diaz Flores, 28, from Hood River, was northbound on Highway 35 near milepost 67 when the Honda traveled off the highway into Pocket Creek Sno-Park parking area and collided into three unoccupied parked vehicles.
Several people, including two nurses, were across the highway having a Christmas Eve bonfire and heard the crash. They ran to the scene and started providing emergency medical care to Diaz Flores and passenger Cesar Alonzo Zarate-Mendoza, 27, from Parkdale. Both were unconscious.
Two persons drove on Highway 35 until they found an ODOT worker in a snow plow and reported the crash, then continued driving until they had cellphone service and called 9-1-1.
Diaz Flores, who was driving with a suspended license, was transported by ambulance to Hood River Memorial Hospital for treatment of non-life-threatening injuries.
Zarate-Mendoza was initially transported by ambulance to Mt. Hood Meadows where he was picked up by LifeFlight and taken to Oregon Health & Science University for treatment of serious injuries. Neither were using safety restraints.
OSP troopers from The Dalles Area Command office were assisted at the scene by OSP troopers from Portland, Hood River County Sheriff's Office, Parkdale Fire Department and ODOT.
Trooper Brent Ocheskey is the lead investigator working in conjunction with the Hood River County District Attorney's Office. Ocheskey said the report will be ready for the DA to decide upon any criminal charges shortly after Jan. 1.
OSP and ODOT urge travelers to be prepared for potential hazardous winter driving conditions in mountain passes and other areas of the state. Please make sure your vehicle is properly equipped and to drive at safe and sober at all times.
Additional holiday traffic safety information and tips is available at www.oregon.gov/OSP. Up-to-date road and weather information is also available at www.TripCheck.com.