Wednesday, February 1, 2012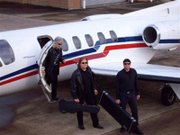 Jim Drake's Entertainment Blog
Being prepared for a power outage: Order your guitar parts now (An interview with the Ted Vaughn Blues Band)
Today's power outages are certainly a challenge. They always happen during snow and ice, and for us, it happened when we were low on spare propane stove parts. As soon as the power went out, I set out to find our green 2-burner campstove. In the garage, I fumble through the dark, on a ladder, searching for propane bottles. They turn out to be in a cooler on an unreachable top shelf that was buried under some kind of backpack. A pack that has been around forever, yet no one actually knows the contents of, even to this day.
Finally, I find some propane bottles. There's about 6 of them. I'm guessing they have various amounts of gas left in them. It's hard to tell in the dark garage. I bring the stove inside and open it up. I think this hose connects here to this valve. I think. Wait, yes, it does fit into this valve. I connect the bottle. I find some matches. And I go to turn on the burner. But I can't. The knobs for the burners are missing.
Wait, what's this? Oh, I see, someone has used masking tape to hold one of the knobs to the top of the stove. There is another piece of masking tape that looks like it held, yes, the other knob for the other burner. But that knob is gone. The masking tape, however, is still there. I examine the one remaining black, plastic knob and as I'm looking at it, a piece of spring metal that was once somehow affixed in the device has now fallen out. A closer look reveals that the inside of the knob looks somewhat deformed. Like parts of the knob have almost melted. You know, from heat. From say, a propane burner, perhaps?
Now, if you're familiar with propane stoves, you know that the shaft of the valve that this knob fits on is a special shape. Like most regular electric stoves it's round, but half of the end is cut off. I guess you would call it a half-moon shape. In fact, I tried one of our electric stove knobs, to see if it would work on this valve, but it did not fit. It was the right shape, though.
So I do what anybody would do in this situation — I go get my calipers. Now I must tell you that I am mad at myself when I think of these calipers, because I've had these calipers for quite some time. They're the old style with the adjustment screw and they extend about 5 or 6 inches apart. Nice, solid ones, so I thought. But recently, I was doing a "repair" on the wood stove (don't ask) and one of the caliper point tips snapped off. I mean, we're talking 5 or 6 millimeters have broken off. I'll never know the exact amount the tip has broken, because I don't have any other calipers to measure with. I've been looking at the digital calipers, though. That would be nice. A digital caliper.
Anyway, where were we? Yes, the propane stove. I measure this valve shaft with my broken caliper. Best approximation: ¼ inch round — half of that at the tip.
Next, it's time to think. And that usually involves, yes, a guitar. There is nothing like sitting around, thinking, playing guitar. Acoustic. They sound good, and you don't need electricity. Like in this emergency power outage situation.
But if I did have electricity, I say to myself, I could plug in my electric guitar. And I think more. Hmm, my electric guitar, plugged in. And then it hits me. To play an electric guitar, you have to turn it up. And what do you turn up the sound with?
Knobs. Volume knobs and Tone knobs. Knobs that adjust the flow of electric current through magnetic pickups and switches and … knobs that just might fit on shafts on this propane stove. Knobs that attach to these shafts with an allen key set screw. And best of all, the kind of knobs that are metal, and shouldn't have problems, like melting from a little heat from a propane burner.
I find one of my electric guitars and "borrow" the chrome volume and tone knobs. They're a perfect fit. I can't believe it.
Photo by Jim Drake
Look close, yes, that's a Telecaster knob on that propane stove. Much better than the cheap plastic ones, I'd say. Now I've got to buy new guitar parts, though...
I now call this propane stove the "Tele-Burner." It's a cross between a Telecaster guitar and a propane stove. And it burns along just fine, just like the blues band coming into town this weekend. As long as we've got the power.
The Ted Vaughn Blues Band will be at the Waucoma Club on Saturday, Feb. 4.
Interview with Ted Vaughn, singer and harmonica player with the Ted Vaughn Blues Band
Please tell us a little about your band, your background, and how you came to land a gig at Hood River's Waucoma Club on Feb. 4.
Well, I sent a press kit to Jane at The Waucoma Club . . . she liked the music, so here we are!
The band has been through several personnel changes, but the current lineup has been together about two and a half years. I think the current roster is a group of some of the finest musicians in the country. I grew up in Texas and was influenced by the blues music of Howlin Wolf, Freddie King and Lightnin' Hopkins as well as the country aspects of artists like Waylon Jennings. I was a trumpet player for years with a variety of acts and even had a stint with the Navy Jazz Band. I had always loved the blues harp and ended up befriending the late blues man Willie Willis and from there studied and got tips from some of the greatest harmonica players around. Sam Meyer (Anson Funderberg and The Rockets), Charlie Musselwhite and James Harman to name a few.
Our guitarist, Clay "Bone" King, studied under jazz great Joe Pass as well as Jimmy Wyble of Bob Wills and The Texas Playboys. He is one of the most "tasteful" guitarists I have ever heard. Because of the variety of proteges he has had, you will hear elements of both swing and jazz in his playing. He was influenced by some of the greats in blues as well and he nails the blues like very few others do ... mainly because he understands the dynamics of the style.
Our keyboardist, Leon Forrest, is also the guy that produced the last two CDs. Leon is in high demand as both a producer and engineer and performs with us whenever possible. He had a band in the '60s called The Apollos that caught the attention of Gabriel Meckler, who produced records for the bands Three Dog Night and Steppenwolf. Leon shared venues with artists such as John Fogerty (CCR) and rubbed shoulders with Janis Joplin and other music legends back in the 60s.
Ted Larson is our bass man and has been playing for over 30 years. He used to open shows for a band called The New Breed in Southern California. The New Breed contained a guy by the name of Timothy B. Schmit, who later went on to be a founding member of The Eagles. Ted is a dynamic performer and vocalist as well.
We use a variety of drummers for our performances and for the Waucoma Club show will be fortunate to have Larry London with us. Larry is well-known in Las Vegas, where he made quite a name for himself as a session drummer with some of the top names in music including Rod Stewart.
Your sampling of songs on the website are obviously recorded in a high-quality format — you have all the elements of a great blues band. Do you have a new CD and if so how long did it take for you guys to record it?
The songs on our websites are some that are on our current self titled CD, "The Ted Vaughn Blues Band." The album took about six months or so to record. We are getting significant airplay, especially in Europe. I know that KMHD in Portland is playing us, as are stations in Eugene and across the country all the way to Syracuse, NY. We first hit in Sweden, then Norway, and I hear we have quite a fan base in Serbia. The CD was produced by Leon Forrest (our keyboardist) and engineered by Paul Carlsen. Paul is based in California and has a Platinum and Diamond record award for his work on Nirvana's "Nevermind" album. He has also worked in studio with everyone from The Doors to Greg Allman. The production quality of our current CD is due to the talents of both Leon and Paul. I think that Leon's studio in Lincoln City and his record label Harbinger Northwest are some of the best-kept secrets in the Pacific Northwest if not the whole West Coast. These guys know their stuff!
Does the band use modern or vintage gear to get your sound?
We use a combination of vintage and modern equipment for our sound. I play harp through an old Danelectro Dirty 30 amp circa '79 or '80. I know that Clay has several vintage guitars, but not being a student of the instrument, I couldn't tell you what they are.
What should folks expect to hear when they come out for one of your shows?
At our shows, folks will hear a combination of blues originals, blues classics as well as some rockabilly and all-around "crazyness." We love taking old blues classics and obscure songs as well and completely rearranging them.
Well, it only took one listen to your song "Nothin but Trouble," for me to come up with this question: Why aren't you guys on Alligator Records?! Really, it sure sounds like you should be...
Thanks for the comments about "Nothin' But trouble." I wrote that one last year as a microcosm of things that have happened to me. Clay and Ted L. helped out with the arrangement. We get a lot of airplay on blues shows with that song as well as great comments. I think it is a song that everyone can identify with. It was "Nothin But Trouble" that propelled us into the list of Top Ten bands for worldwide airplay on Jango Internet radio. As for Alligator Records ... thanks for the compliment, Jim, they are the "Gold Ring" as far as blues labels ... ya just never know!