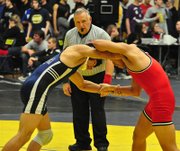 Several coaches came up to Hood River Valley wrestling coach Trent Kroll to tell him how good his wrestlers looked at the Hood River Elks Memorial Tournament Saturday.
"I'm hoping they haven't seen anything yet," the HRV coach said.
The Eagles took third as a team at the tournament, with Cesar Zarate winning the 145-pound championship.
This was the 15th year of the tournament being run under the Elks banner, and it raised around $1,200 for scholarships for graduating senior wrestlers.
"We're trying to perpetuate the scholarship and to help the kids out," said Elks event chairman George Johnson.
On the mat, the Eagles tried to do their best to perpetuate reputation of Hood River as a difficult place to wrestle and win.
In addition to Zarate's 145-pound win and the third-place team finish, the Eagles had Katie Eddy, Frannie Ybarra and Jessica DeHart all win their brackets in a girls OSAA state tournament qualifier to compete in the girls championships Feb. 25 at Memorial Coliseum. Marina Smith placed third to be named as an alternate to the tournament.
Behind Zarate, placers in the Elks tournament included second-place finishes for Andrew DeHart (132 pounds) and Kelby Broddie (170 pounds), third-place finishes for David Brunk (152 pounds), Nick Morgan (182 pounds) and Juan Karlos Hernandez (220 pounds), a fifth-place finish by Chas Peterson at 138 pounds and sixth-place finishes from Charlie Mallon (120 pounds), Cristobal Castro (113 pounds) and Brandon Dominguez (285 pounds).
"That tells me they believe in themselves and want to work hard to win," Kroll said of the finishes after his team saw several competitions and numerous practices wiped out in the preceding weeks.
The Eagles finished with 162 points, 1.5 behind second-place finisher Churchill. Barlow won the tournament in impressive fashion with 188.5 points while winning four weight classes.
While the girls members now prepare for their state tournament appearances, and everyone prepares for the Special District Qualifier between the Columbia River Conference and PIL at Marshall High School Feb. 17-18, Kroll is trying to keep his team focused on what they need to do to prepare.
"The biggest thing is making sure we are not peaking right now," he said.
The Eagles will be at Hermiston Thursday and a tournament in Oregon City this weekend before returning home to face Pendleton on senior night Feb. 9.