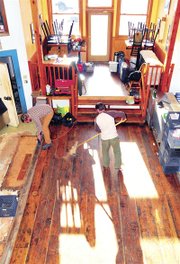 To the delight of many, something's brewing in Parkdale again.
Shiny new kegs are stacked and ready to be filled, and after about two years of sitting idle, equipment at the former Eliot Glacier Public House is cleaned, primed and ready to do what it does best; turn out great craft beers.
Solera Brewery owners Jason Kahler and John Hitt started making their first batches of brews from the place this week. The two are also cleaning up and mildly remodeling the interior of the historic building, with a soft opening for a pub and restaurant set for late winter or early spring.
Solera expects to begin distributing kegs of traditional-style beers to local establishments in about month, but its specialty beers - from which the name Solera is derived - will take about two years to complete and be ready for the market.
Solera is named for a method of brewing a unique type of sour beer in which kegs that have aged for varying periods of time are progressively mixed together until just the right blend is achieved. Until then, traditional Northwest-style "hops-forward" ales will be on tap and distributed via kegs.
"This is what I've been working towards my entire career," said Kahler, who has been the creator of Big Horse Brew Pub's craft beers for several years, "and I couldn't be happier for to be here in Parkdale. This place was more than just a pub; it was like a community center. A lot of people spent a lot of time in here, so when it shut down it created a big void in the community."
Kahler, who lives in the upper valley, is partnering with Hitt, of Portland, in the venture, which includes a purchase of tables and chairs, furniture, equipment, etc. and a lease of the building, with an option to buy it later.
"Jason (Kahler) was one of the first people I met when I came to Oregon about four years ago," Hitt said. "I've been working in the finance business for about six years, and this year I decided it was time to get out of the rat race. I was looking for a way to start a little brewery somewhere, and I know Jason has had his eye on this place for a while. It really seems like the perfect spot to end up. Every time I come out here, I don't want to leave."
Hitt said he'll likely make the move to the area once the pub is up and running. Meanwhile, Kahler will turn over brewing duties at Big Horse and dedicate himself full-time to Solera.
When doors open in early 2012, the look and feel of the pub will be similar to what it was a couple of years ago, with a few noticeable changes. The old bar is already gone, and a new, larger one will be built on the opposite side of the room. The kitchen will remain mostly the same, but will be enclosed and the upstairs area will remain open seating, with more of a "lounge-style" feel. The pub's outdoor area will also be emphasized.
"I honestly believe that there is no better view from a brewpub in the entire country," Kahler said. "People come from all over to sit out here and enjoy the view and a good local pint. That's definitely a tradition we intend to continue."
The two were quick (and happy) to admit that it wasn't the downturn in the economy that caused Eliott Glacier to shut its doors nearly two years ago.
"Business was good here before, and we're pretty sure it will be again," Hitt said. "Our business model is our own, but there are a lot of good things about this place that we intend to continue, with a fresh approach. The reason it closed was because the owners were ready to retire; not because they had a lack of business."
From the kitchen, the menu will be different but the small counter, sink and stove arrangement will remain largely the same. The setup limits the capacity of the restraint portion of the business, but leaves plenty of room for creative "home-cooking" options. Case in point: the former pub's simple but wildly-popular "Taco Night," which was eventually spread over two nights because lines became long enough to stretch out the door and into the street.
The two are hoping to have the restaurant and pub open by the end of February, but are hesitant to set a solid date because they still have a lot of work to do on the retail side of the building. Structurally, they said the building is in "very solid shape" and the brewing area and equipment is top-of-the-line and ready to roll.
"This setup is very good," Kahler said, "which is good because we plan on using it pretty heavily."