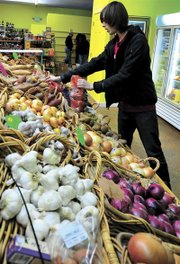 A palatable air of excitement is going around the Farm Stand's new 12th Street storefront.
The building itself isn't new, but the transformation it has gone through is dramatic enough that it may as well be built from scratch.
After moving out of "the little yellow house" just south of Rosauers, Farm Stand opened the doors to its new location last week at the corner of 12th and June streets. The building was most recently the inconspicuous home to Hood River Plumbing and Heating, but with extensive renovations, it now has the look and feel of friendly neighborhood grocery store.
"We're all very excited about the move,"?said co-owner Robert Wright. "I think the Heights is going to go through a lot of positive changes in the future, and we're excited to be in the center of it.
"The location is central enough for a lot of people to walk or ride to, and the bigger space means we're going to be able to expand our options and offer people a lot more."
Included in the new store is a full kitchen, limited indoor and outdoor seating and a deli, which will be managed by Suzi Conklin, former owner of Wildflower Cafe.