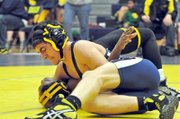 Hood River Valley's win streak against PIL schools remains alive - just barely - after a double-dual meet against Cleveland and Roosevelt Wednesday night at HRV.
The Eagles beat Cleveland 32-31, getting the win thanks in large part to a loss, and then flattened a shorthanded Roosevelt 64-6.
The Eagles led by four points heading into the final match with Cleveland, a 132-pound match between Andrew DeHart and returning state second-place finisher Max Freund. DeHart either needed to pull off the upset or lose by decision for the Eagles to win.
Under orders from coach Trent Kroll to wrestle the No. 3-ranked Freund defensively, DeHart did not get the win, but he never let the match get away either, with Freund pulling out a 4-2 win.
"I was thinking that I have to get a win or make sure he just gets a decision," DeHart said. "I guess it was good enough because we got the win."
The three points Cleveland got from the victory were not enough to overtake the Eagles.
Wins for HRV came from David Brunk, who knocked off returning state placer Yadnel Ayala 9-2 at 152 pounds, Chas Peterson won by pin in 2:57, Cesar Zarate with a 15-0 tech fall, and Forrest Broddie won by a pin in 1:55.
"I beat him in freestyle before so that was a confidence booster," Brunk said of his win over Ayala. "I did the things I always do and it worked."
Another key match came at 120 pounds where Jojo Ball, an eighth-place finisher at state last year, won a 10-1 major decision over Charlie Mallon of HRV. By limiting Ball to a major decision, instead of a tech fall or a pin, Mallon kept one or two additional Cleveland points off the board.
"We put some of our best wrestlers against there state placers," Kroll said. "Instead of giving up pins, they only got decisions and we even beat one."
After knocking off the Warriors, the Eagles dispatched Roosevelt in speedy fashion. Eight of the matches between the two teams were forfeited, with seven of those going in favor of HRV.
The Eagles won all four contested matches. Jessica DeHart won a 7-1 decision at 108 pounds, Charlie Mallon won via pin at 130 pounds, Chas Peterson won by a 9-7 decision at 138 pounds and Juan Karlos Hernandez won by a 16-5 major decision at 220 pounds.
The two wins allowed the Eagles to remain unbeaten by PIL schools with Kroll as head coach, but this time it was a little close for comfort. The Eagles had to shuffle their lineup with heavyweight Brandon Dominguez injured, and there depth is getting thin.
"I still haven't lost to PIL coach since I've been coach in Hood River, but this was close," Kroll said. "We're forfeiting weight classes because we don't have enough kids out."
After facing some tough teams at major tournaments the last few weeks, Kroll and team leaders have seen some of the team's confidence begin to return. They will need it to continue, as they go into another big tournament at the Oregon Classic in Redmond Jan. 13-14 and have Hermiston and Pendleton, both ranked in the top five in the state, in the first two weeks of league competition.
"The toughest part has been not having our lineup out there," Brunk said. "Once we have the whole lineup we'll be better."