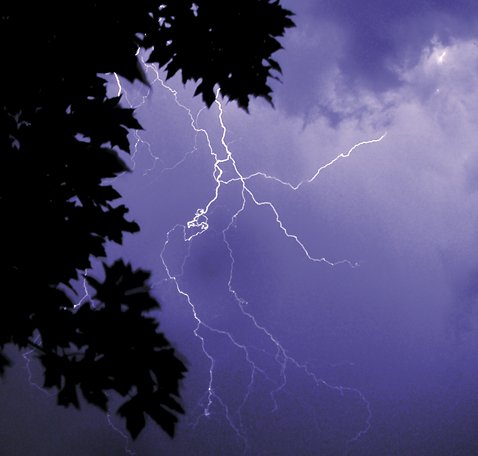 Crack! Rumble! Flash! Repeat.
With Sunday's spectacular lightening displays and rainstorm, the skies over Hood River provided a thunderous opening to this year's official wildfire season.
On Monday, the National Weather Service issued a red flag alert advising Hood River County residents of extreme fire danger — a result of high winds, drying vegetation "fuels" and incoming lightening storms. The remaining summer will provide similar wildfire danger.
According to Dana Tenold, public information officer for the Oregon Department of Forestry The Dalles Unit, "If citizens see a significant downstrike and see a glow later on, please call it in. We appreciate anybody who sees anything to give us a call or to use the 9-1-1 system. What makes our fire activity unique are the wind conditions, with gusts up to 35 miles per hour."
According to Tenold, Hood River County was "lucky" after this most recent thunderstorm — where most ground strikes bypassed the area. The same storm ignited two wildfires just hours later in the John Day area. One now engulfs 230 acres and a second, 300 acres.
Although the current fire control level allows for campfires, an all-out burn ban is in place for debris burning in the county.

Having doubts about the destructive power of current weather conditions? The Hood River Watershed Group and the U.S. Forest Service are offering a tour of last year's Dollar Lake and the 2008 Gnarl Ridge burn zones.
The tour will provide an opportunity to compare the burn patterns, fire fighting efforts and recovery from these fires.
Scheduled from 8:30 a.m. until 4 p.m., the tour cost is $18. Transportation will be provided. Space is limited; register with Hood River Community Education online at www.hrcommunityed.org or by calling 541-386-2055.