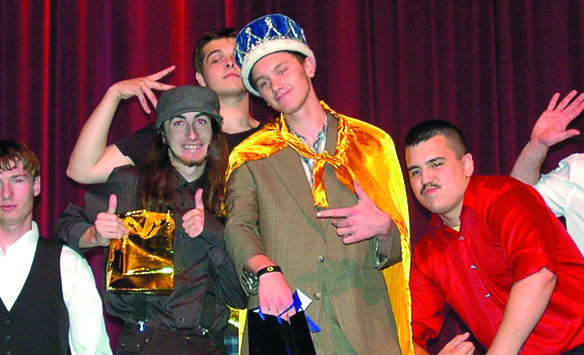 Story Heath-McKee channeled the geek in all of us on his way to Mr. HRV victory Thursday.
The Hood River Valley High School senior used his lanky 6-2 frame and short-cropped hair to evoke the spirit of Forrest Gump, made famous by Tom Hanks in the 1994 Oscar-winning film.
Heath-McKee and five other brave seniors demonstrated comic chops, dance moves and musical abilities along with quick wits in the 20th Mr. HRV. The event is always held a week before graduation, as part of preparations for commencement and the conclusion of the school year.
Second place went to Colton Fitzpatrick, who showed willowy dance moves and used the "evening wear" segment to put a satirical take on the climactic scene in "Titanic" where Rose sits on the plank and Jack stays in the freezing water: "Guess you couldn't make room for me up there."
Chad Tyler used his large stature as well as his rap skills to earn third place. In his beachwear skit he donned frilly top and sarong, and blond wig to portray a young woman who uses brute force to prevent being jilted by a frightened blind date. Noah Valentine joined him in a lengthy performance of a Jay Z tune.
Adam Kuatt, who adopted Charlie Sheen's persona for much of the night, performed a vigorous guitar solo he co-wrote with junior Noa Edwards.
Tyler Santoyo entertained with varied dance moves to try to woo a young lady. His search for love went endearingly unrequited, despite his sharp steps.
Taylor Tyynismaa was choreographer for the night.
Sean Crompton started things off with a humorous skateboard entrance and did an ironic take on Bob Marley's "Everything's Gonna Be Alright" while playing the ukulele.
Judging the show were Terri Vann, Ann Edwards, Jan Veldhuisen Virk and Maija Yasui. English teacher Regena Rafelson was emcee.
Crompton later played a tuxedo-clad Clousseau searching for Pink Panther.
But the pop culture reference that won the day was Forrest Gump, in Heath-McKee's sustained interpretation of the loveably awkward man of the world.
"I thought Forrest Gump might appeal to the judges," Heath-McKee said. "Because of their ages, it's more known, and I think that's what won it for me."
(To put it in perspective, the film came out the year Heath-McKee was born.)
McKee had Forrest learning social skills including how dance, and he did a graceful duet with senior Carly Peterson, as Forrest's great love, Jenny, during his evening wear presentation.
"Forrest" even presented the judges with some treats, in keeping with Forrest's famous saying that "Life is like a box of chocolates."
"The chocolates didn't exactly influence me, because he didn't give them to me. He gave them to Ann Edwards," joked Vann. "His whole character was hilarious and the way he stayed in it throughout the whole thing was wonderful."
For his talent segment, Heath-McKee danced as Forrest to a lengthy repertoire of rock-n-roll, disco and hip-hop tunes that included "Greased Lighting" and "YMCA."
McKee stayed in character for the question-answer segment of the competition, in which he randomly drew the question, "What is your worst fear?"
He gave it a perfectly timed beat, and replied, "Losing Jenny, of course."
Kuatt, in keeping with his Charlie Sheen vibe, also showed quick thinking.
When asked, "Describe what kind of dog you would be if you were a dog."
"A 'winning' shepherd," Kuatt/Sheen said.
It's possible that Heath-McKee claimed the night from his first entrance, dancing in front of a big yellow moon — while wearing trunks and a pink bikini top.
"I think it's a great accomplishment because it's a school thing and knowing I have a lot of school spirit, I put all my efforts into school events. And I think I might have been the underdog."
Asked about his answer in the Q&A, McKee said, "In the movie, he loves Jenny very much, and I have to say my girlfriend is one of the closest people to me other than my mom and family and I thought it would be the perfect answer."
The best part of the evening was "definitely watching everybody else do their thing — and getting crowned Mr. HRV," Heath-McKee said.
Vann, who retires this year as assistant superintendent, said Mr. HRV was a bittersweet experience as it could be her last time as judge.
"I think it's amazing the kids will get up and put themselves out there like that," Vann said.