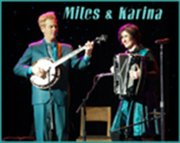 'Maria in the Shower' at CEBU May 5
This weekend at CEBU Lounge: Friday, May 4: Tony Smiley 9:30 p.m. – Loop Ninja. Tony Smiley, aka The Loop Ninja, is absolutely captivating as he rocks the Boss Loop Pedal, looping every single instrument to build a whole world as he takes you along on a ride of rock, world fusion and dance mixed with old school roots of '80s/'90s new wave, beat boxing mixed with Mongolian throat singing and a dash of Middle Eastern tabla. Saturday, May 5: Maria In The Shower 9:30 p.m. – Vancouver B.C.'s Legendary folk-cabaret band. You may not find a woman or a shower next time you see Maria in the Shower, Vancouver's favorite vaudevillian quartet. But then again, they are a band that embraces contradiction wholeheartedly. The band revels in the fun and challenge of making old music feel new, writing and performing material that is as fresh as it is traditional.
Eddy Corduroy at Chips
On Saturday, May 5, just when you thought it was safe to go back to Chips in Bingen, Wash., it's Eddy Corduroy and the Jackets — surfin' and rockin' their way through the blues from 9 p.m. to midnight; 21 and over.
Maryhill Museum wing opens
The dedication of the newly constructed Mary and Bruce Stevenson Wing happens Saturday and Sunday, May 12-13. Celebrate the first expansion in Maryhill Museum of Art's history with behind-the-scenes tours of the new wing and collections storage areas, photos with life-sized cutouts of Maryhill's founders, a fly-by of antique aeroplanes, family art activities, and an antique car show. Free admission for all visitors 10 a.m. to 5 p.m. both days. View the full schedule at maryhillmuseum.org/ Events/dedication.html.
Benefit concert May 11
The Bingen Theater (bingentheater.com) hosts a gathering of musicians on Friday, May 11, at 7 p.m. Join in for an evening of music and dancing featuring The Funkship Columbia, OneHum, the Bigfoot Band and many, many special guests. Proceeds will go to help pay medical expenses for one of the Gorge's favorite musicians, Rick Hulett. This is an all-ages show. Suggested donation is $10 for individuals and $20 for families.
Cheryl Strayed reads May 8
Waucoma Bookstore and the Hood River County Library are hosting author Cheryl Strayed for a book reading at 6 p.m. on Tuesday, May 8, at the Hood River County Library. Strayed will be discussing her new book "Wild: From Lost to Found on the Pacific Crest Trail." The book is a "powerful, blazingly honest memoir." It's the story of an 1,100-mile solo hike that broke down a young woman reeling from catastrophe — and built her back up again.
Celeste Bergin at White House
Plein air oil painter Celeste Bergin will have works on display at The Gorge White House all of May. An artist reception in her honor is scheduled for Sunday, May 6, from 1-3 p.m. The public is invited to meet Celeste, enjoy her paintings and sample complimentary Columbia Gorge wine and craft beer. The Gorge White House, 2265 Hwy 35, 541-386-2828, www.thegorgewhitehouse.com.
'Miles & Karina' play May 4
Miles & Karina are David Miles Keenan and Nova Karina Devonie, a music duo from Seattle. Combine accordion, banjo, samba, swing and twang, oh yeah, and guitar into one pot, and something's bound to happen. Delightfully quirkish, sometimes disturbing, often beautiful and always entertaining – everybody loves Miles & Karina. Their music is influenced by recordings from the '40s, '50s and '60s and includes virtually all American styles. Karina plays the accordion, Miles plays guitar and banjo, and both of them sing. Friday, May 4, 7 p.m. at 401 Montello, Hood River.
'Doubt, A Parable' opens May 10
Columbia Center for the Arts and CAST Theater on May 10, at 7:30 p.m. "Doubt, A Parable," is written by John Patrick Shanley and directed by Judie Hanel. The show continues on May 11, 12, 17, 18 and 19 at 7:30 p.m with a matinee on May 13 at 2 p.m. Set at St. Nicholas Catholic school in 1964, on the cusp of the Second Vatican Council, the play involves a nun, Sister Aloysius, who does not approve of teachers who offer friendship and compassion instead of the discipline she feels students need in order to face a difficult world. When she suspects, Father Flynn, of an unspeakable crime, she is faced with the prospect of charging him with unproved allegations and possibly destroying his position as well as her own. To help build her case, she asks Sr. James for help. Sr. Aloysius also turns to the young boy's mother for support. The play was awarded the Pulitzer Prize for Drama in 2005, the Drama Desk Award and the Tony Award for Best Play. Tickets are available at Columbia Arts and Waucoma Bookstore in Hood River, Collage of the Gorge in White Salmon and online at www.columbiaarts.org . Tickets are $15 for adults, $12 for students and seniors and $10 for groups of 10 or more. Columbia Arts is located at 215 Cascade Ave. in Hood River.
Entertainment listings can be e-mailed to jdrake@hoodrivernews.com