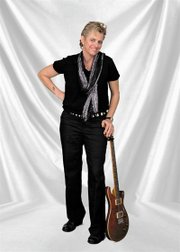 Sonny Hess shows her hand on new 'All Aces' CD
A veteran guitarist and vocalist, Sonny Hess first picked up a guitar at age 8. By the time she was a teenager, she was picking up gigs in Portland's top bands. Sonny went on to be the first woman nominated for Best Lead Guitar by the Cascade Blues Association. The Sonny Hess Band has a brand new CD "All Aces," which critics say is her best work yet. Catch her at the Waucoma Club in Hood River on Saturday, April 28.
Interview with Sonny Hess By Jim Drake
I've been keeping tabs on the music scene for a while, but I honestly can't remember the last time you guys were here. Is this a first time for you guys in Hood River, or am I really forgetting?
We played in Hood River at the old River City Saloon in the '90s. You can could say we were the "house band" because we played there so often as the NW Women Rhythm & Blues, which is a show I produce and play in with a host of selected female talent. What you will be seeing is my current band, hopefully with new CD in hand.
Your bio says you are a cancer survivor, and the press that I've read about you says your attitude about winning that battle comes through in your music. How did music help you heal?
I never missed a gig, I put myself in my music, and that resulted in me seeing other people's joy while I played.
You've been playing guitar from an early age. Who did you learn from growing up and who do you listen to now?
I learned from BB King, Eric Clapton, Grand Funk Railroad, Johnny Winter and Jesse Ed Davis. Now I listen to a bit everything, paying attention to who is current, new and different like Mayor Hawthorne, Adele, Melissa Etheridge and Freddie King. It's a wide range.
Your new cd "All Aces" is due out in May. How would you compare this new one to your first release in 1995?
The new CD is no comparison to my work in 1995. For me and my ability in my music now . . . this CD is my best. I am very proud of it.