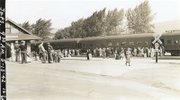 Imagine packing up your life into two suitcases, leaving your home labeled as a possible traitor and boarding a train to an unknown destination for an unknown period of time.
The entire Hood River Japanese-American community faced that fate 70 years ago on May 13, 1942. President Franklin Roosevelt sealed their fate with the signing of executive order number 9066 on February 19, 1942, which paved the way for the creation of Japanese-American internment camps.
That cool spring day in May, "evacuation" train cars pulled noisily into the quaint rail station below Second Street and Cascade Avenue and took hundreds of families, of whom two-thirds were American citizens, to the Pinedale Assembly Center near Fresno, Calif., for "processing."
Linda Tamura, Willamette University education professor and author of two books on Japanese-American internment experiences in her hometown of Hood River, has returned many times to that moment in history, and all that came before and after.
In a three-part series, beginning with an interview with Tamura, the Hood River News will join The History Museum of Hood River County in commemorating that tragic time in our local history.
We will examine Hood River's place within the epidemic of fear that swept the nation and the painful repercussions to local Japanese-American citizens that followed the bombing of Pearl Harbor by the government of Japan.
Tamura, whose U.S.-born parents and Japanese grandparents were all interned, recalls the moment she realized that her "mother's camp experiences were not the summer camp" she had always imagined. A description of the train ride itself may offer a glimpse into the depth of inhumanity that "camp" encompassed.
Stepping from the train at their arrival point - a former warehouse facility turned makeshift detention center - Hood River community members, along with thousands of others, were temporarily housed at Pinedale, then eventually segregated to more permanent "relocation camps" often based on individual answers to two key "loyalty" questions.
The two key questions? "Are you willing to serve in the armed forces of the United States on combat duty, wherever ordered?" and "Will you swear unqualified allegiance to the United States and faithfully defend the United States from any or all attack by foreign or domestic forces, and forswear any form of allegiance or obedience to the Japanese emperor, or any other foreign government, power, or organization?"
According to Tamura, "People were not sure if the questions were a trick. There was a lot of confusion about what the questions really meant."
Family members, friends, husbands and wives and children might be sent to live in differing states based on the answers to those fateful inquiries, with cold, bureaucratic efficiency.
According to Tamura, some answered "yes, yes" and some "no, no." The dilemma for many was great. If not already an American citizen, proclaiming oneself as an enemy to the Emperor of Japan would result in the loss of their only existing citizenship. Some refused to serve a country that denied their civil rights and wished to protest the unjust nature of the questions. Others feared deportation and family separation.
Anyone who answered "no, no" or "no, yes" could be labeled a high security risk and assigned to Tule Lake, the camp with the highest security.
According to Tamura, most Hood River respondents' final stops - Minidoka, Idaho, Tule Lake, Calif., and Heart Mountain, Wyo. - would become homes to most for the next three years.
Tamura's mother, Chiz Noji Tamura, was born in Hood River County and grew up in Parkdale. Her father, Harry Tamura, also born here, came from Odell. The story of their internment and subsequent return to Hood River when hostilities remained open and significant was never openly discussed.
It was at the urging of Tamura's uncle Mam Noji that she began to uncover the hidden suffering her family had endured. That began with an initial interview with her grandmother Noji, which became the start of her first novel: "The Hood River Issei: An Oral History of Japanese Settlers in Oregon's Hood River Valley."
"I learned about her life coming to the U.S. as a picture bride, her settlement in Hood River and then her life during the war and in the camps. There were incredible hardships.
"Both my father and uncle were in the military - my father signed up seven days after the bombing of Pearl Harbor - at the time their families were interned," said Tamura. "That discrepancy was just unbelievable to me ...daunting."
Beyond learning some of the details of the harsh living conditions of camp - which often included no electricity, poor heat, limited medical care, walls separating families made from blankets strung up on ropes, and daily, grueling labor - Tamura learned about her Hood River neighbors who stayed behind.
"I was aware of my family talking about whether people were 'anti,'" said Tamura. "We also would hear if (non-Japanese) people were 'friendly' or not."
Those turned out to be very important words in the Hood River Valley, where vocal and powerful advocates for deportation and internment were actively lobbying against their former neighbors with state and national initiatives.
"The Japanese-American community members in Hood River were working on their family farms. They worked hard, enjoyed their friends and schools, integrated with the community and felt that they were accepted," said Tamura. "Then to realize that even as a citizen this could happen to them ... that citizenship didn't have any meaning ... that affected their belief in themselves and their views on their community."
There was little room for doubt as to who was "anti." Large petitions were posted throughout town and in the Hood River News, listing prominent local citizens who were pushing for the removal of their neighbors.
"I remember looking at those petitions and my stomach was sinking ... seeing familiar names, being horrified and in awe, recognizing the enormity of the fear and the worries of my family," said Tamura, who found those petitions in the basement of the Hood River library when she began her research.
"There are so many reasons to understand this, because it can happen again," said Tamura. "After talking to the Japanese-American community I know that they understood that people, some of them, participated in the petition out of fear and pressure. Some, because of how they truly felt.
While some family farms were tended and returned by non-Japanese neighbors after the internment, others were taken over through legal maneuvering or distress-sales. Some families returned to face the community who had betrayed them, and others left, never to return. Either scenario involved courage and left wounds that cut deep.
"This was war time and it is sad to see how war can distort and affect people's views and actions ... It is so important to become aware of the damages of stereotyping and racism and the importance of respecting the diversity that is our country and community," said Tamura.
Tamura has continued her own work to raise awareness of the prejudice that injured the nation. Her second book is entitled: "Nisei Soldiers Break Their Silence: Coming Home to Hood River."
"Hood River is acknowledging the wrongs in its past. By remembering - and doing so publicly - our community can begin to teach an important lesson about differences and civil rights," concluded Tamura.
HEALING THROUGH HONOR:
On May 12, The History Museum of Hood River County will host a commemorative event with historical displays in honor of the 70th anniversary of the Hood River Japanese-American evacuation beginning at 9 a.m. See A10 for details.
Several other efforts have taken place in the last decade that have begun to make visible those reparations to those who suffered from anti-Japanese sentiment and actions within in our own community.
The Japanese Heritage Garden was created and dedicated at the OSU Extension Services facility at 2990 Experiment Station Road, to honor the local Japanese-Americans who, despite their contributions to the community, were interned during World War II.
In May 2011, a monument was erected at the Hood River Idlewilde Cemetery in coordination with the American Legion, restoring the names of 16 Hood River pre-WWII Japanese-American soldiers to their rightful place of honor, following their removal from the American Legion plaque after World War II. The monument currently honors a total of 140 Japanese-American servicemen from the mid-Columbia, with 19 additional names to be this Memorial Day.
In February 2012, Sen. Ron Wyden held a ceremony honoring World War II Japanese-American veterans in Portland that included two Hood River veterans, Sab Akiyama and Taylor Tomita, two local veterans who had not been able to attend previous ceremonies.
In 2007, the American Legion hall held a "Day of Remembrance."
In 2004, a historical sign was installed at the Hood River Railway station, acknowledging the site where families boarded the train for evacuation.