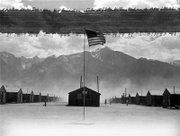 Most of the 700 individuals of Japanese ancestry who were relocated from Hood River on Feb. 13, 1942, have since passed on. Those who remain were young children at the time of the incarceration.
For our community, the opportunity to listen and learn from those times of hostility and ignorance can still be found through the living and recorded voices that remain.
Author, professor and historian Linda Tamura, whose parents and grandparents were on the Hood River train, provides some guidance from her own experience on how best to attend to this history lesson.
"I interviewed my grandmother (Asayo) Noji and learned her story and from that I put together the story of my whole family," said Tamura. The topic of the deportation and three-year internment were not subjects openly discussed within the family during Tamura's youth.
"My grandmother was reluctant to have anyone beyond the family read it. That helped me to understand Japanese culture much better, where group harmony is more important than the individual," Tamura said.
The cultural value of attaining and maintaining group harmony, known in Japanese as "wa," is seen as much more important than any single individual's experience - a concept in stark contrast to the American value of the primacy of the individual.
Tamura, who was raised in Hood River, sought to understand how that value played out in the specific experience of internment, racism and prejudice which was thrust upon her family and all of the Japanese-Americans within our community.
"My grandmother's reluctance was my incentive to interview more people," said Tamura. "I wanted to learn more and so I interviewed members of her generation."
Tamura's first book, "The Hood River Issei: An oral history of Japanese Settlers in Oregon's Hood River Valley," was the result of her first journey of inquiry - seeking the sometimes-reticent voices of those who came before. Tamura's work and family story poignantly sheds light on the experience of being a minority community in a country struggling with fear and racism.
Tamura's book however is not a story of struggles alone. It is also a story of adaptation, human frailties, resilience, success, courage and forgiveness. It is a true picture of both ordinary and exemplary lives and a story shared by any community that must face injustice.
In this second installment of our series on Japanese internment during World War II, we will reprint voices from that period in history that may provide insight into the struggles of one community - offering lessons for an entire nation.
Voices from that era are included in additional pages of this edition with selections from a series of letters sent between internees and Hood River native Nora Rumbaugh plus selected excerpts from news articles printed in The Hood River News.