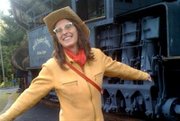 Pigs on the Wing May 18
The Pink Floyd tribute band Pigs on the Wing are going to be coming back to Hood River on Friday, May 18, at the Waucoma Club. This band concentrates on the classic Pink Floyd any rock fan will appreciate. Visit: www.pig-wing.com and give them a listen. To read an interview with the band, go to: http://www.hoodrivernews.com/ns/entertainment-blog/8085/expect-pigs-to-fly-oct-15.
Athens reads May 15
Waucoma Bookstore and Solstice Woodfire Cafe are hosting a reading and book release party with Kristy Athens for her new book "Get Your Pitchfork On!" on Tuesday, May 15, at Solstice Wood Fire Cafe (415 West Steuben St, Bingen, Wash. The book reading starts at 6:30 p.m., doors open at 5 p.m.
About the Book
For hard-working office workers Kristy Athens and husband Michael, farming was a romantic dream. After purchasing farm land in Oregon's beautiful Columbia Gorge, Athens and hubby were surprised to learn that the realities of farming were challenging and unexpected. Get Your Pitchfork On! provides the hard-learned nuts-and-bolts of rural living from city folk who were initially out of their depth. Practical and often hilarious, Get Your Pitchfork On! reads like a twenty-first century Egg and I.
About the Author
Kristy Athens and her husband Mike lived on seven acres near Husum from 2003 to 2009; during that time, Kristy served on the Hood River Cultural Trust board, edited the now-defunct Columbia Gorge Magazine, and worked as community relations coordinator for Hospice of the Gorge, now part of Providence Hood River. Kristy Athens' nonfiction and short stories have been published in a number of magazines, newspapers, and literary journals, most recently "High Desert Journal," "Barely South Review," and the anthology "Mamas and Papas." In 2010, she was a writer-in-residence for the Eastern Oregon Writer-in-Residence program and Soapstone. This is her first book.
'Man who Quit Money' reading May 16
Waucoma Bookstore, The Columbia River Fellowship for Peace and the Hood River County Library are hosting Mark Sundeen and Daniel Suelo for a book reading and discussion at 6 p.m. on Wednesday, May 16, at the Hood RIver County Library. Sundeen will be discussing his book "The Man Who Quit Money." The book tells the story of Daniel Suelo, now 50 years old, who has lived without money for over a decade. Daniel Suelo will also be at the reading, and will be participating in the discussion.
About The Book
Twelve years ago Daniel Suelo pulled from his pocket his life savings—thirty dollars—laid it inside a phone booth, and walked away. Since then he has lived – to all appearances sanely, even joyfully – without money, credit, barter, or government hand-outs, fulfilling a vision of the good life inspired by the teachings of Jesus, Buddha, and the Hindu wandering monks known as Sadhus. In the tradition of Jon Krakauer's Into the Wild and Elizabeth Gilbert's The Last American Man, Mark Sundeen's The Man Who Quit Money tells the story of Daniel Suelo, now 50 years old, who has lived without money for over a decade. "I know it is possible to live with zero money," Suelo declares. "Abundantly."
About the Author
Mark Sundeen is an award-winning writer whose work appears in the New York Times Magazine, Outside, National Geographic Adventure, McSweeney's and The Believer. He is the author of the books Car Camping (HarperCollins, 2000) and The Making of Toro (Simon & Schuster, 2003), and co-author of North By Northwestern (St. Martin's, 2010), which was a New York Times and Wall Street Journal bestseller. Sundeen was born in Harbor City, California, in 1970. After graduating from Stanford University, Sundeen spent ten years in Moab, Utah, sometimes homeless, working odd jobs, river guiding, and leading Outward Bound wilderness courses. It was here, in 1993 while working as a short order cook, that he first met Daniel Suelo. Sundeen holds a masters in writing from the University of Southern California, and has taught at the MFA writing programs at the University of New Mexico and Western Connecticut State University. Since moving to Montana in 2005, he splits his time between Missoula and Moab.
Secret Salsa Society May 11
The Secret Salsa Society presents Salsa lessons with Lynn and Mark Stauffer, Friday, May 11, 8-10 p.m. in White Salmon at the Salon Rojo — Mt. View Grange Hall, 1085 N Main, White Salmon. Beginning/Intermediate Lesson 8-9 p.m. Open Dance follows until 10 p.m. Cost: $8 for one lesson; $10 for both, includes dance party. The Secret Salsa Society also meets every Wednesday, 7:30-10 p.m.
Square dance May 12
Saturday, May 12, 7-10 p.m., it's the Second Saturday Country Dance at the Rockford Grange in Hood River. The caller will be Ned Leager from Portland. The band will be the Mill Creek String Band from the Mid Columbia Gorge area. Dance lessons will begin at 7 p.m. All ages welcome. No partner required. Family friendly. All dances walked through first time. Enjoy an evening of Country Squares, Contras, Circle dances and a few Waltzes. The dance will be at the Rockford Grange, on Barrett Road, Hood River. $6 for members, $7 for non-members, $1 for youth and students. Please bring snack treats for break time. Call Keith Harding at 541-352-7550 or Tom Hons at 541-386-5771 for further information.
Directions to the Rockford Grange: From Downtown Hood River: Go West on Oak Street until you come to the 3-way at 13th and Oak. Turn left and go up the hill to the Hood River Heights. Follow this main road for about three miles. It becomes Tucker Road and makes several 90 degree turns. You will come to a 4-way stop intersection. Stop, then go straight through heading West. Proceed West for about one mile. You will see the West Side Fire Station on your right. The Rockford Grange is immediately past the fire station on the right. The porch light should be on.
Rich Wilkins at The Pines
This week and beyond at The Pines Tasting Room in Hood River: May 10, 6:30 p.m. Kerry Williams & Co Quench your thirst and musical cravings Thursday night at The Pines! Join Kerry Williams and his musical compadres as they rock The Pines with their impromptu solos and smooth vocals. Dance to the music of Kerry and his compadres and chat with other music-lovin' locals.
May 11, 6:30 p.m. Rich Wilkins Blues Band The Rich Wilkins Blues band specializes in bringing traditional blues and dance music to the NW. With years of experience Richard brings his hot saxaphone touch to blues standards by Jimmy Reed, Little Walter, Elmore James, and more.
May 18, 7 p.m. Lloyd Jones Jones is a master of the soulful understatement, the raw growl, and the groove. What he does, he says, is "combine New Orleans rhythms, the simplicity of Memphis music, and the rawness of the blues, all for the 21st century. This music is not about louder and faster. It's about time, meter, groove. Witness this master in person! This show is 21+ Only. Doors Open at 6:15, show starts at 7 p.m. Tickets are $10.
Scott Law at CEBU Lounge
Friday, May 11: Scott Law Reunion Band 9:30 p.m. – Guitar master Scott Law featuring Damian Erskine on bass, Asher Fulero on keys and Mark Griffith on drums. Guitar master Scott Law returns to Cebu Lounge with his electric Reunion Band, featuring Damian Erskine on bass, Asher Fulero on keys and Mark Griffith on drums. Guitarist, singer-songwriter and fearless improviser Scott Law embodies the ideal of the Steel-String Guitar Master. A brilliant and versatile instrumentalist, Scott's alternately chiming and grinding melodic concept bears favorable comparison with the greatest heroes of American guitar while creating a style that bears his own unique stamp. With either an acoustic or electric guitar in hand, he is recognized for his rhythmic concision and ability to fit into and uplift any musical situation. Scott's energy onstage, strong vocals, articulate phrasing and exquisite tone infuse the music with emotion and grace.
Friday, May 18: Loch Lomond w/ OneHum 9:30 p.m. – Indie Chamber Pop After a string of head-turning, critically acclaimed releases on Hush Records, and national and European tours, Portland's Loch Lomond brings their unique brand of raw symphonic chamber pop to Cebu Lounge at the Hood River Inn.
Saturday, May 19: Resolectrics 9:30 p.m. – Blend of Rock, Classic R&B, and Folk with Bluesy Riffs and Swampy Grooves Resolectrics at heart are a classic rhythm and blues band. But like the pioneers of rock & roll in the 50's, 60's and 70's, Resolectrics draw inspiration from many sources in the roots of American music to create an original and soulful blend of rock, classic r&b, and folk. Their ragged-yet-heartfelt harmonies, bluesy riffs and swampy grooves are sure to move you. Resolectrics' electrifying live performances showcase the group's dedication to drummer Johnny Nice's motto: "Feel is King".
Lolo Mo at Pint Shack
This week at Hood River's Pint Shack: Wednesay, May 9 - Lolo Mo is back! Get your dancin shoes, music starts at 7 p.m. Thursday, May 10 - Open mic night with Mark Farner. Friday, May 11- DJ Groc spins the vinyl, starting at 9 p.m.
Groove Project at Naked Winery
Tim Ortlieb and The Groove Project is playing at Naked Winery in Hood River on Saturday, May 12, from 7-10 p.m. Expect azz grooves, rock grooves, soul grooves, blues grooves, latin grooves — all with a funky backbeat.
"Play Again" film screening May 17
"Today's children recognize more corporate logos than they do common plants in their own backyard," says "Play Again" director Tonje Hessen Schei. As a part of their mission to promote the connection between ecology, economy and community, Columbia Gorge Earth Center is collaborating with Cascade Mountain Semester and Andrew's Skylight Theatre to host two screenings of the film, "Play Again," on Thursday, May 17, at 6 and 8 p.m. Focused on the imbalance between the natural and virtual worlds, "Play Again" follows six teenagers from their virtual worlds out into the wilderness. When: Thursday, May 17 at 6 and 8 p.m. Where: Andrew's Skylight Theatre, Hood River Cost: $10. Kids 15 and under are free with an adult. More information is available at www.cgec.org.