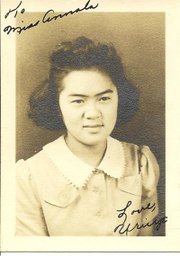 Seventy years ago on May 12, 1942, all people of Japanese ancestry, infant through adult, American citizen or Japanese immigrant denied citizenship, were removed from their homes in Hood River County and sent to internment camps scattered across the country.
Those from Hood River were first held in Pinedale, Calif., for two months, then relocated to the more permanent camp at Tule Lake.
Hood River's Japanese had three options prior to evacuation: to entrust their belongings to neighbors for safekeeping, to sell their items for pennies on the dollar or to abandon their homes, orchards, businesses, cars, tractors, farm animals, pets and personal possessions. They were only allowed to take what they could carry onto the awaiting train.
Their fear of the unknown escalated while preparing for evacuation as rumors of death camps in Europe circulated. Where would they be taken? What awaited them at the end of the line? What would the climate and living conditions be like? How they would sustain themselves and their families?
They boarded an olive-green army train at the Hood River Railroad Station at 9 a.m. on the 12th of May, 1942. Long lines of Japanese, dressed in travel attire, crowded the loading area, children and baggage in tow. Armed guards oversaw the evacuation and were posted inside the train as it pulled away from the station.
In the early 1970s my Aunt Vienna Annala Van Loan showed me a treasure trove of letters and pictures she kept in a dusty cardboard box beneath her bed in Monmouth, Ore. She told me that after she passed away she was entrusting these letters to me for safekeeping. It would be my job to protect the feelings of the young writers who painstakingly penned these notes but also to share the details they innocently scribbled across the pages in pen and pencil.
I was touched by her trust but fearful of the responsibility she was bequeathing me. I had just begun work on the Berkeley Project, documenting the stories of the Issei, first-generation Japanese immigrants to the U.S. and Hood River. I was not only a very new, but very white member of the Mid-Columbia Japanese American Citizen's League due to my recent marriage to Philip Yasui.
The responsibility weighed heavily on my free spirit, fueled by the fire of injustice done to so many in World War II, the Korean and Vietnam Wars, the battle for Civil Rights. And now I was face-to-face with an incredible injustice that happened at the hands of my neighbors to my friends and family in my own community of which I was painfully unaware.
After the bombing of Pearl Harbor, Miss Vienna Annala, a longtime Oak Grove teacher, realized, as did the rest of the community, that the Japanese would be evacuated from Hood River in the immediate future. She put her teaching position in jeopardy prior to the evacuation by requesting of the superintendent of schools, Mr. L.B. Gibson, the right to allow her students to graduate if they completed their studies before evacuation.
His response gives insight into the push and pull of good people influenced by war hysteria. "Any Japanese children leaving between this date and the date of the closing of school shall be given evidence of their standing-high school diploma-eighth grade diploma-or certificate of Promotion. I have an understanding sympathy for the Japanese in our community. But I also have two nephews and many other young friends in the Orient. Whether they are still living and serving under the American Flag or have fallen into the hands of the Japanese I pray God they may be faring as well as the Hood River Japanese. I admit a feeling of both justice and sternness in this matter. Thank you. Sincerely, L.B. Gibson"
Miss Annala prepared her students in earnest for graduation or promotion throughout April and May. She also made a simple request of her students. They had already been writing to other classmates who had enlisted in the armed forces. Would the students of Japanese ancestry please write to her and their classmates about their journey, and they in turn would write back to them.
Fred Wakamatsu wrote on May 12, "This is the first time I ever rode on a train. At first it was all right, but later it's not so good because I got tired of it. The chairs on the train don't fold into a bed so it's pretty hard to sleep. From Portland we went to Salem and from Salem to Eugene and from Eugene to Oak Ridge and then to Klamath Falls and then to Reading California. On the way we went through about 22 tunnels. We stopped at many places (I don't see why). The most interesting places were when we went on a high bridge and look down below into the water. We used to open the window and look up ahead of the train and every time we see a tunnel we slam the window shut because there is so much smoke in the tunnel. Say to everyone in the room hello for me. I wish I was there right now. Yours Truly, Fred W."
Chitose Akiyama May 16, 1942 Pinedale California
" Dear Miss Annala: We got here safely Thursday about 8:50 after riding 2 days and 1 night. Certainly had a nice trip. Everybody was so nice to us. I want to thank you for your kindness and the nice address book again. It sure comes in handy now. We certainly appreciated your kindness. We all live in a barracks which is divided up into apartments. We all have a nice room with a bed, etc. This place holds about 5,000 people and now there are about 2000 here. We can't hardly get lonesome with all the people around us. But I am lonesome for good ole Hood River. I guess theres no place better than home. I certainly miss you all back home too. The weather down here reminds me of the coast with cool breeze blowing. Probably soon it will get so hot, I won't know what to do. We all sat ona shift. I guess I was just unlucky. I have 6:15 11:00 and 4:00. I missed my breakfast the other morning, couldn't make it. I guess I'm a sleepy head-I probably will miss lots more, too. Sunaye is working now as a waitress. I have my job as a waitress too. But not working now. Waiting for another mess hall to open. Everybody is getting jobs as cooks, dishwashers, postman, etc. Many of the Hood River boys are working as 2nd cook, dishwasher or postman. There's nothing much we really could do so any kind of job will at least keep us from getting too lazy. Don't you think so? I know your busy so I won't bother you too long today. But will drop you a line again. I know your busy, but if you have a few minutes to spare, drop me a line or two won't you. I'd love to hear from back home again. We are sending our regards to you all, back home. Missing you, too. Hoping someday soon we will be seeing you all again. Sincerely Yours, Chitose Akiyama"
"Dear Miss Annala, We were all missing you teachers and the students. On the way here on a train we visited one train car to another. And there were about 22 cars. Then at Portland we hitched 5 dining cars that was the cars we eat in. And now here we heard there was hot weather but that night it poured down the rain. Soon as we got to Fresno we take one of these buses to Pinedale. Then it was about 9:00 o'clock After we got here we went to certain section. We took the section D-7 and Apartment 3. There is 5 apartments to each building. We did not get the neighbors near us that were from Oak Grove. I couldn't write to you earlier because I had my envelope and paper in the big suitcase. We put them in certain baggage cars and in this camp there are people from all over California mostly in the southern part and some from Washington. How is everything coming along in Hood River? About every day we are playing softball with all these people from all these parts. That's all for now, so I'll be expecting a letter from you I hope. So long and lots of luck. Yours Truly, Mark Hasegawa"
"Dear Miss Annala Well here I am in Pinedale. I wrote the other letter (postcard) on the train so I couldn't write very well and I couldn't give you my address. We are staying at barrack no C8-Apartment 1. There is so much houses in the place a little kid could get lost very easily. I played catch a little bit today but there is not much place to play catch. Nobody can go near the fence, if they go more than fifteen feet from the fence the guard might think we was trying to get away and will shoot. One boy he tried to get a ball near the fence and he got shot. The houses aren't very big but they are about right for a family of 3 or 4. The beds are army type. We got some blankets too. Gee I sure wanted to go home when I got here. Even if there were plenty of friends here, I still want to be at home at school. We got to camp about 8:00 o'clock and we had to stay up till about 2:00 o'clock to get all of our suitcases and duffle bags. We stopped at a place I didn't know and we got off there and from there we traveled five miles by a streamlined bus. On the train all the soldiers were very nice. They amused us by telling jokes and stories. They gave us apples and oranges and candy. The engineer wasn't such a good one because every time we stop he about jerked us off our seat and every time he start and if anybody was standing up he would almost fall down. Well tell everybody in the whole room hello for me. And I'm lonesome for everybody there. Tell Mrs. Tweedale and Mrs. Thomas hello for me. Yours Truly Fred Wakamatsu p.s. Excuse all mistakes."
May 16, 1942 "Dear Miss Annala: I arrived in Fresno, California last Thursday night. I wrote many letters already so I'm getting tired and I haven't anything to write on I mean like tables and chairs. But I hope you can read this. I'm not writing very much now but will write more later. This camp is better than I thought it to be but the water isn't so good. I sure miss Hood River though. All the ones over 18 years have to sign up for some kind of a job and I signed up as a waiter. Our kitchen isn't finished yet so I won't have to work until it's finished. I have to work from 12:30 to 7:00 pm. I sure wish I had the Hood River water now. I'm writing on a bed so it's sort of messy but I hope you can read it. Please write to me. Sincerely Yours, Joe Sumoge"
May 22, 1942, "Dear Miss Annala: I received your letter about 5 minutes ago. And I sure was glad for every day since I came. I have been waiting patiently for a letter. Today I heard from Frances Cody too. Yesterday was a very bad day for me because I fainted. I always did want to know how it felt to faint but I guess its just like a dream. Yesterday noon I only ate 2 slices of bread because I didn't like what they served. And they started selling coupons for 2.50 to buy everything. When I went there there was a very long line and it was very hot. And it happens they were out of tickets. I was standing there waiting with a friend and Haruko. I felt dizzy so I decided to go back. Haruko started back with me and pretty soon I woke up in somebody elses barrack. They say I was all green and everything. Ever since I fainted everybody comes up to visit me. Yesterday morning I took my last shot of typhoid fever. Its puffed up red. I am wondering if we are going to stay here for the duration or not. Im not sure its rumors or what but some say we will go to Idaho. Owens Valley somewhere near Death Valley-and some say Arizona. But I am getting tired of roaming around. Hiro is looking sour this morning too. Mary is a waitress in our mess hall. Ted is a dish washer. I bet the dishes are sure clean! Ted goes to work at 2:30 AM. Mary works in the afternoon. Two ladies died already. One is from Hood River. Lots of people are sick too. Yesterday the weather was above 110 degrees. I sure hope everybody would write to me. I bet everybody can hardly wait till the 22nd. Hope it turns out to be a yard picnic. I could just picture everybody playing and enjoying themselves. I always did want to go to Summer School ever since my sister went. One thing I hate is California and its water. Cant drink water from last night and today because it is dirty. Well I must close. Sincerely yours, Uriye Kawachi p.s. Tell everyone there is no place like home (Everybody doesn't think so)"
Then there were the poignant pleas (no names requested):
"Here is a little something to buy food to feed my dog. No one would take him so I am afraid he is running in the hills starving."
"Here is a few dollars to buy flowers for my son's grave Miss Annala. I am sorry to bother you."
Many more notes from Tule Lake and Pinedale are tucked in the box, lying in wait for the day when I dust them off and share them in a meaningful way that honors the optimism, determination, true grit and hope scribbled in pencil on lined note paper by children torn from their homes, schools and community.