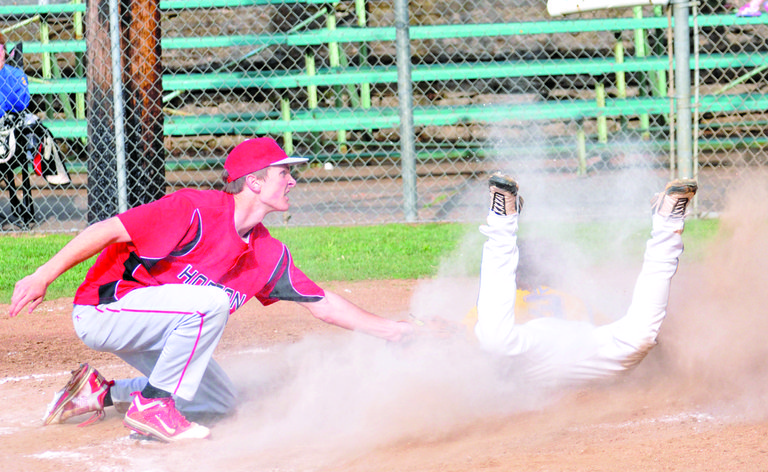 Down by three runs in the bottom of the seventh inning, the Horizon Hawks baseball team had a last-ditch rally that put Stanfield/Echo unexpectedly on their heels Tuesday evening at Collins Field.
After trailing the entire game and struggling to gain any significant offensive momentum, Horizon's Sam Anthony stepped up to bat and smashed a lead off home run over the left field fence. A formidable rally ensued, and the Hawks quickly loaded the bases with singles from Mitch Engel, Jeff Wilkins and Max Totaro, putting the winning run at bat with only one out.
A strikeout and a pop-fly put a disappointing, albeit exciting, end to the comeback attempt.
With the win, Stanfield/Echo secured a state playoff berth and a shot at the league title against Weston-McEwen High School this weekend. The 5-2 loss does not put an end to Horizon's season; instead the Hawks, 14-10 overall and 9-5 league, move onto a play-in game Saturday against the winner of Pilot Rock/Nixyaawii and Dufur. If the Hawks win that game, they'll claim the district's third position and a line on the state championship bracket; if they lose the season's over.
"It all comes back to practicing hard and having the confidence when it counts," Anthony said after the game. "We definitely didn't play our best; we had a few unfortunate plays and didn't really pick it up at bat until the last inning."
Earning the News' Player of the Game honors, Anthony pitched five innings, tallying several strikeouts before moving to shortstop and turning over the mound to Mitch Engel.
"We seem to play a lot better as the season goes on," Anthony said. "Hopefully that means we'll eliminate the mistakes, come out with confidence and play our best on Saturday. If we do that, I think we'll win."
"At this time of the year, when teams are playing at a high level, two plays, or even one play, often makes the difference in games," Coach Joe Petshow said after the game. "We had a couple of defensive mistakes that Stanfield took advantage of. On the other hand, Stanfield made the plays it had to, when it had to.
"I don't know what it is, but we've played some of our best baseball when our backs have been to the wall. We got off to a slow start and almost played our way out of the (district) playoffs before the season was half over. But we hung in there and kept battling. I think we'll do the same in Pendleton."