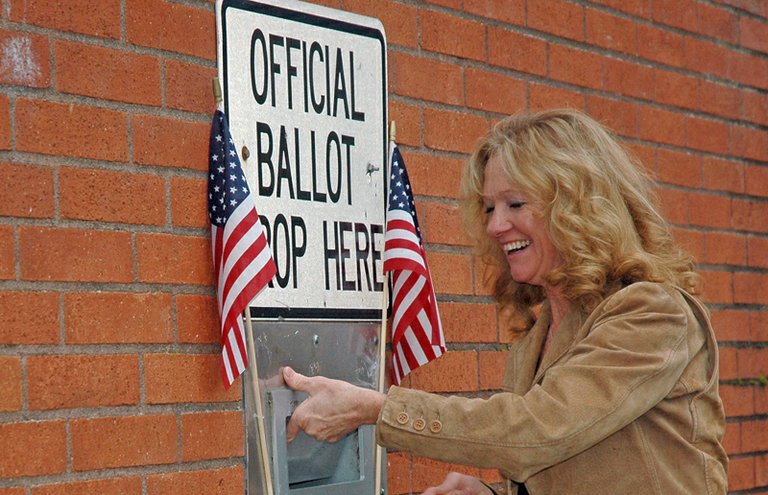 Originally published November 1, 2012 at 9:23 a.m., updated November 7, 2012 at 9:39 a.m.
In Nov. 6 Hood River County Elections results, Mark Johnson and Greg Walden trailed in voting in their own communities but won reelection in their districts in voting Nov. 6.
Cascade Locks will see two new faces on Council, and a new mayor in Tom Cramblett, who defeated incumbent Lance Masters by a wide margin.
Cramblett is a City Council member, meaning the council must now appoint someone to his position.
Kate McBride received the most votes in Hood River Council voting, Mark Zanmiller was a close second, and fellow incumbent Laurent Picard has a slim four-point lead over Nikki Hollatz. The vote was for the top three of four candidates.
County Board of Commissioners Ron Rivers, Maui Meyer and Les Perkins were all re-elected in unopposed races.
In other unopposed races:
Hood River Mayor – Arthur Babitz
Circuit Court, Dist. 7 Position 21 — John A. Olson
Hood River Soil and Water — Brian Nakamura, John Joyer and Cindy Collins
n
Total turnout, Hood River County: 84.34 percent – 9,837 out of 11,663 eligible
A total of 138 "question ballots" remain to be counted in Hood River County, and they will be tabulated.
Selected Unofficial Final Results
U.S. President
Barack Obama, D 5.977 (61.5)
Mitt Romney, R 3,440 (35 percent)
Hood River County School District Measure 14-48 (Local Option)
Yes – 5,803 (62 percent)
No – 3,528 (38 percent)
Sheriff
Matt English 5,405
Neal Holste 3,411 (61.1 to 38.6 percent)
U.S. House Dist. 2
Greg Walden – R, 5,054
Joyce Segers – D, 4,089 (54.3 to 43.9 percent)
Walden won re-election.
State House Dist. 52
Peter Nordbye, 4,721 (52.7)
Mark Johnson, R, 4,228 (47.2)
Johnson won reelection
Hood River City Council (top three elected)
Kate McBride 1,626 – 29.85 percent
Mark Zenmiller 1,469 – 26.97 percent
Laurent Picard 1,152 – 21.15 percent
Nikki Hollatz 1,148 – 21.08 percent
Cascade Locks Mayor
Tom Cramblett 284 (59.4 percent)
Lance Masters 193 (40.4)
Cascade Locks City Council
(top three elected)
Glenda Groves 250 – 18.20 percent
Randy Holmstrom 248 – 18.05 percent
Bruce Fitzpatrick 247 – 17.98 percent
Jeff Helfrich 221 – 16.08 percent
Richard Randall 215 – 15.65 percent
Ralph Hesgard 185 – 13.46 percent
Cascade Locks Measures:
14-49: No 322 (66.5); yes 162 (33.5)
14-51: No 331 (68.5); yes 152 (31.5)
State Treasurer
Ted Wheeler D, 5,657 (64 percent)
Tom Cox, R, 2,693 (30.5)
Wheeler won re-election
Attorney General
Ellen Rosenblum (Dem.) 5,380 (61.8)
James Buchal, R. 2,918 (33.5)
Rosenblum won reelection
Secretary of State
Kate Brown, D. 5,142 (56.6)
Knute Buehler, R, 3,436 (37.8)
Brown won reelection
Commissioner of Bureau of Labor and Industries
Brad Avakian-D, 3,672 (55.0)
Bruce Starr – R 2,972 (44.5)
Supreme Court Position 3
Richard Baldwin 3.294 (50.86
Nenna Cook 3,161 (48.8)
Court of Appeals Position 6
James C. Egan 3,343 ((56)
Tim Volpert 2,601 (43.6)
Measure 77 – 5,346 yes; 3,418 no
Measure 78 — 6,490 yes; 2,324 no
Measure 79 — 4,976 yes; 3,896 no
Measure 80 — 4,831 no; 4,574 yes
Measure 81 — 5,616 no; 3,361 yes
Measure 82 — 7,096 no; 2,263 yes
Measure 83 — 7,006 no; 2,336 no
Measure 84 — 4,994 no; 4,122 yes
Meaausre 85 — 5,628 yes; 3,536 no
10:40 p.m.: The county was still preparing to process results late into the evening Tuesday. Further updates will be posted Wednesday morning.
9:16 p.m.: In state measures, the county was voting widely in favor of revising state government emergency powers, against outlawing gillnets on the Columbia River, narrowly against legalizing marijuana, widely against a privately operated casino in Wood Village, against a measure to eliminate estate taxes and for a measure to re-allocate the state's corporate kicker to the K-12 education fund.
9:05 p.m.: Hood River County helped send President Obama to re-election, voting for the president over Republican challenger Mitt Romney by a 60-36 percent margin.
The county also went Democratic in one of the most hotly contested state level elections voting for incumbent secretary of state Kate Brown over Republican challenger Knute Buhler 3,750 to 2,619 in early returns.
8:35 p.m.: Early election results have challengers leading in the State House race for district 52 and the Cascade Locks mayors race.
Democrat Peter Nordbye was leading incumbent Republican Mark Johnson by around 250 votes with 66% of ballots counted in the county. However, Johnson maintained a 600 vote lead in early returns in Clackamas county and 400 in Multnomah County.
In the Cascade Locks mayors Race, challenger Tom Cramblett lead incumbent Lance Masters 182-128 with about 150 votes to be counted.
Kate McBride and Mark Zanmiller are easily the top two in the Hood River City Council election, with Nikki Hollatz narrowly leading Laurent Picard for the third spot.
The seven contestants for the Cascade Locks city council race remained too close to call.
Matt English appeared to be rolling in the county sheriff race, leading Hood River police chief Neal Holste by 1,600 votes.
The Hood River County local option level also appeared to be heading to victory, passing by roughly 1,400 votes.
Latest Hood River County election results
Election results will begin being posted after polls close at 8 p.m.
For the latest updates you can follow the Hood River News Twitter feed.
Hood River County will also be posting updated election