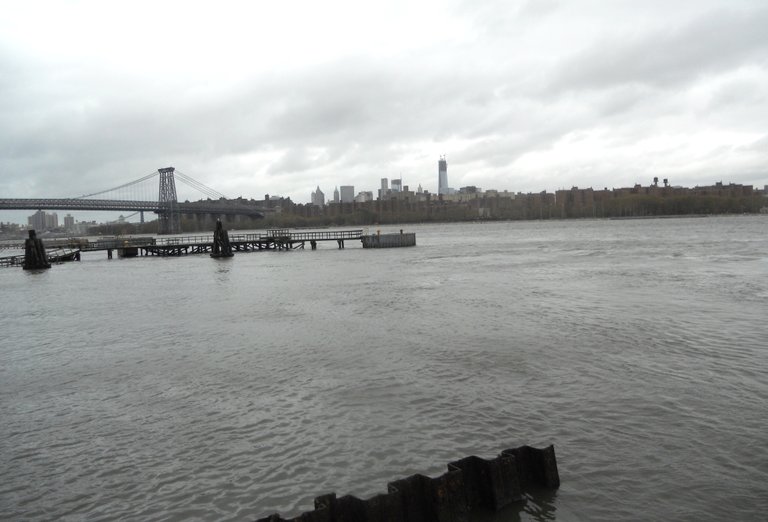 Originally published November 2, 2012 at 10:32 a.m., updated November 2, 2012 at 10:32 a.m.
On Monday night I stood on the roof of my apartment building and watched Manhattan go dark.
Hurricane Sandy had just reached its peak after making landfall near Atlantic City, with wind speeds of 80 mph, whipping up a 13-foot storm surge that dwarfed seawalls in Queens, South Brooklyn and Lower Manhattan.
All seven subway tunnels under the East River flooded. Water sparked an explosion at the Con Edison substation at 14th Street and cut power to nearly half of Manhattan. It was the largest storm-related power outage in Con Edison's history.
My roommates and I had just read about the explosion on Twitter and we wanted to see the skyline. From our rooftop in East Williamsburg you can see most of Manhattan's East Side, ranging from the Williamsburg Bridge and the Lower East Side to the Empire State Building at 34th Street and the Chrysler Building at 42nd Street.
The image is a familiar one, played over and over in movies; so much so that sometimes I forget it's there. As I opened the door to the roof the first thing I saw was a brightly lit skyscraper, somewhere near 14th street. I blinked and the building was gone.
As we watched, the lights drained from everything south of 38th Street. The blackout spread quickly and haphazardly, stretching halfway across the Williamsburg Bridge to extinguish the tiny red aircraft warning lights at its peak. The dark skyline swam weakly between heavy clouds.
Photo Gallery
Hurricane Sandy NYC first hand photos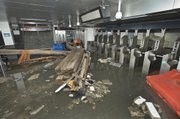 We had been waiting for the storm for two days, holed-up in our apartment with batteries and candles and non-perishables. We'd braved supermarkets full of panicky Brooklynites fighting over the last bunches of kale and boxes of quinoa. We'd even filled our bathtub.
One of my roommates suggested we watch Alfred Hitchcock's "The Birds" in the last few hours before the storm was scheduled to make landfall. This turned out to be both a great and a terrible idea. Every menacing squawk and ruffle was echoed by the wind outside. Sandy perfectly mimicked Hitchcock's meticulous foreboding, pausing in all the right places, creeping up from behind.
In one scene the protagonists wait in their boarded-up house for the next wave of bird attacks. My roommates and I looked at our windows, which we had haphazardly covered with cardboard and duct tape, and burst out laughing. There weren't any birds coming for us.
But up on the roof the danger seemed much more present, powerful, and even self-aware. The clouds over the city were moving at an incredible pace, and they seemed to be coming towards us: This paranoia was probably exacerbated by too many cookies, Alfred Hitchcock's genius and easy access to numerous terrifying social media accounts of the storm.
We'd already seen pictures of a devastating fire in Queens, a construction crane dangling 50 stories above the street, and the Atlantic City boardwalk washed out to sea. My family on the West Coast was watching a delayed version of events, edited and packaged for public consumption, but I was seeing things fall apart in real time. Everything that was happening to me felt significant.
But storms move on, and they don't look back. The events I witnessed on Monday night transpired during the point Hurricane Sandy came closest to New York City. During the night it churned through Pennsylvania and West Virginia, but the winds outside my window subsided.
Despite nightmares of flooding, I woke up to a dry apartment with heat, water, electricity, and even Internet. Apart from a few wet leaves, my street was completely untouched. I felt like I had cheated.
Authorities estimate that more than 8 million people lost power, homes burned, cars floated, and at least 18 people have died from storm-related injuries in New York City alone, perhaps 60 across the region. My boyfriend was stuck with no electricity, water, or elevators in his 23rd-floor apartment in midtown, but that was the worst of it for my circle of friends.
Out of guilt or morbid curiosity, I decided I would walk across the Williamsburg Bridge into the Lower East Side on Tuesday morning.
The Manhattan I saw on the other side of the bridge was unrecognizable. At the foot of the bridge, a policeman in a bright yellow vest was directing traffic. People waited patiently for the nearest payphone, their useless cellphones in hand. A young woman sold flashlight batteries from a makeshift stall outside a shuttered coffee shop.
I walked up Third Avenue for about 30 blocks. Torn fences revealed muddy vacant lots, fallen treetops blocked the sidewalk, and flood debris piled up in every storm drain. The city was drained of color.
Storefront shutters and metal gates made a gray corridor, funneling hundreds of people as they searched for any open stores. Everyone talked ceaselessly about the weather and the power outage.
For a while I walked behind three girls in chicken costumes, staunchly celebrating an early Halloween. People looked relieved to have something new to talk about.
But a general air of camaraderie and courtesy pervaded the neighborhoods. Cars waved each other past. At one gnarly intersection, a bystander walked into the middle of the street and started directing traffic himself. Little kids jumped in puddles. Even dogs greeted each other on their evening constitutionals.
As I hiked back into Brooklyn that night, I looked into the lit windows of restaurants and bars in disbelief. After traversing the Manhattan wilderness, Williamsburg seemed unreal, a Disneyland of people eating and drinking and acting normally.
All my fear and anticipation somehow seemed unfounded and foolish. People in Manhattan were now laughing over warm beer in darkened bars, chatting in line for candles, helping each other find an open pizza parlor.
Disasters have the power to unite people, but Williamsburg didn't seem united. It seemed like any other night. Over here, people weren't even talking about the storm.
I heard someone complaining about the new iPhone and I stared at him as if he were speaking another language. Didn't he know what was across the river?
I tried to remember what I had been afraid of, huddled in my apartment on the night of the storm. I had imagined power outages, loss of Internet, ruined furniture, and no way to contact my friends and family.

My fear of isolation was at that point a logistical one. But now I saw that this isolation could create of a new kind of community, one that didn't need Internet or phones or electricity to come together.
Just as I had decided to walk across the bridge because there was no subway, people in Manhattan had begun talking to one another because they couldn't close themselves off with work and daily chores and the business of getting from point A to point B.
Sandy had isolated them from the rest of us, but it had opened them to each other.
I shouldn't have been afraid of a few days without electricity. Instead I should have feared the opposite: that my life would go on, uninterrupted by a great and powerful change.