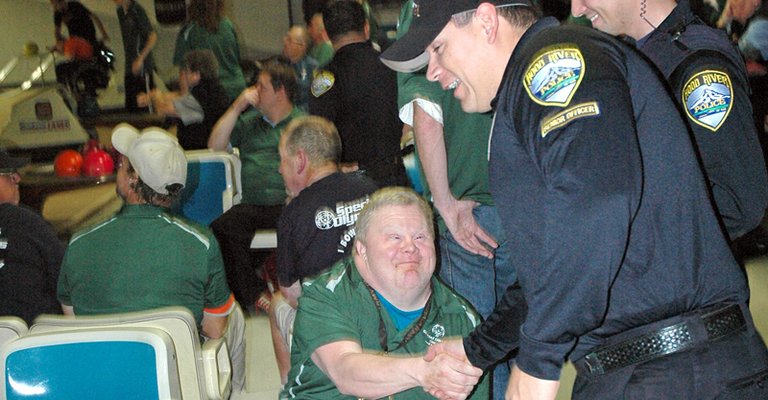 Tuesday, November 6, 2012
Things get pretty competitive at Orchard Lanes on a Monday afternoon.
"I'm ahead of you now!" one bowler called to another about three frames into the game.
The scene was the annual Bowl with the Cops event for Hood River County Special Olympics, and the author of the gentle taunt was unidentifiable in the din of rolling balls, falling pins, high fives and general conversation. Pizza and other snacks awaited the athletes and police officers and firefighters who bowl along side each other in the largest fundraiser of the year for the local Special Olympics program.
The athletes garner straight donations, or pledges per point. The proceeds support their participation on Nov. 18 in the Special Olympics bowling regionals in Portland.
"This year we've done better than in all the previous years," said Anna Schwebke, co-local program coordinator with Jeri Rector.
The event raised a total of $2,856. Top earners were Ashley Webb, $1,051; Katie Tager, $939; and Kelly Fork, $345.
A total of 34 athletes participated Monday, and almost as many police and fire personnel, filling Orchard Lanes for a couple of hours. Some athletes bowled "straight up," while others — cops and athletes — got an assist from the gutter bumpers.
Besides being a fun community event, "it gives the athletes a chance to bowl against someone else so they're ready to bowl against other teams in Portland," Schwebke said.
"I enjoy watching these guys have a good time," said Officer Andy Rau, a 26-year veteran of the force who was in his first year of Bowl with the Cops.
"We see them around a lot, and it's good to interact and get to know them a little," he said.
Mariah Langer's sentiments exactly.
"I like bowling with them because I think it's a nice thing to do because the police officers and firemen, we can be friends and know who they are in case we need some help."
The veteran of "15 or 16" bowling seasons, Langer said, "I like bowling with the people around me and then I see my friends, I like to be around my friends."'
n
The athletes ranged in age from 12 to 70 at Monday's event. Athletes are eligible to compete at age 9.
Special Olympics is looking to add to its ranks. Anyone with a family member who might be interested in participating should call Schwebke at 541-806-0719 or Jeri Rector at 541-490-5611.
"We'd love to get more kids. A lot of our athletes are starting to age out," said Schwebke.