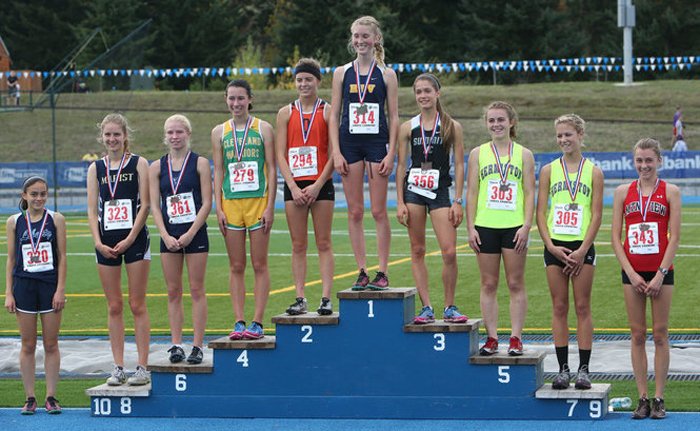 Tuesday, November 6, 2012
Grace Grim did not have to dig very deep to come up with some goals for next year.
You might expect someone who, in the past three months, has set a new school record in the 5,000 meters, won a district title and a state championship in her first season running cross country to at least take a few seconds to ponder what exactly is left to accomplish next year.
Not Grim.
"I want to break the record that I set this year, and I would like to get into the 17 (minute range)," Grim said. She also wants to break the school 5K record time of 18:09 which she set in October.
The HRV junior, and first-year cross country runner, blew away the field down the backstretch of Saturday's cross country championships to win by 13 seconds over her closest challenger.
Grim had hoped to stay with the lead pack throughout the race, but to let others lead the race until she would kick at the end.
Early in the race she discovered she had a problem.
"I was going too fast," she said.
Grim reined in her speed, and stuck on the heels of MaryKate McGuire of Dallas until they approached the final 1,600 meters.
"I stuck really close behind her for the whole race and then about 1600 meters from the end I kicked past her a little sooner than I wanted but I was able to stay in front of her," Grim said.
Once Grim passed by, McGuire didn't stand a chance.
The HRV junior went on to win the race in 18 minutes and 40 seconds, beating McGuire by 13 seconds.
No one else in the 91-runner field finished in under 19 minutes.
Summit won the team title with 83 points. Hermiston, which HRV beat for the district title the weekend prior to state, finished third with 105 points.
The Eagles finished fifth with 141, moving up two spots from last year's state finish.
"We were hoping for top four and a trophy…but overall it was a really good season" said HRV coach Kristen Uhler.
The Eagles will return almost their entire team next year and Uhler is excited to see what they can do.
She said that the high school team is seeing more and more depth each year thanks to a successful middle school program, and that through that depth the team does not have to rely on any one standout runner to try and carry the load.
Uhler won't complain that she has one, though.
"I knew she was going to win; I just didn't want to put too much pressure on her," Uhler said. "We don't know how fast she can go yet."
Grim doesn't know either, but she would like to find out.
Her next stop is Borderclash, an all-classifications meet featuring the top runners from Oregon and Washington at the Nike Campus in Beaverton on Nov. 18.
"I want to keep improving," Grim said.
After a breakout first cross country campaign, Grim now plans to compete in Nordic skiing this winter and track in the spring with the eventual goal of running in college.
Grim's win was the second state championship for a Hood River Valley cross country runner, the prior being won by Christy Paul in 2001.
Following Grim the Eagles' next-highest finish was from freshman Sascha Bockius, who finished in 19:52.
Lydia Gildehaus finished 27th in 21:01, Madison Freeman was 50th in 21:21 and Althea Dillon was 64th in 22:11 to round out the Eagles contributing to the team scoring.
Denali Emmons was the sixth HRV runner across the line in 65th place with a time of 22:14 while Kailee McGeer finished 72nd with a time of 22:39.
With her sensational first season out of the way, there are likely going to be some college coaches who want to get in touch with Grim about running for their school.
However her season came so out of the blue that she hasn't even registered with the NCAA yet to allow the recruiting processes to start.
"I'm still so new people don't even know who I am," she said.
Her current coach certainly knows.
"She is just super solid and steady, a coach's dream," Uhler said. "She's very coachable and open-minded and disciplined."
Uhler will also spend some time focusing on the boys team, to try and get both teams to state next year.
The Eagle boys team last sent a full team to state in 2010, and has sent the girls team for each of the last two years without sending a single male representative.
The Eagle boys will also be bringing back their entire varsity team from this year, including top district finishers Ricardo Castillo and Jorge Cuevas.
Uhler said the competition within the girls team for the top spots has set a tone and the fifth-place finish helped the team to again raise the bar.
"It was a good year," Uhler said. "We notched it up a level."